Brendan Rodgers aims to take his Liverpool side one step closer to Premier League glory with victory over West Ham on Sunday.
The Reds boss spoke honestly ahead of the team's trip to Upton Park. As expectation and pressure continues to grow around his team's title charge, Rodgers acknowledged the recent 4-0 win over Tottenham was an important step to battling the hype, reported by Andy Hunter of The Guardian:
Brendan Rodgers: "victory over Spurs psychologically our best of season because of background noise over pressure and having to win."

— Andy Hunter (@AHunterGuardian) April 4, 2014
Such a dominating performance gives Rodgers real confidence heading into the final run of games, noted by BBC Merseyside Sport:
Brendan Rodgers: "We've been performing at a really high level which gives us great confidence going into the final 6 games." #LFC

— BBC Merseyside Sport (@bbcmerseysport) April 4, 2014
Both Chelsea and City remain in the title mix, and they have home games against Stoke and Southampton respectively this weekend. Rodgers is only focused on his own team, though, per James Pearce of the Liverpool Echo:
Rodgers: "We can't afford to worry about any rivals. I would be wasting energy."

— James Pearce (@JamesPearceEcho) April 4, 2014
Despite being in the job for less than two seasons, Rodgers has already offloaded two players to West Ham.
Sam Allardyce's men are currently spearheaded by Andy Carroll, who is notorious for his ill-fated £35 million move to Anfield. Stewart Downing also made the move to London at the start of the current campaign.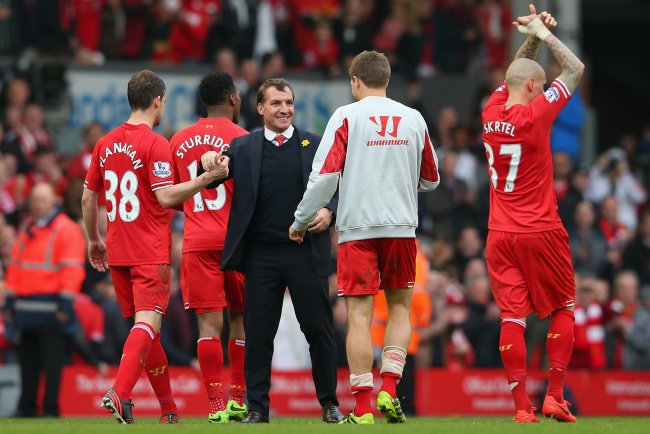 Alex Livesey/Getty Images
Carroll is a specialist forward capable of dominating in the air with brutal physicality, and that could come back to haunt Liverpool on Sunday.
Rodgers suggested the throwback player wasn't ditched because he lacked quality, per BBC Merseyside Sport:
Rodgers on Carroll: "Andy wasn't let go because he wasn't good enough, we had financial aspects at the club that we needed to look at." #LFC

— BBC Merseyside Sport (@bbcmerseysport) April 4, 2014
Liverpool's play has progressed since the departure of Carroll. Rodgers' stock continues to rise alongside the confidence of his team's free-flowing attack, which has notched a Premier League high of 88 goals this campaign.
The improving Reds outfit are well on their way to capturing a memorable title victory. Rodgers manages to remain grounded without lowering his expectations of players who have performed admirably for him across the last year.
This level-headed approach once again came to the fore during his West Ham presser. The manager knows his team stand on the brink of greatness and believes they have the quality to go all the way, but he isn't going to waste any time predicting the final outcome.