Eight MLB Players in Obscurity Who Deserve Your Attention Too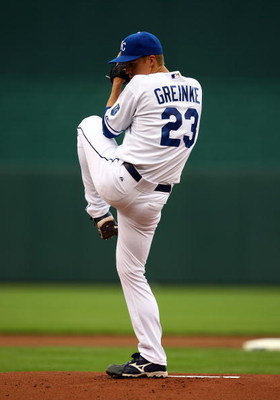 The major media outlets these days tend to put heavy emphasis on the major media market franchises.
Every sports fan is bombarded with coverage of the Yankees, Mets, Red Sox, Dodgers and Cubs, but rarely gets a chance to enjoy in-depth coverage of the Royals, Mariners, Rangers, or Giants.
Small market teams, buried in obscurity, hide plenty of true baseball gems around the league. Raul Ibanez, for example, emerged this year as a superstar at the age of 37, after spending over a decade as a very productive slugger in Kansas City and Seattle.
So, as we draw nearer to the All-Star break and the midpoint of the 2009 season, I think we should call attention to the breakout players who you may have never seen or heard of before now...assuming we all know who Zack Greinke is.
Dan Haren: Arizona Diamondbacks, SP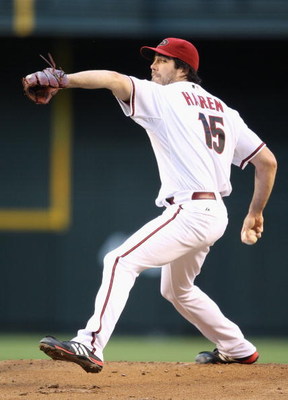 Yes, he's started an All-Star Game, and yes, he was the key piece in a major trade before last season, but I'm not convinced most people are aware of Dan Haren's exceptional talent.
The righty was shipped from St. Louis (where he'd be a star today) to Oakland as part of the deal for Mark Mulder. In Oakland he enjoyed great success playing for one of baseball's least-known franchises.
He won 43 games in three seasons with Oakland, culminating with a 15-9 season in 2007 that earned him his first All-Star appearance (in which he was the starter).
After the 2007 season, he was traded from Oakland (total obscurity) to Arizona (moderate obscurity). In his first season he cracked 200 K's for the first time, while also earning a new career high in wins (16).
With Brandon Webb having missed all of the season so far, Haren has emerged as the team's ace, posting outstanding numbers on his way to another All-Star appearance.
2009 Stats: 5-4, 2.20 ERA, 90 K, 13 BB
If not for another outstanding season by headline stealer Johan Santana, Haren would be a lock to start his second All-Star game next month.
Notorious around baseball circles for regressing in the second half, the D-Backs will rely on Haren to keep up the pace for a full season, especially with Webb's return timetable still unknown.
Its easy to forget that teams with a bona fide Cy Young-winning ace (like Webb) can have another equally skilled pitcher on the staff.
Don't forget to look past the No. 1 to see how incredible a No. 2 can be.
Brad Hawpe: Colorado Rockies, RF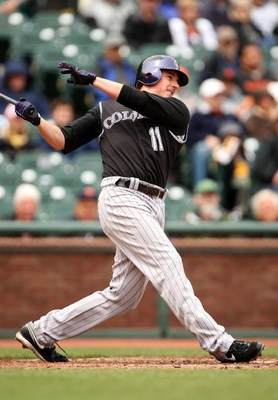 Remember two years ago when the Rockies went on that magical September run, riding that momentum all the way to the World Series?
Surely you remember Matt Holliday (now in Oakland), Troy Tulowitzki (who's greatly regressed), or maybe even Jeff Francis (perpetually injured since then), but you might not recall the other power hitter in the lineup—Brad Hawpe.
In 2007 Hawpe slugged 29 HR, 116 RBI, and hit .291. The lefty has averaged more than 25 HR a season since he began playing every day in 2006.
2009 Stats: .340 AVG, 9 HR, 47 RBI, 37 R, 23 2B, 1.1019 OPS
Brad Hawpe is a lock to make the All-Star team, not only because the Rockies have to send someone, but because he's earned it.
However, Hawpe may not remain in Colorado past July.
Trade rumors have begun swirling around the right fielder since 3B Garrett Atkins (the most likely trade candidate going into the season) decided to stop hitting.
The Rockies have been on an absolute tear as a team lately, winning 12 of their last 13, vaulting into the NL Wild Card race. Should they stay in the race, Hawpe will likely stay with the team.
Despite a trip to the World Series just two seasons ago, the Rockies remain one of baseball's lesser-known teams.
Hawpe has emerged as the star of the team this year, proving that, for him, 2007 was no fluke.
Aaron Hill: Toronto Blue Jays, 2B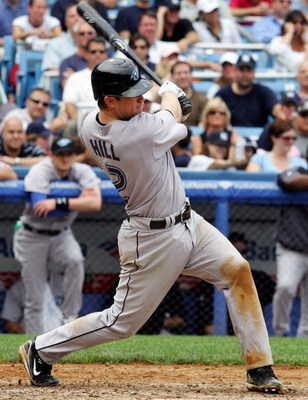 Just as the big bats get all of the press in Minnesota, it's the arms that steal headlines in Toronto.
Everyone knows all about Roy Halladay's exceptional start to the season (and recent placement on the disabled list).
What most people don't realize is that the Blue Jays' unexpected success has been largely attributed to a number of breakout seasons throughout their lineup.
Aaron Hill, in his fifth season with the Jays, has been a fantasy darling all season.
2009 Stats: .315 AVG, 15 HR, 47 RBI, 39 R, 90 H
You may have seen Hill in one of SportsCenter's top plays last night without realizing it (he was there turning a great double play).
You may struggle to think of any Toronto hitters beyond Gold Glove winner Vernon Wells and the five-tool youngster Alex Rios (if you can even get that far).
But Aaron Hill is quickly becoming a name to remember.
There's no telling whether Hill can keep up his current pace for the whole year (his career high for HR is 17, after all), but it wouldn't surprise me to continue seeing his name atop the leaderboards for the majority of the season.
* Honorable Toronto Mention: Adam Lind (.301 AVG, 13 HR, 46 RBI, 39 R)
Josh Johnson: Florida Marlins, SP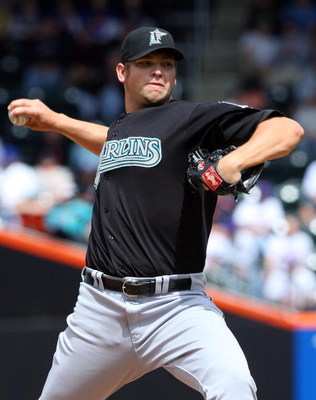 Quick, think of the Florida Marlins franchise for a second.
Who's the first player that comes to mind?
Hanley Ramirez? Maybe Dan Uggla?
Did you know Miguel Cabrera and Dontrelle Willis are in Detroit now?
Picked as a preseason breakout team, analysts pointed to Florida's incredibly deep and young pitching staff as the reason for its impending success.
Josh Johnson is their ace.
In fact, Johnson could be part of the three-horse race for the NL's All-Star starter, battling Tim Lincecum and Dan Haren for the honor.
2009 Stats: 6-1, 2.76 ERA, 83 K, 98 IP (first in NL)
The 25-year-old was a rookie sensation in 2006, winning 12 games with a 3.10 ERA as the year's runner-up for Rookie of the Year (teammate Ramirez took home the award).
His surefire success was sidelined by two injury-filled seasons. Johnson underwent Tommy John surgery in 2007 and missed most of the 2008 season.
He returned that July and went on to go 7-1 with a 3.61 ERA. The old Johnson had returned.
He has been as consistent this year as any pitcher in the majors, allowing more than three ER in a game only once (April 18).
As the ace of the young Marlins staff, Johnson is destined to remain one of the game's top pitchers. So if you see him listed as the National League's All-Star starting pitcher next month, you won't sit there wondering where he came from.
Nick Markakis: Baltimore Orioles, RF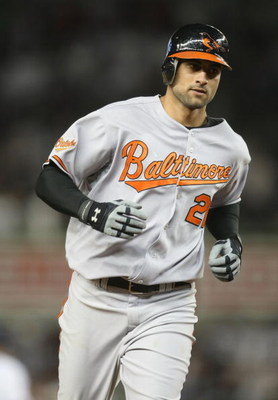 There is absolutely no reason why this guy shouldn't be a star already.
As one of the premier five-tool players in the American League, Markakis has averaged more than 20 HR, 10 SB, 90 RBI, and 90 R over his first three-plus major league seasons.
This season the Orioles lineup has drastically improved, with incredible production from Adam Jones, Luke Scott, and Aubrey Huff protecting Markakis.
With young stars Matt Wieters and Nolan Reimold thrown into the mix, we could see a healthy spike in Markakis' production.
2009 Stats: .298 AVG, 8 HR, 42 RBI, 43 R
Before the season, the Orioles signed the young right fielder to an extension that locks him up through the 2014 season.
If the Orioles can somehow manage to bring in effective starting pitching, they could be a force to reckon with in the AL East (already the league's powerhouse division).
But for now, just remember to enjoy the plethora of offensive production coming from the young Orioles.
Pablo Sandoval: San Francisco Giants, 3B/1B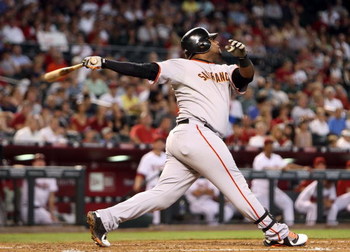 Since the departure of Barry Bonds, the San Francisco Giants have been largely irrelevant.
Though by no means a small market team, the Giants have been a subpar team, fielding a roster largely made up of rookies and young talent.
Last season Pablo Sandoval made his major league debut, spending time at third base, first base and even behind the plate.
In 41 games he hit .345 with 24 R and 24 RBI.
The Giants have one of baseball's best minor league systems, and Sandoval became its first product to shine on the big league level.
2009 Stats: .330 AVG, 8 HR, 33 RBI, 28 R, .909 OPS, 120 TB
Physically, he's not your typical corner infielder. Sandoval sports a build remarkably similar to Prince Fielder, even down to the unexpected athleticism. Sandoval has legged out two triples and two stolen bases already.
The 22-year-old has quickly proven that he can handle major league pitching, and while he may not hit for the same power as Fielder, he will remain a valuable middle-of-the-lineup asset for the Giants for years to come.
Mark my words, once all of their highly touted prospects get the call, we could be seeing the Giants atop the NL West for years.
Kevin Slowey: Minnesota Twins, SP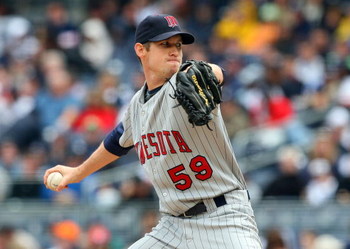 Kevin Slowey had to battle for headlines as he came up through the Minnesota Twins organization alongside Francisco Liriano (aka "The Next Johan").
As Liriano battles arm trouble and struggles to regain command, Slowey has emerged as the Twins' true ace.
2009 Stats: 9-2, 4.23 ERA, 61:10 K:BB ratio
Slowey is not a flashy pitcher, and he may never maintain an ERA under four, but he brings back memories of a Twins rotation built on limiting mistakes.
His microscopic walk total (10) this season reminds me of the days when Brad Radke would walk fewer than 30 in an entire season.
Think of Slowey as a baseball equivalent of quarterback Chad Pennington. He may not be the strongest or the flashiest, but he limits mistakes and gives his team a chance to win every time he takes the field.
Thus the nine wins.
With the Twins firmly entrenched in a divisional race, look past the names Joe Mauer and Justin Morneau, and keep an eye on Slowey's run of success.
He may end up leading the league in wins at season's end.
Justin Upton: Arizona Diamondbacks, RF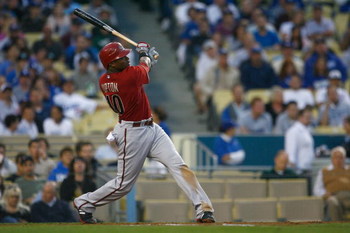 No, I'm not talking about his brother B.J. Upton.
You may know B.J. from his power outburst in last year's postseason as a member of the surprise Tampa Bay Rays.
You may not know that his younger sibling Justin (just 21) is where the real talent lies.
Since overcoming a monster slump to begin the year, Upton has shown he can adapt to major league pitching. He posted a .373 AVG in May, slugging seven HR and driving in 21 runs, along with stealing five bases.
2009 Stats: .308 AVG, 12 HR, 38 RBI, 40 R, 9 SB, .948 OPS
Upton was the No. 1 overall pick in the 2005 draft, ahead of names like Ryan Braun, Jay Bruce, Ryan Zimmerman, Jacoby Ellsbury, Matt Garza, and Troy Tulowitzki.
As the Diamondbacks continue their regression into the NL West cellar, it's easy to forget that the team still has a number of talented players (see Dan Haren, Mark Reynolds, and Chad Qualls). Brandon Webb's season-long stay on the disabled list hasn't helped either.
Better get to know him while he's young, or you could miss 15 years of outstanding five-tool, MVP-caliber play from one of the best young outfielders in the game.
Keep Reading