The NFC North redistributed some of its most accomplished veterans on the defensive side of the ball with DE Julius Peppers leaving Chicago to sign with its division foes, the Green Bay Packers, as DE Jared Allen went shopping for his fair market value, which he apparently found hopping from Minnesota to Chicago.
But which of these two dynamic playmakers has the better chance to cap off an incredible career with a Super Bowl victory?
Jared Allen talks to @JimRome on signing with @Bears: 'It had nothing to do with me looking to stay in the division' http://t.co/cvUOSD747n

— CBS Sports Radio (@CBSSportsRadio) April 4, 2014
At 34 (Peppers) and 32 (Allen), these likely Hall of Famers are clearly on the back nine of their careers with only a few critical holes left to play. Though a deluge of individual accolades have blanketed their trophy cases over the years, one special piece of hardware has continued to elude the top shelf.
Who would you rather have on your team?
Neither Peppers nor Allen has ever won a Super Bowl despite combining for over 20 years of NFL experience between them. Allen got close one year during the Brett Favre days in Minnesota, making it all the way to the NFC Championship Game where the Vikings lost to the Saints.
Peppers was lucky enough to play in a Super Bowl in only his second NFL season—which was his first and only appearance in the big game. His team went on to lose that game to Tom Brady and the Patriots.
Jared Allen was drafted in the fourth round a decade ago, during which time he managed to rack up 128.5 sacks, placing him second behind John Abraham among active players in that category. He is a four-time first-team All-Pro and despite his age should provide immediate veteran leadership and production for the Bears in 2014.
Over the last three years in Minnesota, Allen accumulated 45.5 sacks, including 22 in 2011.
His task, however daunting, will be to the fill the shoes left by the Julius Peppers, who was released in early March to free up cap space. This trade-off not only freed up much-needed cap space for the Bears, but it also might end up being an upgrade to the position.
Peppers is a dual-sport athlete who played basketball and football while at North Carolina. His rare size (6'7", 287 lbs) and athleticism made him one of the most coveted defensive prospects over the last 20 years. In 12 years as a pro, he managed 119 sacks and was a three-time first-team All-Pro. He also finished eight of his 12 seasons with double-digit sacks.
According to Packers head coach Mike McCarthy via Vic Ketchman of Packers.com, Peppers will be playing the role of the Elephant defender, which is typically a position found in defenses that are a hybrid between the 3-4 and the 4-3 front. McCarthy was quoted as saying, "He'll be a multiple-position player."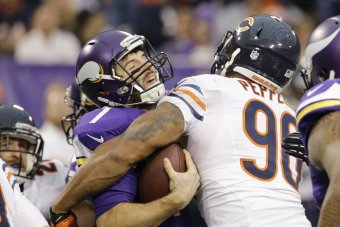 Ann Heisenfelt
Over the last two years with the Bears this aging star tallied 19 sacks, which is 4.5 less than Allen had over the same period of time. Clearly Julius Peppers is beyond his prime. However, a late career resurgence wouldn't be too far off from what happened with Charles Woodson. Woodson was also perceived to be a lost cause and not worth the investment at the time he was brought on by the Packers after the Raiders felt his best years were behind him.
Woodson would go on to win Defensive Player of the Year and a Super Bowl with the Packers.
Sometimes, like in the case of Woodson, or Shaun Phillips from last year, an aging veteran is able to dig deep in order to impress his new teammates and show that he's not just a shell of his former self. This proverbial chip of the shoulder is powerful motivation and can awaken that long-lost competitive drive long since replaced with complacency.
Phillips' 10 sacks for the Broncos last year at the age of 32 was a prime example of this. Especially considering he only had double-digit sacks two times in his career.
Both Allen and Peppers could use all the motivation they can muster if either of them hopes to make it to the Super Bowl before hanging up the cleats.
This offseason Allen admitted to the possibility of retirement if the financial side of the game was not worth it. This begs the question—how much of his decision to keep playing and sign with the Bears was financial, and how much was about the prize at the end?
The Bears are certainly a team on the rise under new head coach Marc Trestman—the man who was able to turn Josh McCown into a potential star in less than one year. But with a depleted and aging secondary, questions at linebacker and Jay Cutler at quarterback, can the Bears even be considered real contenders for the division, let alone the championship this year?
After all, let's not forget the Lions are no pushovers either.
The Bears certainly have the size and big-play ability at receiver with Brandon Marshall and the emergence of Alshon Jeffery, but Cutler has yet to prove he's reliable in big games with a lot on the line.
However, Chicago did allow DT Henry Melton to seek employment elsewhere, but at least it brought in Lamarr Houston from Oakland to help offset the loss.
Third-year defensive end Shea McClellin seems to be headed for a role as a reserve and to contribute exclusively on passing downs while Houston takes over against the run. McClellin is a talented player who I believe is playing out of position in Chicago. He would be much more productive if given the chance to play outside linebacker in a 3-4 scheme.
Jared Allen says Bears 'closer than people think' - There was no turning... http://t.co/VKA7ZA3vmt #HalasHall #JaredAllen #SoldierField

— Teh Chicago Tribune (@TehChicagoTrib) April 4, 2014
But are these enough pieces to get the Bears over the hump and into the playoffs out of the North?
Many believe the Packers are the team to beat in their division, and I tend to agree with that assessment. Aaron Rodgers is itching to get back into a Super Bowl so he can reassert his dominance as the undisputed king of the quarterbacks.
With key contributors returning from injury, such as CB Casey Hayward, Clay Matthews and Nick Perry, as well as the addition of Peppers, the Packers defense should be a much-improved unit, loaded with a nice mix of youth and veterans.
One weakness they absolutely must address in order to compete against the big targets of the North is the safety position. At this point it seems like this hole will most likely be filled via the draft.
On offense the Packers had to say goodbye to solid contributors like James Jones and in all likelihood Jermichael Finley as well. Both of those players, though talented, are replaceable with the infusion of the right rookies to add to the mix.
Who has a better chance of winning the Super Bowl with his new team?
Plus, with the emergence of star running back Eddie Lacy and a healthy Jordy Nelson and Randall Cobb on the outside, this could be one of the more explosive and well-balanced attacks in the NFL.
One of the most overachieving units in football last year was the Packers offensive line. This group was young, injured and was comprised of all mid- to late-round draft picks. In fact, of the top six contributors to the offensive line, not a single member was drafted in the first three rounds.
All in all, the Packers look to be one of the more promising teams in the NFL heading into the 2014 season. Peppers could be that extra dash of spice the Packers need to go deep into the postseason and possibly snag their second Super Bowl in four years.
Ryan Riddle is a former NFL player and writes for Bleacher Report
Follow him on Twitter.