The San Antonio Spurs are probably hoping they don't see the Oklahoma City Thunder in the playoffs.
The Thunder ended the Spurs' 19-game winning streak, completing their regular-season sweep of Gregg Popovich and Co. with a 106-94 home victory on Thursday night.
Of course, it goes beyond just this season, per ESPN's Tom Haberstroh:
Spurs are now 2-10 in their last 12 games vs. OKC.

— Tom Haberstroh (@tomhaberstroh) April 4, 2014
Kevin Durant struggled with his shot, but was at the center of a dominant second-half effort by the Thunder and still managed to lead all scorers with 28 points. As ESPN Stats & Info points out, that brings him one game closer to Michael Jordan's record streak of 40 25-point games:
Kevin Durant: 39th straight 25-point game; longest streak since Michael Jordan's 40-gamer in 1986-87 season

— ESPN Stats & Info (@ESPNStatsInfo) April 4, 2014
CBS Sports' Royce Young supplied Russell Westbrook's thoughts on Durant's scoring:
Russell Westbrook summing up KD's 25-point streak nicely: "That's a lot of games to be scoring 25 points in a row."

— Royce Young (@royceyoung) April 4, 2014
Westbrook added 27 points and six assists, while Reggie Jackson chipped in 14 off the bench, as the Thunder moved to within three games of San Antonio atop the West.
As The Oklahoman's Anthony Slater noted (though the numbers changed), that point-guard duo has been a menace to San Antonio:
Westbrook/Jackson tonight: 38 points on 15-of-25 shooting. Killing the Spurs again.

— Anthony Slater (@anthonyVslater) April 4, 2014
Patty Mills led the way on for San Antonio with 21 points off the pine, while Kawhi Leonard and Tim Duncan each had 17. Tony Parker shot just 3-of-10, though, and the Spurs scored a meager 43 points in the second half, letting an early lead slip away.
San Antonio led for the majority of the first half and shot 46.7 percent from the field to just 40.5 for Oklahoma City. Patty Mills and Boris Diaw combined to make all seven of their shots for 16 points off the bench, while Durant and Ibaka had just 15 on a miserable 5-of-20 shooting.
Most would assume a blowout would be in the making upon seeing those numbers, but OKC did a good job taking care of the ball and Westbrook scored five quick points in the final 29 seconds, cutting San Antonio's lead to 51-48 at half.
ThunderObsessed.com's Twitter feed gave a look at what that meant for both teams:
OKC is 12-8 when trailing at halftime. SA is 45-2 when leading at halftime.

— Thunder Obsessed (@ThunderObsessed) April 4, 2014
As Jeff McDonald of the San Antonio Express-News noted, the Spurs came out of the locker room with some lineup adjustments:
No Splitter, no Leonard to start 3Q. Leonard, probably due to three fouls. No clue on Splitter.

— Jeff McDonald (@JMcDonald_SAEN) April 4, 2014
The adjustments didn't work.
Oklahoma City hunkered down on the defensive end, stifling the Spurs' offensive flow and using defensive stops to get into transition for easy points, evidenced by this fast-break dunk for Westbrook:
ESPN Stats & Info noted the difference in transition points during the game-swinging third quarter:
OKC had 13 transition points in the entire first half, but Thunder outscored the Spurs 13-3 in transition in the 3rd quarter.

— ESPN Stats & Info (@ESPNStatsInfo) April 4, 2014
The Thunder, who didn't lead at all in the second quarter, outscored the Spurs by 12 in the third to take a 80-71 advantage into the final period.
Popovich summed things up after the game, via McDonald:
Pop: "They did a great job getting physical in the second half and created a bazillion turnovers, and that was the game."

— Jeff McDonald (@JMcDonald_SAEN) April 4, 2014
The Thunder proceeded to score nine of the first 11 points in the fourth quarter, forcing Popovich to wave the white flag and keep Duncan and Parker on the bench, while the Thunder continued to run and strolled to the victory.
Player Grades
Tim Duncan, Spurs: B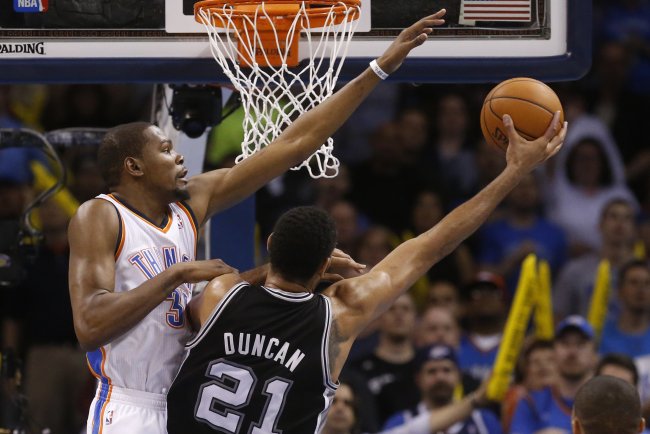 Sue Ogrocki
Duncan struggled a little bit from the field and missed some shots at the rim that isn't typical of him, and he finished an ugly 5-of-15 overall.
You can't get too upset about 17 points, eight rebounds and two blocks, but the slow-aging veteran was pretty quiet after the first two quarters.
Kevin Durant, Thunder: B+
Take this tweet from CBS Sports' Royce Young for proof of just how rare Kevin Durant's off-night was:
Crazy thing: KD missed as many shots in the first quarter (six) as he did total the last two games (h/t @THEblizzyblaine).

— Royce Young (@royceyoung) April 4, 2014
The likely MVP went on to miss an astounding 15 shots (11-of-26), adding seven rebounds and three assists, which is also atypical from him.
Still, this is the most dangerous offensive player in the league for a reason. He continued to attack after a poor first half and still managed to pour in 28 points. He scored 16 on 13 shots in the second half and finished with a plus/minus of 13 that was highest among starters.
Even when he's "bad," the guy is pretty damn good.
Kawhi Leonard, Spurs: A-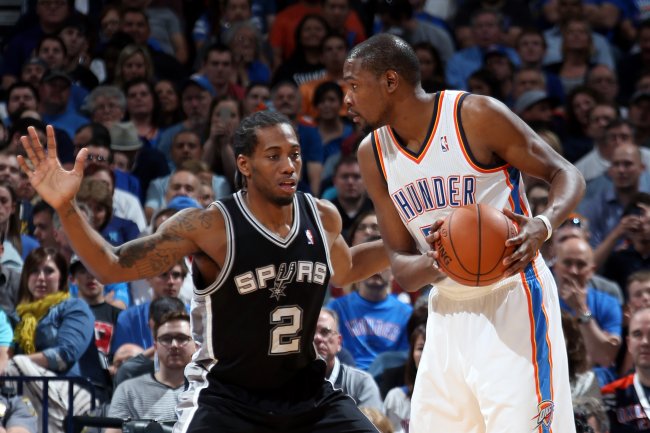 Layne Murdoch/Getty Images
Leonard was a large reason for Durant's rare inefficient night on the offensive end, as he played tight defense and forced the Thunder star into taking contested mid-range jumpers.
That's really all you can ask for against Durant, and when Leonard sat on the bench with foul trouble, his importance to the Spurs became even more apparent.
Spurs down to 51-10 with Kawhi Leonard in the lineup

— Marc Stein (@ESPNSteinLine) April 4, 2014
It wasn't just defense, though. The 22-year-old scored in a variety of ways—on the break, from beyond the arc, in traffic—and finished 17 points to go with his two rebounds, three assists and three steals.
Russell Westbrook, Thunder: A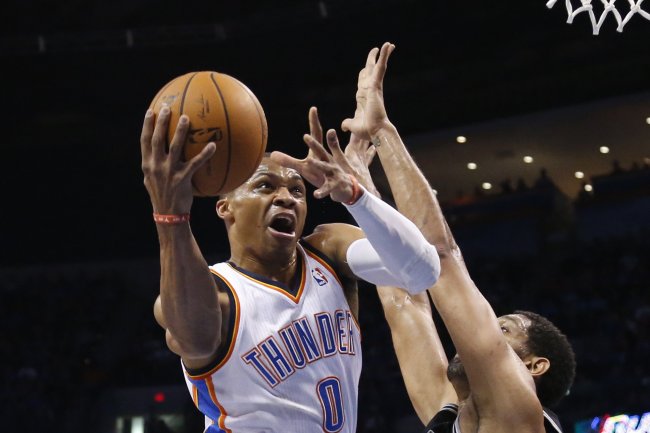 Sue Ogrocki
While Durant struggled a bit on the offensive end, Westbrook's ability to create became absolutely vital for the Thunder.
The explosive point guard was the only player capable of penetrating San Antonio's defense in the halfcourt, getting to the rim at will. He was at the center of Oklahoma City's run at the end of the second and beginning of the third quarters, and he finished with 27 points on 20 shots.
Westbrook also tallied six assists and four steals in just 31 minutes, rounding out the nice all-around performance.
Who goes farther in the playoffs?
What's Next
The Spurs return home to host the Memphis Grizzlies on Sunday, while Oklahoma City heads on the road to battle the struggling Houston Rockets without Westbrook on Friday.
San Antonio is still the favorite to earn home-court advantage throughout the playoffs, but if Popovich is going to return to the NBA finals this postseason, it's clear he's going to have find a way to solve the Thunder puzzle.