With the scouting combine and most pro days behind us, the NFL draft is starting to become much clearer.
There will obviously be disagreement about prospects from now until they start their careers. But each team is beginning to finalize its evaluations and prepare its big board for the draft in May.
Now that needs are more obvious after free agency, here is a look at predictions for the entire first round of the upcoming draft.
1. Houston Texans: Jadeveon Clowney, DE, South Carolina
The Texans need a quarterback, but it would be hard for anyone to pass up the chance to draft Jadeveon Clowney. In case you need to know what makes him so good, the defensive end will gladly tell you, via David Newton of ESPN.com:
I can pretty much do it all. Anything on defense I can help. I can be a playmaker. I am a playmaker. I've got what it takes, I believe, to go out there and set the tone for the next guy coming up. And to help my team out winning games.

Every team I've ever played with, we've never had a losing season. Never. Before I got there, I watched them lose. Not just here. Back in high school, middle school. I was like, 'Man, that ain't going to be my team when I play on that team.
Clowney has loads of talent and the ability to cause nightmares for opposing offensive coordinators. Pairing him opposite J.J. Watt is almost unfair.
Houston would automatically have an elite defense, and it could use a later pick to draft a quarterback who could come in with less pressure.
2. St. Louis Rams (from Washington Redskins): Greg Robinson, OT, Auburn
This pick is certain to be in high demand, but the Rams need to make sure they get their man. That player is Greg Robinson, the top offensive lineman in the draft.
Robinson helped lead the No. 1 rushing attack in the country with Auburn and has the ability to be a star in the passing game as well. With Rodger Saffold likely remaining at guard, this pick would greatly improve the offensive line.
3. Jacksonville Jaguars: Johnny Manziel, QB, Texas A&M
The Jaguars can look for other places to improve, but the fact remains that they need a quarterback. They will not improve much until they find someone who can make plays on the offensive side of the ball.
Johnny Manziel might be a little undersized at 6'0", 207 pounds, but he has a unique playmaking ability that will lead to plenty of wins in Jacksonville. The talented player will also generate plenty of interest for an organization in need of a boost.
4. Cleveland Browns: Sammy Watkins, WR, Clemson
With two first-round picks, the Browns can pass up a quarterback at this stage. That would be an especially smart move if it meant the team could grab the best receiver in the class.
Sammy Watkins can be a game-changing player with a unique combination of size and speed that makes him tough to stop after the catch. Any quarterback could have success with Watkins and Josh Gordon teaming up offensively.
Which quarterback will have the best NFL career?
5. Oakland Raiders: Blake Bortles, QB, UCF
The Raiders have many needs on both sides of the ball, but the lack of a franchise quarterback has haunted the organization for years. Oakland needs someone it can develop into an elite player and build around.
Blake Bortles is a quarterback with great passing ability to go along with mobility in the pocket. He might need a few years to reach his potential, but the Raiders have time to wait.
6. Atlanta Falcons: Jake Matthews, OT, Texas A&M
Only two quarterbacks in the NFL were sacked more times last season than Matt Ryan. You can blame injuries to Julio Jones and others for the poor performance in 2013, but the lack of pass protection was the biggest culprit.
Jake Matthews can be an immediate starter on either side of the offensive line and should be able to remain in the position for the next decade.
7. Tampa Bay Buccaneers: Khalil Mack, OLB, Buffalo
With a rebuilt secondary and a quality defensive line, the Buccaneers could be one elite linebacker away from having a dominant defense. Fortunately, Khalil Mack can be that player thanks to a versatility that allows him to be a pass-rusher, a run-stopper and someone who can excel in coverage.
Mack might have played against weak competition with Buffalo, but he will be in high demand on draft day.
8. Minnesota Vikings: Teddy Bridgewater, QB, Louisville
Teddy Bridgewater has seen his stock fall in recent weeks due to a poor showing at his pro day, but Bleacher Report's Matt Miller is not worried:
I really don't think Teddy Bridgewater goes No. 1 overall. Maybe not even top 5. But he should. That's my ranking of him as QB1.

— Matt Miller (@nfldraftscout) April 2, 2014
The fact remains that Bridgewater has all the tools you look for in an elite quarterback. He has good arm strength, accuracy and mobility. But most importantly, he has composure in the pocket, which is one quality that seems to separate the best NFL quarterbacks from the busts.
Minnesota has a big need at quarterback, but the organization does not want to reach with a first-round pick. The good news is that if Bridgewater is available, he will be a great value at this point in the first round.
9. Buffalo Bills: Taylor Lewan, OT, Michigan
While the Bills might want to find a safety to replace Jairus Byrd, the squad also needs to protect its young quarterback, EJ Manuel. Last year's first-round pick showed plenty of potential in his first season at the helm, but he was constantly under pressure.
At 6'7", Taylor Lewan has the size and big-time explosiveness to be a mauling blocker at either left or right tackle. That will certainly help the team going forward.
10. Detroit Lions: Darqueze Dennard, CB, Michigan State
After adding Golden Tate, the Lions do not have a great need for a secondary receiver. Instead, they need to solidify a secondary that struggled throughout most of last season.
Darqueze Dennard is the best cover cornerback in the class, and he has the potential to be placed on an island defensively. He is ready to contribute right away and should help the Lions get back into the playoffs next season.
11. Tennessee Titans: Anthony Barr, OLB, UCLA
Even with the addition of Shaun Phillips, the Titans could use a pass-rusher who will be around for a long time. Anthony Barr has plenty of upside after totaling double-digit sacks in each of the past two seasons.
He is still a bit raw, but the Titans can limit his playing time in his first season and allow him to develop into an elite linebacker.
12. New York Giants: Aaron Donald, DT, Pittsburgh
While fans might not have noticed, the loss of Linval Joseph in the middle of the defensive line is a big one. He was a big-time run-stopper who made things easier for everyone else on defense.
Aaron Donald does not have the size to clog the middle, but he knows how to penetrate into the backfield to mess up any play. He had a highly productive college football career, and he should be able to keep that up at the next level.
13. St. Louis Rams: Ha Ha Clinton-Dix, S, Alabama
The Rams signed Kenny Britt to supplement the receiving corps, giving the team a big target who can make plays in the red zone. While there is plenty of risk with that deal, the squad will probably at least give him a chance to succeed, meaning it will likely avoid grabbing a receiver in the first round.
Instead, St. Louis can use its second first-round pick to solidify the defense with the best safety in the class. Daniel Jeremiah of NFL.com reports that this is a strong possibility:
Several personnel guys have told me they'd be very surprised if the Rams passed on HaHa Clinton-Dix at 13.

— Daniel Jeremiah (@MoveTheSticks) April 3, 2014
Ha Ha Clinton-Dix knows how to cover a lot of ground in the secondary, and he can help take away the deep ball from opposing teams. Additionally, his experience playing in the SEC indicates he should be able to step in and play immediately.
14. Chicago Bears: Timmy Jernigan, DT, Florida State
Chicago had the worst run defense in the NFL this past season, mostly because holes were wide open in the middle of the field. Henry Melton went down with an injury, and the Bears could not stop anything.
Timmy Jernigan has the potential to take over this role with his size and strength at defensive tackle. He can clog the middle of the defense and make dramatic improvements against the run.
15. Pittsburgh Steelers: Justin Gilbert, CB, Oklahoma State
Justin Gilbert might not be a complete cornerback at the moment, but he has as much upside as anyone in the class. He has great speed and athleticism and the ability to go up and make plays on the ball in the air.
Pittsburgh needs to get younger in the secondary, and Gilbert can be a star down the line. Until then, he can be a quality returner for both punts and kicks.
16. Dallas Cowboys: Louis Nix III, DT, Notre Dame
After allowing the most yards in football last season, Dallas needs help at every level. The good news is that Louis Nix III can help the entire unit from the defensive tackle spot.
Nix does a great job of taking on blockers, allowing his teammates to make plays on the ball. This addition could help the Cowboys improve dramatically next season.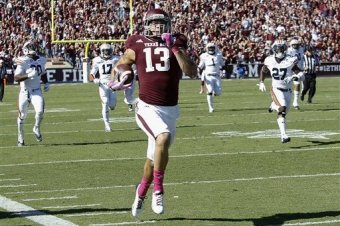 BOB LEVEY
17. Baltimore Ravens: Mike Evans, WR, Texas A&M
Even with the addition of a number of receiving targets this offseason, the Ravens roster features few players who have the skill set of Mike Evans. The 6'5" wide receiver has a wide catching radius and is exceptional at grabbing the ball in traffic.
Joe Flacco loves to throw the deep ball, and a pairing with Evans could be a match made in heaven.
18. New York Jets: Eric Ebron, TE, North Carolina
Geno Smith received a lot of criticism last season, but he received very little support from the offense. While the squad added Eric Decker as a legitimate weapon, it still needs more help.
Eric Ebron has the size and speed to become a mismatch in the NFL, and he could help out either Smith or Michael Vick at quarterback.
19. Miami Dolphins: Zack Martin, OT, Notre Dame
Zack Martin is listed as a tackle, and he spent most of his career at Notre Dame at left tackle, but he might project better on the interior as a guard. Either way, he could contribute at a high level on the offensive line.
On a team that gave up the most sacks in football in 2013, this would be a great addition.
20. Arizona Cardinals: C.J. Mosley, ILB, Alabama
NFL teams seem to devalue linebackers who are not pass-rushers, which will keep C.J. Mosley on the board for a long time. However, he does almost everything else well from his position.
Omar Kelly of the Sun-Sentinel provided a quick scouting report of the young player:
CJ Mosley is sideline-to-sideline. He reads his keys and has good instincts. Can defend the pass. Is a 3 down ILBer. SOLD!

— Omar Kelly (@OmarKelly) March 14, 2014
While he is listed as an inside linebacker, he can also move to outside linebacker, where he can become an elite run-stopper and someone who can drop back in coverage.
After losing Karlos Dansby to free agency, Arizona will need to make up a lot of tackles. Mosley might not get 122 in his first year, but he will be a consistent producer on defense.
21. Green Bay Packers: Calvin Pryor, FS, Louisville
Clinton-Dix is better in the open field, but Calvin Pryor is a hard hitter who makes it difficult for anyone to catch balls over the middle.
Although you do not want someone drawing flags, Green Bay could use an enforcer to help in the passing game.
22. Philadelphia Eagles: Odell Beckham Jr., WR, LSU
With DeSean Jackson headed to the Washington Redskins, the Eagles need to find a way to replace him. Jeremy Maclin missed all of last season with a knee injury, while Riley Cooper cannot be trusted as a top receiver.
Instead, Odell Beckham can provide the type of playmaking ability that will be missed without Jackson, and he could be extremely dangerous in Chip Kelly's system.
23. Kansas City Chiefs: Marqise Lee, WR, USC
Kansas City had a one-dimensional offense last season that basically came down to getting the ball to Jamaal Franklin. While the team got to the playoffs, it will not work a second time around.
Marqise Lee is one of the best players in the class with the ball in his hands, and he's always capable of turning short slants into long touchdowns.
24. Cincinnati Bengals: Kony Ealy, DE/OLB, Missouri
Kony Ealy might be a bit raw to contribute early on, but he has plenty of potential as a versatile pass-rusher who can excel from either defensive end or outside linebacker, depending on the system.
With a deep team like the Bengals, Ealy can be used exclusively on passing downs as he learns the position and helps the team contend.
25. San Diego Chargers: Jason Verrett, CB, TCU
San Diego needs an upgrade at the cornerback position, and Jason Verrett is the best available at the position. He has great speed and quickness to handle the fastest receivers in the NFL either on the outside or in the slot.
If the Chargers want to hold off the Denver Broncos, they need all the help they can get in the secondary.
26. Cleveland Browns (from Indianapolis Colts): Derek Carr, QB, Fresno State
After taking Watkins with the first pick, the Browns need to upgrade at the quarterback position. This makes Derek Carr the obvious choice as the best player available.
Carr might have an adjustment period after spending his time in a spread offense at Fresno State, but it will be easy to get acclimated in an offense that includes Watkins, Josh Gordon and Jordan Cameron.
27. New Orleans Saints: Dee Ford, DE, Auburn
The Saints have made a number of upgrades to the defense, turning what was a huge weakness just two years ago into a strength. However, there is still room to grow on that side of the ball.
Adding Dee Ford would give the Saints an experienced pass-rusher who can be productive right away and help the squad contend for a title next season.
28. Carolina Panthers: Kelvin Benjamin, WR, Florida State
There are differing opinions about what Kelvin Benjamin can do at the next level. Bleacher Report's Matt Bowen breaks down the good and the bad:
Finishing up a post on FSU's Kelvin Benjamin. Legit size & talent. Matchup player. Must develop route running, consistency vs. NFL DBs.

— Matt Bowen (@MattBowen41) February 28, 2014
At 6'5" and with good game speed, Benjamin can be a legitimate deep threat and a matchup problem in the red zone. While he is still very raw, he has the potential to develop into a quality player.
Meanwhile, the Panthers do not seem to have many options at receiver after losing Steve Smith, Ted Ginn and Brandon LaFell. The squad made a few smaller additions, but it needs to give Cam Newton a real weapon on the outside, something Benjamin can become.
29. New England Patriots: Jace Amaro, TE, Texas Tech
At 36 years old, Tom Brady is running out of time to add to his collection of Super Bowls. That means the Patriots have to add players who can help him and the Patriots achieve that goal.
Jace Amaro would certainly be a helpful addition as someone who can fill the role left open by Aaron Hernandez. He can excel in two-tight end sets opposite Rob Gronkowski and provide Brady with a reliable target all over the field.
30. San Francisco 49ers: Brandin Cooks, WR, Oregon State
According to Adam Vingan of NBCWashington.com, the 49ers had interest in DeSean Jackson when he was available. This proves they are looking for a speedy target who can stretch the defense down the field.
Brandin Cooks represents a much cheaper option with a similar skill set. With Anquan Boldin and Michael Crabtree on the outside, Cooks should be able to roam free in the middle of the field and be extremely productive right out the gate.
31. Denver Broncos: Ryan Shazier, OLB, Ohio State
The Broncos have their share of pass-rushers heading into next season, but they have few players capable of covering the field from sideline to sideline. Danny Trevathan is really the only reliable player in run coverage.
Ryan Shazier can come in and help after being an all-purpose player for Ohio State. The talented linebacker has great athleticism and should be a quality player at the next level.
32. Seattle Seahawks: Xavier Su'a-Filo, OG, UCLA
Xavier Su'a-Filo has great footwork for his size, making him an excellent interior pass protector. That is exactly what the Seahawks need after Russell Wilson was sacked 44 times last season.
With this addition, Seattle could be even better offensively, making things difficult for everyone else in the NFL.
Follow Rob Goldberg on Twitter for the latest breaking news and analysis.