Florida State announced Wednesday that its Seminoles logo would undergo minor alterations to "create consistency in its school colors and brand," via Jared Shanker of ESPN.com, but FSU blog Tomahawk Nation reports that a Walmart put the logo on a T-shirt prior to the scheduled release of April 11.
Apparently this will be FSU's new logo. This shirt was spotted at Walmart.. pic.twitter.com/KFFsR24882

— Mike Yazigi (@Mike_Yazigi94) April 2, 2014
FSU fans appear to be upset about the changes, judging from these Photoshopped images.
Bowden'ed #FSUlogo alternative. @LandThieves @RedditCFB @TomahawkNation pic.twitter.com/537lb8QXjG

— Nuked (@Nuked_LT) April 3, 2014
New FSU logo leaked, bow down to the king pic.twitter.com/wt3nRXLRKL

— Zach Nyman (@nym_time) April 3, 2014
@barstoolsports @stoolpresidente pic.twitter.com/iBGD7c8QYB

— Ben Beiting (@Ben_Beiting) April 3, 2014
Traditional #FSUlogo has an opinion on the new FSU logo pic.twitter.com/x7GH3FseUW

— €d Bæ @SMFTampa (@eol09) April 3, 2014
New FSU logo @xoxmeredith pic.twitter.com/eEiE71o3YJ

— Shanwoww (@shannonpostrion) April 3, 2014
FSU alum Darnell Dockett also expressed his dissatisfaction with the new logo.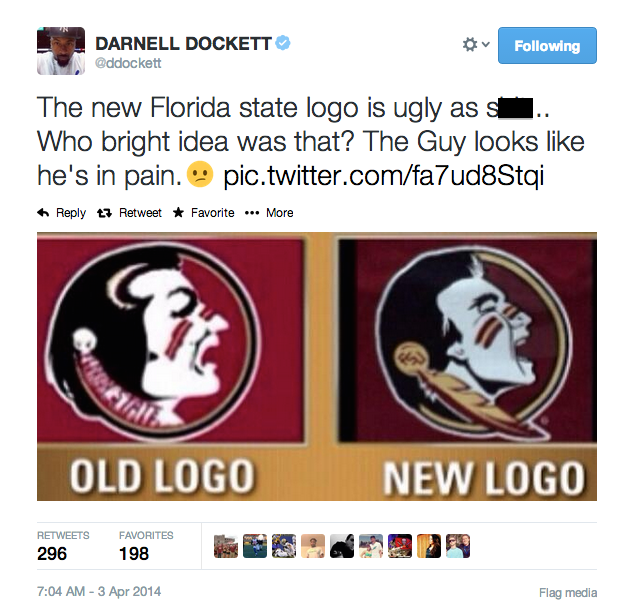 via @ddockett
Update: Friday, April 4, 5:03 p.m. ET
Unlike Dockett, current FSU student athlete Jameis Winston is a fan of the new logo.
My new wallpaper because this is a new era for FSU #swagback I LOVE the logo but a logo won't change a #trueseminole pic.twitter.com/RhuNj2RU3j

— Jameis Winston (@Jaboowins) April 4, 2014
---End of update---