Chelsea lost a whole lot more than a football match in Paris on Wednesday evening.
On the back of their 3-1 defeat to Paris Saint-Germain, it seems they have finally lost any hope Fernando Torres will ever rediscover the form that persuaded them to pay £50 million for his services in January 2011.
Facing the Ligue 1 champions elect was one of the biggest games of the season for the club. Yet, with Samuel Eto'o injured, Torres still couldn't find his way into the starting XI, suffering the ignominy of Andre Schurrle, a winger, being preferred as Chelsea's main striker.
Will this season be Fernando Torres' last as a Chelsea player?
And when he appeared from the bench just after the hour, his limp performance made it clear the omission was one rejection too many for his fragile confidence to take.
How will he recover from it? Right now, it seems he won't.
Torres was signed just over three years ago with the view he would be the permanent replacement for Didier Drogba as Chelsea's main striker.
Drogba had endured a frustrating period, with a bout of malaria and injuries seeming to bring down the curtain on his Chelsea career.
The arrival of Torres was supposed to be the death knell, only it was the opposite. It revitalized the Ivorian, and with his determination to prove himself as Chelsea's greatest, Drogba rose to the challenge and crushed Torres in the process.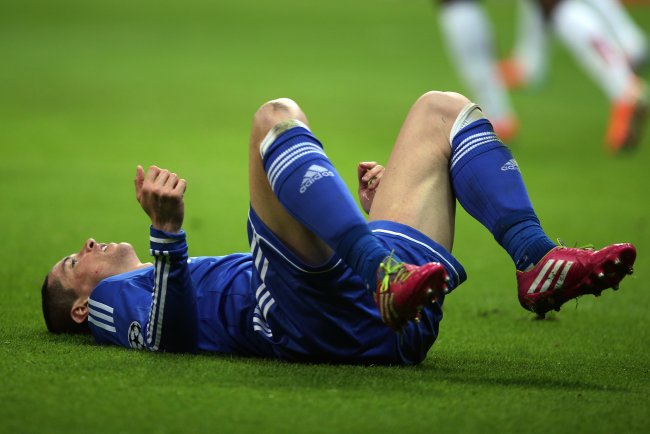 Uncredited
The weight of his British record transfer fee seemed enough to torment Torres, with his form taking a hit. Adding the presence of Drogba to the equation just made things all the more difficult.
With any big transfer, the expectation is always the player will be an instant world-beater. In fact, it's the minimum fans and managers ask, so when Torres not only failed to score on his debut—against former club Liverpool, no less—but finished the game on the losing side, the pressure was cranked up a notch.
Carlo Ancelotti was Chelsea manager at the time, and in hindsight, the Italian will probably look back with a hint of regret that he didn't start his star striker from the subs bench.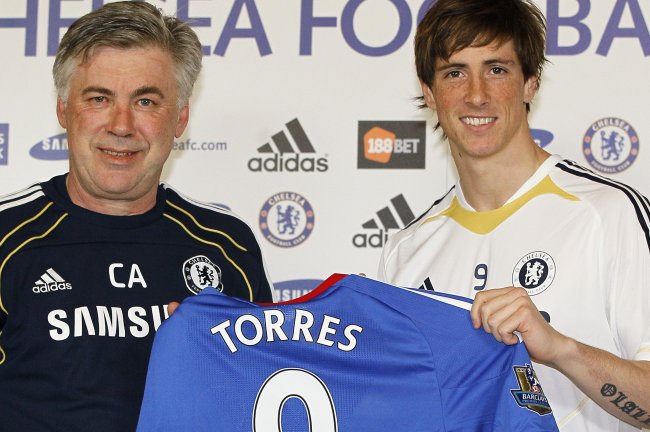 Kirsty Wigglesworth
There was enough focus on Chelsea's meeting with Liverpool that day without Torres starting the game. The Spaniard needed time to breath, be taken out of the firing line to find his feet after a frantic week.
Instead, he was thrown in at the deep end against players feeling jilted by his move to Stamford Bridge just a few days earlier. He was given little space, kicked off the ball and has never fully recovered.
It was sink or swim, and he barely kept his head above water.
The best we have seen from Torres in a blues shirt was last season, scoring 23 goals in all competitions. Six of those came in the Europa League, including a sublime solo effort against Benfica in the final, helping Chelsea lift the trophy.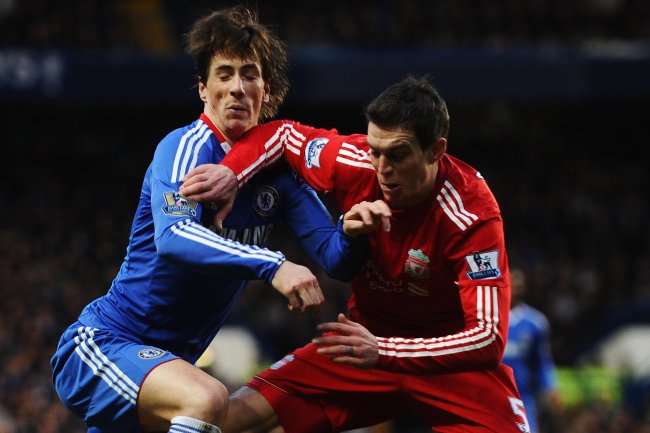 Laurence Griffiths/Getty Images
But whereas this season he was supposed to take the next step in his Chelsea career, he has regressed. Significantly.
The reason? Faith, or lack of in this case.
Give Jose Mourinho the credit he deserves, the way he has reversed Chelsea's fortunes this season must be applauded. He has galvanized the club and got it moving in the right direction with a clear framework in place.
The Blues are more than likely going to finish the season without a trophy for the first time since 2011, although beyond this year, success beckons.
Attend Stamford Bridge on any given matchday and the anticipation is palpable. The fans, the players and their manager know what lies around the corner.
Michel Euler
Mourinho's treatment of Torres has been a massive failure, though.
There are characters who rise to the occasion when their abilities are questioned; those who enjoy proving a point. Then there is Fernando Torres.
He didn't need Mourinho publicly questioning the ability of his strikers this season—it was the opposite. After his most successful campaign in terms of goals scored for Chelsea, he needed Mourinho to throw his weight behind him and mark him as a key player.
Mourinho never has, though. It's been regret after regret about what his front men offer, with Torres wilting in the face of public criticism.
The signs have long been there.
Mourinho opted to start Schurrle on Matchday 2 in the Premier League when Chelsea travelled to Old Trafford to face Manchester United, and despite the tactic failing then, he chose the same approach against PSG in the Champions League this week.
When Mourinho needed Torres most, he simply didn't trust him to deliver.
At Liverpool, and Atletico Madrid before that, Torres was loved. He had the faith of packed stadia whenever he played and was never forced to question his place within the team.
El Nino they affectionately called him. It's been more El Nino Problema in west London
There isn't time for players to find their feet at Chelsea, a club where success is everything—they need to be running from the get-go, yet Torres has hardly crawled.
Before Mourinho's return, he had been eaten by the beast and spat back out. Those who thought it would get any better this season must accept their folly.
Garry Hayes is Bleacher Report's lead Chelsea correspondent and will be following the club from a London base throughout the 2013-14 season. Follow him on Twitter here @garryhayes.