Ten Players the Milwaukee Bucks Could Take at No. 10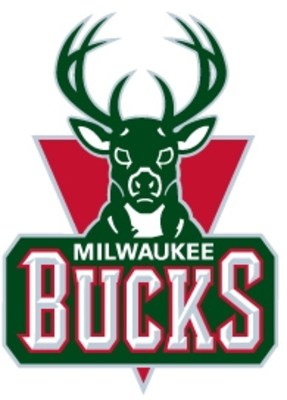 With the 2009 NBA Draft a week away, it's time to really look at who each team might be taking.
The Milwaukee Bucks have the 10th overall pick this year, and I have seen numerous mocks drafts with several players in that slot.
This list is made up of players I have seen at No. 10, as well as guys who have hovered around that pick.
These 10 players range four different positions and each has his own style of play.
So let's check out the guys who could be wearing the greed, red, and white next year (ages in parentheses).
**All stats are from the 2008-09 season**
DeJuan Blair (20), 6'7", Forward, Pittsburgh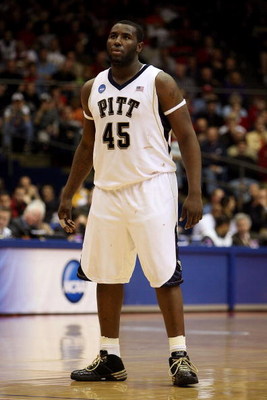 Blair has a big body (277 pounds) that could really help the Bucks down low.
He may not have the height to be a power forward, but he definitely has the aggressiveness and a nose for the ball.
Blair played 35 games for the Panthers last year, averaging 15.7 points and 12.3 rebounds in 27.3 minutes per game. The problem with Blair was that he would sometimes get into foul trouble early.
If Blair can shore up his defense, I'm certain the Bucks could also use his 1.5 steals, 1.1 blocks and 59 percent shooting from the field.
Earl Clark (21), 6'9", Forward, Louisville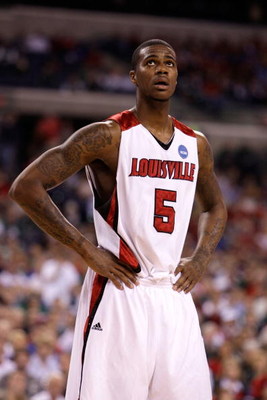 Clark is a very strong three guy and is comparable to Lamar Odom, but the problem is that the small forward is the lone position in which the Bucks are extremely deep.
He played 37 games for the Cardinals last year, averaging 14.2 points, 8.7 rebounds, and 3.2 assists in 34.3 minutes.
Clark is athletic and would be hard to pass up, especially because he gets one steal and block per game and shoots 45 percent from the field and 33 percent from behind the arc.
However, I think Milwaukee should indeed pass on Clark if his name is still on the board.
Austin Daye (21), 6'11", Forward, Gonzaga
I threw Daye in the mix solely because of his height, a part that is lacking in Milwaukee's game.
If Daye were to put on about 25 pounds, he would be a bigger force in the post, as he has the shoot-first mentality.
Last year for the Zags, he averaged 12.7 points and 6.8 rebounds in just over 26 minutes a game. He also averaged more than two blocks a game and shot 43 percent from the three-point line.
I don't see the Bucks taking Daye, but plenty of options will be available when they get on the clock.
DeMar DeRozan (19), 6'7", Guard/Forward, USC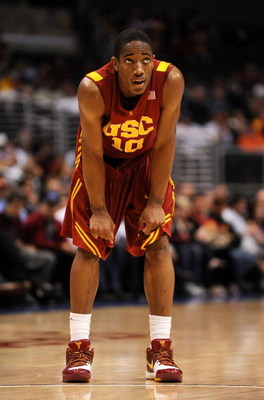 DeRozan is the one option that I've seen the most at No. 10, but I really don't see a spot for him on the Bucks' roster.
He averaged 13.9 points and 5.7 rebounds in 33.4 minutes per game last year for the Trojans. He also shot 52 percent from the field and is comparable to current Bucks player Richard Jefferson.
DeRozan is one of the few teenagers in this draft, and perhaps another year at USC would've helped his stock for 2010.
I doubt David Stern will call his name as going to Milwaukee.
Jonny Flynn, (20), 6'1", Guard, Syracuse
Besides another solid big man, the Bucks could use a strong point guard to lead the offense.
Flynn thought about leaving 'Cuse after his freshman year but stayed and averaged 17.4 points and 6.7 assists in 37 minutes per game.
If the Bucks want to improve their offense, they need to be able to pass efficiently, and in that regard, Flynn is their guy.
He holds an assist-to-turnover ratio of 2.1-to-1, shoots 46 percent from the field, and could very well hear his name called at No. 10.
Jordan Hill (21), 6'10", Forward, Arizona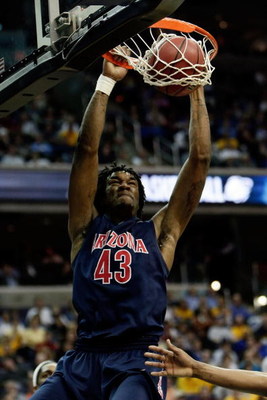 Like Daye, Hill is a good choice because of the height and would provide another low-post presence that will compensate Andrew Bogut.
He averaged 18.3 points, 11 rebounds, and 1.7 blocks in just about 36 minutes a game. Hill shot 54 percent percent from the field and is comparable to Ronny Turiaf.
Hill is tall and lean and would be able to get down the floor more quickly than Blair, making him the best bet for Milwaukee to take him—that is, if his name is still on the board.
Jrue Holiday (19), 6'3", Guard, UCLA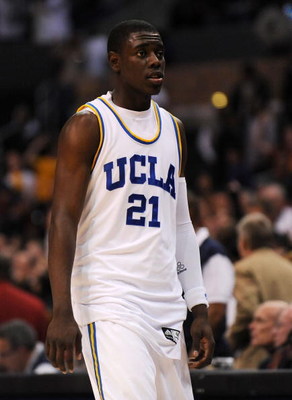 Another popular option I've seen in mock drafts at No. 10 is Jrue Holiday, but I think that Flynn is the better point guard.
Holiday averaged just 27 minutes a game, scoring 8.5 points with 3.8 rebounds and 3.7 assists per game. He also had 1.6 steals and shot 45 percent from the field.
He could be a pretty good NBA point guard, but I think that Milwaukee needs more of a proven player.
Holiday comes from UCLA, which is known for its defense, something that the Bucks are still looking for.
Plus he'd have an easy connection with Luc Richard Mbah a Moute, which could make his transition to the NBA a little bit smoother.
Eric Maynor (22), 6'3", Guard, VCU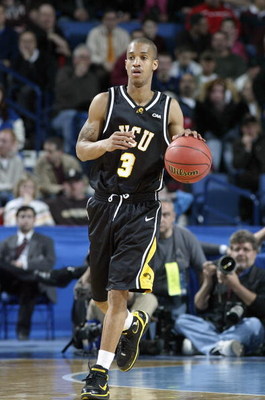 Maynor is the dark horse at the point guard position and—like Flynn—is a pretty good passer.
He played 35.5 minutes per game for VCU last year, averaging 22.4 points and 6.2 assists, while holding an assist-to-turnover ratio of 2.1-to-1.
Maynor shot better than 81 percent from the free-throw line, 36 percent from behind the arc, and averaged 1.7 steals per game.
Don't be too surprised if Maynor gets called at No. 10, especially if Flynn has already been taken off the board.
Jeff Teague (21), 6'2", Guard, Wake Forest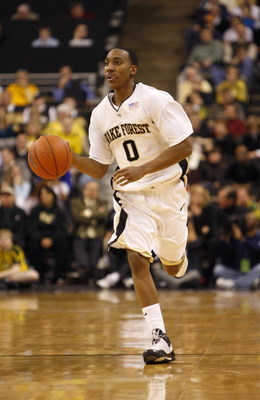 Point guards are out in full force this year, but No. 10 is a little too high to be taking Teague.
In 32 minutes a game for the Demon Deacons last year, he averaged 18.8 points, 3.3 rebounds, and 3.5 asssits.
Teague shot 48 percent from the field, 82 percent from the line, 44 percent from behind the arc, and has been compared to Milwaukee-native Devin Harris.
Teague is most likely a late first-round pick or a possible steal in the second round, but he should not get the call from Milwaukee.
Terrence Williams (21), 6'6", Guard, Louisville
Williams is probably the most versatile player in this draft, as he can produce in all facets of the game.
In 34.2 minutes a game last year for the Cardinals, he averaged 12.5 points, 8.6 rebounds, and 5 assists per game. He also held an assist-to-turnover ratio of 2.2-to-1 with 2.3 steals and nearly one block per game.
Williams shot 43 percent from the field and 39 percent from the three-point line, but he shot a miserable 58 percent from the line.
No. 10 would be a stretch to take Williams, but his athleticism might be too good to pass up.
In this case, I think the risk would be the reward, as Williams could fill many roles on an NBA roster.
I feel the Bucks should go out on a limb and take Williams with their 10th overall pick.
Keep Reading

Milwaukee Bucks: Like this team?