Wednesday night at the McDonald's All-American Game, several high school players set to take their talent to the collegiate level etched their names alongside those of event legends like LeBron James, Kevin Durant, Kobe Bryant, Michael Jordan and more.
The West ultimately prevailed 105-102 in an offensive-minded affair, but the event has never been one to put any meaning into the outcome.
Rather, individual performances reign supreme—usually. This crop of players were subject to rave reviews in the practices leading up to the big game, as illustrated by Evan Daniels of Scout.com:
I've watched 3 practices & a scrimmage & this has been one of the most competitive & least selfish group of McDonald's All-Americans.

— Evan Daniels (@EvanDaniels) April 2, 2014
With that in mind, here are three players who put together strong showings in the historic event.
Note: All info courtesy of the game's official website.
Justin Jackson, North Carolina
The Tar Heels are about to get a great one.
It was apparent early Justin Jackson was going to take over the game, as the 6'8", 200-pound forward physically overpowered the opposition on the boards and continued his high-efficiency ways from his high school days.
Justin Jackson up to 23 points on 11-12 FG at the @McDAAG - 6 mins left …

— InsideCarolina (@InsideCarolina) April 3, 2014
Jackson finished with 23 points on 11-of-14 shooting and was named co-MVP along with (go figure), an elite prospect headed to the other side of one of the sporting world's top rivalries:
McDonald's AA game MVPs Justin Jackson & Jahlil Okafor pic.twitter.com/f8FfvX5Pa8

— Evan Daniels (@EvanDaniels) April 3, 2014
That was not the only hardware Jackson took home on the night, either:
Congratulations to @JJacks2014 on receiving the 2014 Jack Daly Sportsmanship Award. Well-deserved. #McDAAG pic.twitter.com/d8B6AbGJc5

— All American Games (@McDAAG) April 3, 2014
The future Tar Heel has the look of an elite scorer and difference-maker at the next level already. His performance on Wednesday did nothing but further that notion.
Jahlil Okafor, Duke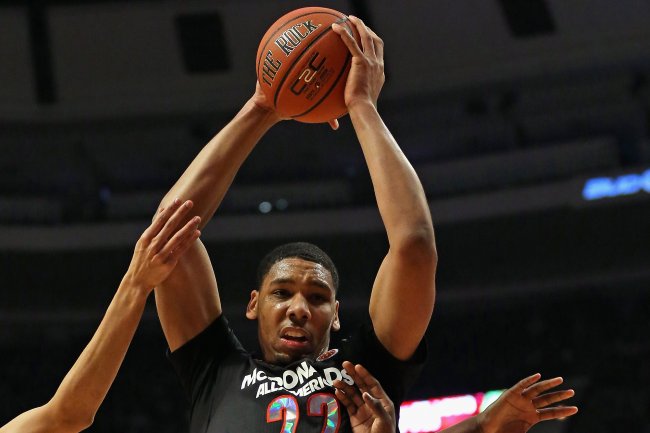 Jonathan Daniel/Getty Images
Jackson and Jahlil Okafor are going to get to know each other quite well in the coming years.
Okafor entered as the most recognizable name and the most highly regarded player by most. He got to work early with strong finishes in transition and silky smooth moves in a half-court offense:
The future Blue Devil wound up with 17 points and seven rebounds by the final buzzer and was awarded the John R. Wooden Most Valuable Player award for his efforts.
On Wednesday, Okafor simply sent another reminder to the collegiate level—and in particular Duke fans—that his impending arrival will create a drastic ripple effect felt around the landscape of the sport.
Rashad Vaughn, UNLV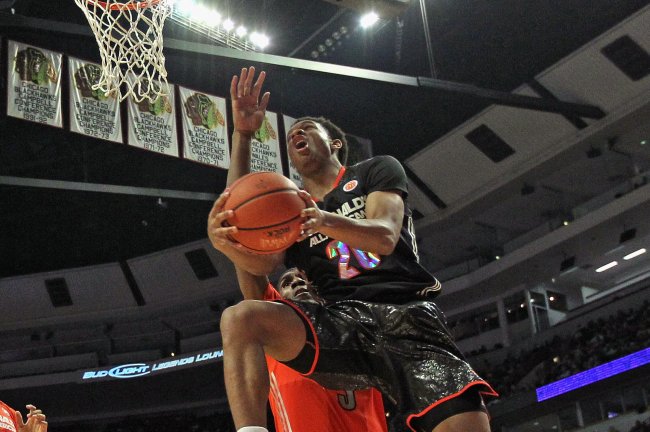 Jonathan Daniel/Getty Images
What a game for Rashad Vaughn.
As hinted above, a game with a rich history in individual performances hinted at a major game for some. Vaughn, perhaps the purest scorer on the overall roster, had himself quite the night and lived up to his billing:
Here comes the best one on one scorer in the class -- Rashad Vaughn. Has 14 points. Two threes, a strong floater & two finishes at the rim,

— Evan Daniels (@EvanDaniels) April 3, 2014
While he missed out on an MVP award for his efforts and 14 points, it's clear UNLV is getting a great one with Vaughn. While not as prestigious as a Duke or North Carolina, Vaughn says he is ready to help provide a major boost to the school, as captured by Mike Grimala of RunRebs.com:
Me and coach [Dave] Rice have got a great relationship. Even though the team was struggling, I still went to a lot of games. I see a lot of potential in them. They just didn't really have a leader to step up and take control. But at the end of the day, I'm ready to get there and play with Goodluck and Dwayne and get it going.
If Wednesday's performance is any indication, UNLV is about to get a leader who can play with the best of the best for years to come.