Get your popcorn ready.
Saturday features one of the most thrilling events in all of sports—the 2014 NCAA tournament's Final Four.
After countless upsets, thrilling finishes, Cinderella stories and epic battles, it has all come down to this. Florida, Connecticut, Kentucky and Wisconsin have the opportunity to advance to the elusive tournament finals.
All Your Bracket Essentials
Each team begins the season with aspirations of becoming the national champion, but that dream becomes a reality for only one school. As these four teams set to face off on Saturday, let's take a look at the updated tournament bracket and predict some more unexpected occurrences.
Updated Bracket
My embarrassing, busted @MarchMadness bracket on @GMA. But as @JoshElliottABC points out, I still have my Final Four! pic.twitter.com/9FfWng6Nai

— Gio Benitez (@GioBenitez) March 24, 2014
The complete 2014 NCAA tournament bracket can be found on CBSSports.com.
Bold Predictions
Shabazz Napier Does It Again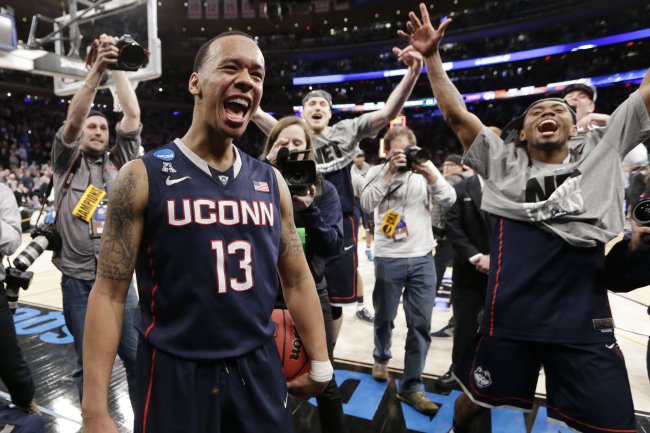 Frank Franklin II
Remember how it played out the last time Connecticut faced off against Florida? In case you don't, take a look:
Napier's buzzer-beater wasn't the only highlight from that game. He torched Florida's stout defense, connecting on nine of 15 attempts from the field for 26 points and adding four rebounds, three assists and three steals.
Sorry about busting your bracket @BarackObama... We have room on our bandwagon if you're interested

— UConn Huskies (@UConnHuskies) March 30, 2014
The Huskies are one of just two teams to defeat the Gators this year—the other being Wisconsin—and they have the momentum and motivation to do it all over again thanks to the way Napier has been performing of late.
He's put up some gaudy numbers recently, accumulating at least 19 points in each of his last four contests. It seems as though no one can slow him down.
Even 30 wins later, #Gators can't forget Shabazz Napier's shot http://t.co/z51FveK3P3 via @FoxSports

— FOX Sports Florida (@SunSportsFOXFL) April 2, 2014
Florida's been on a great run thus far in the tournament; however, the team hasn't exactly had a difficult path to the Final Four.
Connecticut figures to be the most complete, versatile team the Gators have faced to this point, and another upset victory could be on the horizon for Napier and Co.
Aaron Harrison Takes Over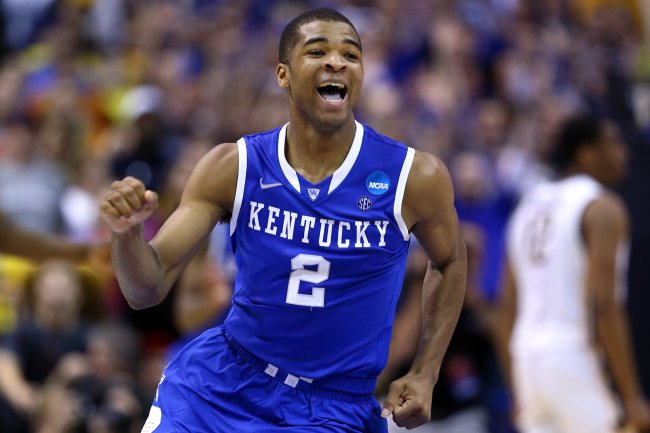 Andy Lyons/Getty Images
If any remaining player in this tournament is riding a huge wave of momentum, it's Aaron Harrison. His buzzer-beating three-pointer to advance the Wildcats to the Final Four was sheer brilliance:
Harrison connected on four of six attempts from behind the arc against the Wolverines and finished with 12 points.
Expect that number to possibly double when Kentucky takes the court Saturday.
This week's SI cover features Aaron Harrison and Kentucky: pic.twitter.com/A9xr0H6vq4

— Andy Gray (@si_vault) April 2, 2014
Wisconsin has a solid defense; however, the team hasn't exactly been dominating on the perimeter.
The Badgers allowed Arizona to connect on 41.7 percent of its shots from downtown in the Elite Eight. Two games earlier, the Oregon Ducks bucketed eight of 18 attempts from the perimeter for a percentage of 44.4.
Harrison may be the most consistent long-ball threat Wisconsin has faced to this point.
Expect to see Harrison take over the game from behind the arc and light up the scoreboard in a big way. If the game remains close down to the bitter end, it's a fair assumption that he could provide the dagger for a second consecutive game.