Updates from Thursday, April 3
Paul Gorst of the Mirror spoke with a lawyer about the altercation:
Now Ashley Wooton, now a sports specialist lawyer for Thomas Eggar LLP, believes Berahino may have a case.

He said: "James Morrison could potentially be disciplined by the club for misconduct if he admits or is found to have hit Berahino. Berahino could raise a grievance against Morrison for his unreasonable and dangerous behaviour.

"Depending on the severity of the injury, Berahino may have a claim for personal injury against both Morrison and the club.
Gorst added more context to the altercation: "The pair allegedly clashed in the dressing-room after Morrison became enraged by Berahino's refusal to apologise to his teammates after losing the ball the build-up to Cardiff's stoppage-time equaliser."
Updates from Wednesday, April 2
BBC Sport's Ben Smith reports Saido Berahino has ruled out taking legal action against teammate James Morrison:
West Brom's Saido Berahino says he has chosen not to pursue legal action against team-mate James Morrison after being punched by the midfielder during a dressing-room incident last weekend.
Original Text:
West Bromwich Albion's season could be on the verge of going from bad to worse if striker Saido Berahino follows thorough with a threat of legal action.
According to Ben Smith of the BBC, Berahino is considering action after an altercation with a team-mate:
#WBA striker Saido Berahino considering legal action against teammate after dressing-room row. More @BBCSport

— Ben Smith (@BenSmithBBC) April 2, 2014
Adrian Kajumba of the Daily Star reveals that James Morrison is the other player involved in a row that the club have now admitted took place but believe has been "sensationalised by the media," per The Guardian.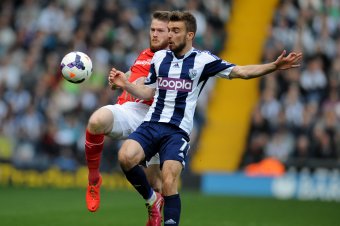 Rui Vieira
The background to the brawl has its origins in the move that led to the 90th-minute equalising goal from Cardiff City when the two teams met on Saturday at the Hawthorns.
With time running out in the match, Berahino was guilty of surrendering possession, allowing Cardiff to snatch a dramatic point.
It led to a heated exchange in the dressing room thereafter, but a West Brom club spokesman has already tried to diffuse the matter, per The Guardian:
What happened is not uncommon in a dressing room and shows the players care. The players involved have apologised. The club has drawn a line under the matter and is now fully focusing on Saturday's important game at Norwich.
Whilst the club's stance is understandable, that may not be enough to dissuade the player.
According to the Daily Star, the England U21 international was "rounded on" by other players but stood his ground. Morrison took exception and swung a punch, leaving the youngster with a black eye and a lump on his head.
Is Saido Berahino right to consider legal action against West Brom?
The Daily Star also reports that there has been underlying tensions for a while now, after Berahino was offered a huge pay rise, from £850 per week to £20,000 per week.
The potential for jealousy amongst other playing members of staff is therefore obvious. However, any such behaviour cannot be condoned and is hardly likely to help Pepe Mel's quest to stay in the division.
Ben Smith notes in his report for BBC Sport that "Berahino does not feel he has had enough support from the club."
Sensationalised or not, an assault on a player has taken place. That no disciplinary action has yet been taken by the club says an awful lot about how they view the incident.