Bayern Munich's spotless reputation in the Champions League was dealt a serious blow last night when Manchester United spoiled the party and picked up a hard-fought 1-1 draw at Old Trafford.
Pep Guardiola's side had been labelled as strong favourites ahead of the tie, considering their success in the competition last year as well as the virtual capitulation of the current Premier League champions this season under new coach David Moyes.
"There was a real determination tonight to ensure we did well," proclaimed the United manager in the post-match press conference, following a draw that will feel like quite the victory against what many perceive to be the strongest club side in world football.
Guardiola was slightly more defensive in his assessment of the match, declaring that he was "satisfied" with his side's performance, before adding: "It's never easy to play against a team which defends so deeply. We will see if we can find some solutions for the match in Munich."
The Catalonian coach made his excuses, described his optimism for the second leg and even cited the unfair dismissal of Bastian Schweinsteiger alongside Javi Martinez's coming ban, yet at the end of the day this wasn't a match that Bayern should have won. That causes all sorts of problems for Germany's largest club.
The history books will look upon this game with more comfort and compassion for Bayern, who simply arrived at Old Trafford on the day and were able to gain a vital away goal against a club of similar stature. Yet in the cold, sober light of day this wasn't the best of Bayern or the team we saw conquer Europe last year.
In a match in which Man United were billed as unfathomable underdogs against the might of Munich's greatest side, it was in fact Moyes' machine-like men who functioned perfectly and set about the task of disrupting Bayern's style of play.
Guardiola's team may have dominated possession and proceedings like they do each week in the Bundesliga, yet they truly struggled to break the English side down and show their abundant ability on the night.
The backlash to such a result may strike fans as hyperbolic nonsense, and indeed it's an exaggeration if used to define the team's season, yet Bayern were shaken by this Premier League side. And United were not the first side to shake them in this current competition.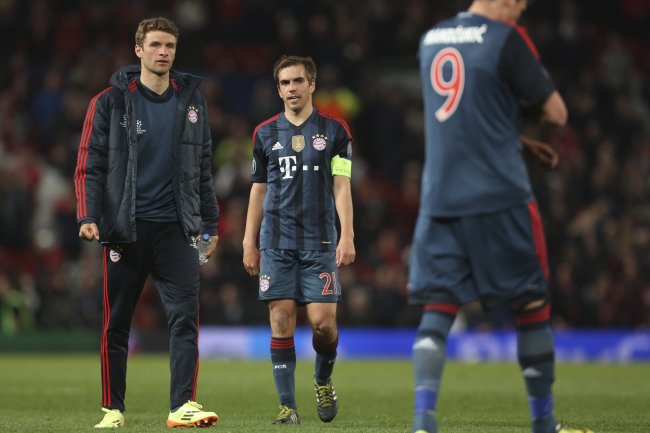 Jon Super
We've seen the wealth of Manchester City's own squad come to the Allianz Arena and regain some respect at Bayern's expense earlier in the season with an emphatic 3-2 win in the final throes of the group stages. Meanwhile, proverbial European underdogs Arsenal took advantage of Guardiola's own over-confidence with a well-earned draw in Munich in the first knockout round prior to this recent upset.
As mentioned in my preview to the game, Moyes was obviously quite confident in his side's own ability to hurt Bayern at Old Trafford through the German team's poor defensive record of late, as they are missing first-choice Brazilian defender Dante.
Bayern have now conceded six goals in their last five games in the premier European competition. That falls in line with a similar tale in the Bundesliga of late, where the newly crowned champions have allowed seven past goalkeeper Manuel Neuer and his understudy Tom Starke in their last six games.
On the night it was Moyes who fashioned worthy tactics to overcome the very man who had so convincingly been regarded as football's greatest coach.
He did it with the simple inclusion of Danny Welbeck to upset the slow, high line of Bayern; Phil Jones' physical approach to handling Franck Ribery; and the half-time introduction of Shinji Kagawa. Man United stopped Bayern from playing their game and made them look mortal once more.
Is this Bayern side better than last season's?
With the suspensions of the aforementioned Martinez and Schweinsteiger coupled with Thiago Alcantara's recent injury, Guardiola may be forced into a more attacking tactic in the return leg. It's a game in which they are still heavily favoured to win and progress, yet the shine from this great side may already be gone for good as far as the remainder of the season is concerned.
Like a fly in the ointment of this Bavarian brilliance, Man United have proven that not only can Bayern be broken down and kept from their usual excellence, but also that they could potentially be beaten entirely.
There's still plenty to play for in this tie, but the damage done to Bayern's reputation could prove to be fatal.