Whispers that the New York Knicks and new Czar of Everything Phil Jackson will look to replace Mike Woodson next year should not catch anybody off guard.
Woodson could have been fired six different times this year and nobody would have been shocked. As the season comes to a painful, drawn-out close, there are sure to be plenty of reports linking different names to the job. Steve Kerr has already had his name floated, along with Jim Cleamons, who coached under Jackson with the Chicago Bulls and Los Angeles Lakers and is currently with the Milwaukee Bucks.

Another name sure to grace the gossip pages is Kentucky's John Calipari.
For the umpteenth time in the last few years, coach Cal is being mentioned as a possible successor to the throne at Madison Square Garden.
The Calipari-to-the-Knicks rumors are flying fast & furious out here again. Here's what a I wrote a few months ago http://t.co/ZpSM7H6wKQ

— Adam Zagoria (@AdamZagoria) March 5, 2014
This narrative works for a couple reasons.
First, there is the connection between the Knicks, Calipari and Creative Artists Agency, better known as CAA. The Knicks have been steeped in CAA ties for years now, and much of their future remains tethered to the Agency. Carmelo Anthony and J.R. Smith are CAA clients, as are assistant general manager Allan Houston and player personnel director Mark Warkentien. CAA is a natural matchmaker for the two sides, and so it is easy to foresee it brokering such a marriage.
Further, the Knicks have a penchant for dismissing logic in the name of chasing a juicy, splashy headline. Despite Calipari's less-than-stellar record as head coach of the Nets (he went 72-112 in two-and-a-half years on the job) he has enjoyed an extremely successful and high-profile college career. Five Final Fours, a National Championship in 2012, and two Naismith College Coach of the Year award. Like him or loathe him, he is one of the biggest coaching names in college basketball. In that way—not necessarily the smart choice, but certainly the sexy one—Calipari becoming the next head coach jives perfectly with the Knicks' history of decision-making.
But that is where the logic, and any real chance of Calipari coming to New York, ends.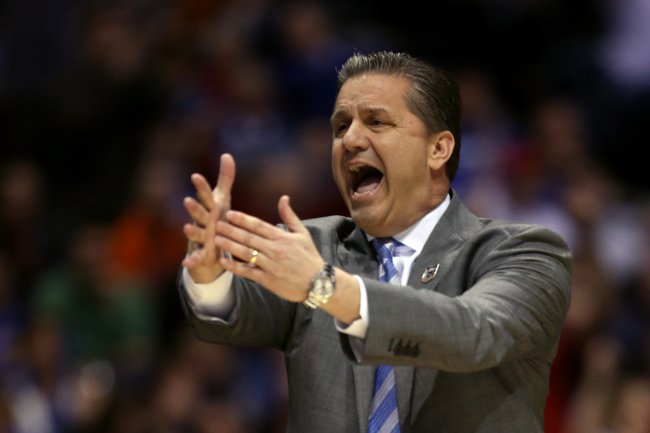 Jonathan Daniel/Getty Images
For starters, it is unclear whether coach Cal's list of achievements at the NCAA level would translate to the NBA.
Calipari's lone stint as a NBA head coach was, to put it politely, an utter disaster. He went 26–56 during his debut season in New Jersey (that's where the Brooklyn Nets used to play, sonny), sneaked into the eighth seed on the final day of the regular season with a record of 43-39 the year after—only to get swept by the Bulls in the first round—and then got let go after posting a 3-17 mark to open season number three.
That's not to say he is a terrible coach, but his achievements in the college arena simply cannot be used to predict his potential success at the professional level.
In large part, this is due to the fact that building a team in the NBA is a very different task than it is in college. For all his achievements over the years as a college coach, Calipari has created most of his success through his ability as a recruiter. According to Rob Dauster of Sports Illustrated, Calipari has a number of tricks in his bag that have helped him lure so many top talents over the years.
What that means is that, all things being equal, there is something else about Calipari's recruiting pitch for the Wildcats that is making them such a desirable landing spot for the nation's elite prospects, something beyond the stereotype of the dollars tossed around by boosters that every armchair recruiting pundit believes is the key to bringing in a loaded recruiting class.

And this past weekend, Calipari provided us with a perfect example.

Last Friday night, the Barclays Center -- the new home of the Brooklyn Nets -- opened up with a concert from Nets part-owner Jay-Z. Jay-Z and Calipari happen to be friends. If you remember, the rapper was fined $50,000 by the NBA for visiting the Kentucky locker room after the Wildcats advanced to the 2011 Final Four, an inconvenience he immortalized in the first four bars of the song "In Paris" off of the Watch The Throne album. Calipari didn't hesitate when it came letting his 1.2 million Twitter followers know about his backstage pass to the concert, tweeting out this picture of himself in front of the stage while name-dropping hip-hop producer Irv Gotti, NBA coach Avery Johnson and Magic Johnson during the night.
That approach is not going to work in the NBA the same as it does in college. Calipari won't be able to recruit five All-Stars every offseason the way he can five All-Americans. So no matter how many celebrities Calipari can tweet at, the NBA model and that pesky thing called the salary cap make it near impossible to build teams the way Cal has built them in college.
Not to mention, the Knicks just signed Phil Jackson to be its closer when it comes to pitching prized free agents. The team doesn't need to go out and pay another one to act as his sidekick.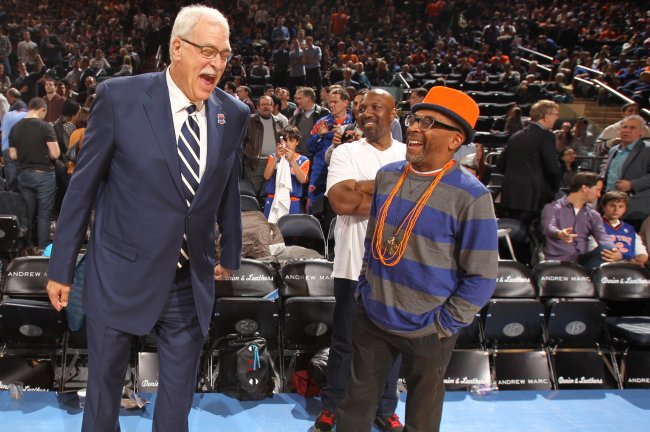 Nathaniel S. Butler/Getty Images
But perhaps the most obvious reason why Cal should not end up on the Knicks bench is that Jackson has made it clear that he will look to install his famed triangle offense next year. He remains a believer in the system and has indicated he will bring that approach to New York.
Phil Jackson dropped more hints that the triangle is gonna be a thing next season: http://t.co/fLD91ReWXE

— Chris Herring (@HerringWSJ) April 4, 2014
Calipari doesn't run the triangle offense out in Kentucky. Nor did he implement that system in Memphis, New Jersey or the University of Massachusetts either. Could he learn from Jackson and become a student of the game? Sure, but the Knicks would be foolish to entrust a guy who has never worked within the system around which Jackson wants to build his new team.
As the Knicks crawl to the finish line of its horrendous 2013-14 campaign, Woodson's days are undoubtedly numbered. The team will go hunting for a new head coach, and Calipari's name will surely come up. But the Knicks would be wise to ignore the temptation to act on these rumblings.
Headlines do not win championships, and the Knicks brass—old and new—need to remember that as it decides on the team's next coach.