Safe to say, this wasn't the sort of year the New York Knicks nor their fans envisioned when the season began. Fresh off a 54-win season, most expected the Knicks to continue their rise in the Eastern Conference, perhaps challenging for a top-three seed. Unfortunately, it didn't take long for those dreams to derail, and now the Knicks find themselves battling just to stay alive in the playoff picture at all.
It didn't have to be like this, though. If just a few things had gone slightly better for the Knicks, then they'd at least be firmly entrenched in the playoffs.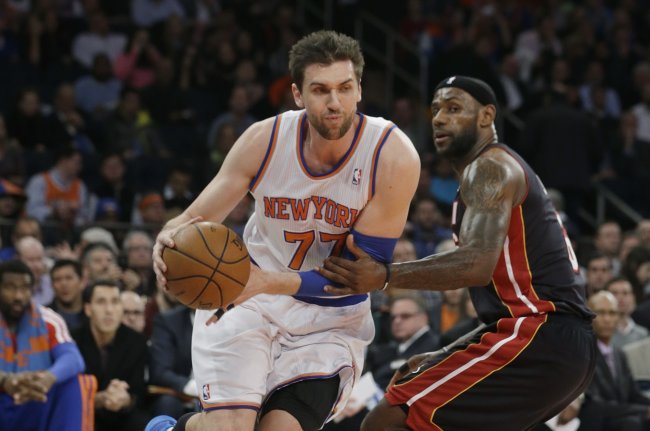 Frank Franklin II
The Andrea Bargnani Trade and Reversion to a Big Lineup
Go back, back even before the season started. In an effort to add more firepower to their arsenal, the Knicks traded Marcus Camby, Steve Novak, Quentin Richardson, two second-round picks and a first-round pick to the Toronto Raptors for Andrea Bargnani. This trade was problematic for several reasons, among them, the forfeiture of yet another first-round pick, the inability to get at least one young prospect in return, as well as the fact Bargnani was a player whose supposed skills never equaled his production.
How, though, did this trade negatively impact the Knicks this season, aside from the fact Bargnani was relatively ineffective? Simply put, the trade gave Mike Woodson a reason to go away from his most successful lineup.
Both Carmelo Anthony and the New York Knicks experienced their greatest success last season when Woodson played small lineups, inserting Anthony at the 4. According to NBA.com/stats, the Knicks scored a blistering 119.3 points per 100 possessions with the lineup of Jason Kidd, Raymond Felton, J.R. Smith, Carmelo Anthony and Tyson Chandler.
Playing Anthony at the 4 allows him to use his quickness to blow by slower post defenders, while his considerable strength still allows him to battle down low without getting pushed too far from the basket. Further, a lineup comprised of three perimeter shooters provides a greater amount of of spacing with which Anthony can operate.
The hope was that Woodson, having seen the success the small-ball power forward iteration of Carmelo Anthony brought the team, he would stick with this scheme.
However, Woodson saw in Bargnani a big who could stretch the floor all the way out to the three-point line, thus apparently negating the need for 'Melo to play a small-ball power forward. Why have your small forward out of position to stretch the floor when you have a natural power forward to do that, the logic apparently went.
The problem is, Bargnani hasn't been much of a floor-stretcher, nor much of an offensive asset for quite some time now. Nevertheless, Woodson continued to play him, or if not him, stick with lineups in which Anthony was the small forward, all in light of the fact the Knicks' best offensive lineup continued to be those in which Anthony was the power forward. Case in point: the lineup of Felton, Smith, Iman Shumpert, Anthony and Chandler, which scores 112.4 points per 100 possessions, according to NBA.com.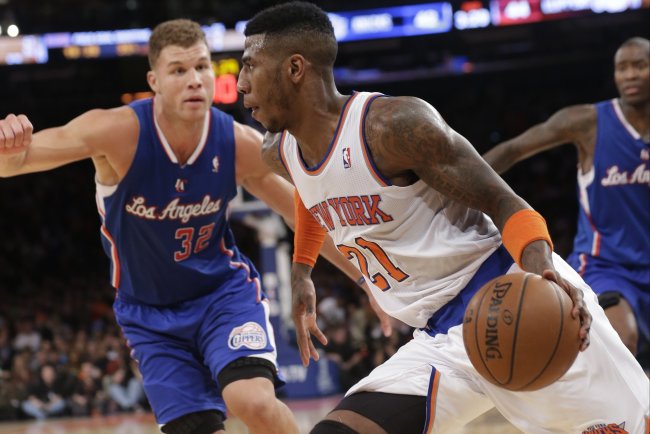 Frank Franklin II
Playing Iman Shumpert more
Iman Shumpert is one of the Knicks' few young prospects. Even with an ACL tear, he's still a terrific athlete, and while his offensive game is still developing, he's by far the Knicks' best perimeter defender. Given the Knicks' need for such things, especially perimeter defense with the likes of Smith and Felton in tow, one would expect Shumpert to play a pivotal role in the Knicks' plans. Instead, somewhat inexplicably, Shumpert only plays 26 minutes per game.
While his production is at career-low levels—he's scoring just 6.6 points per game with a lowly .486 true shooting percentage—there's no denying Shumpert's positive impact on the court on both ends of the ball. According to Basketball-Reference, The Knicks are 2.7 points per 100 possessions better on offense with Shumpert on the court, raising their offensive rating from 106.2 to 108.9.
Where Shumpert truly makes a difference, however, is on the other side of the ball, where the Knicks allow 8.3 points per 100 possessions less when Shumpert plays. Shumpert's great lateral quickness allows him to stick with quicker guards, while his size enables him to defend bigger guards and wings. That's not say he's a perfect defender—he's still somewhat undisciplined, gambling far too often and causing the entire defense to scramble as a result.
Yet herein lies another issue with Shumpert's lack of playing time: it hurts his development. Coaches must allow their young players to learn from and play through their mistakes. Woodson, meanwhile, often keeps Shumpert on a very tight leash, which at least partially explains Shumpert's shortened minutes.
Perhaps if Woodson had loosened Shumpert's reins, the Knicks' defense would have remained steady enough to hold a few of their surrendered leads.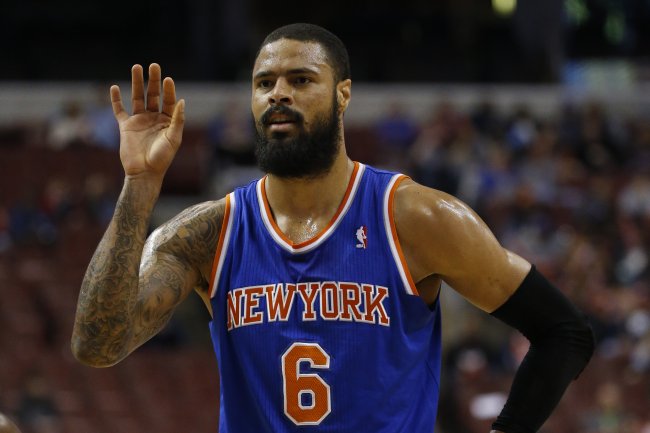 Matt Slocum
Health
Bargnani and Kenyon Martin are out for the season. Chandler's played in just 48 games while Felton, Shumpert and Smith have all missed time due to injury.
The efficacy of these players varies greatly, as does their value. Certainly, Bargnani's value to the team is much less than that of Chandler, around whom the entire defense is designed. Nevertheless, all of these injuries directly impact and change Woodson's lineups. Schemes, stratagems and adjustments can only go so far in compensating for the losses of key rotation players, and the Knicks have already gone far beyond that point.
While these elements certainly don't tell the entire story of the Knicks' struggles this season—coaching and questionable personnel decisions also played their part—they're the main factors that, had they not gone so poorly, would have secured the Knicks a playoff seed.
Statistical support provided by Basketball-Reference.com and NBA.com/stats