When the list of teams that could conceivably win an NBA title is longer than the list of teams that aren't a threat to win a round, that's a clue you've got a historically deep conference.
Such is the case in the West this season.
This is a rare phenomenon, one in which four first-round upsets wouldn't necessarily be a shock. Typically, the bottom four seeds in a conference are supposed to do little more than make things interesting for a game or two before bowing out. Maybe a No. 6 will knock off a No. 3 once in a while—as the Golden State Warriors did the Denver Nuggets last year—but for the most part, lower seeds aren't supposed to pose threats to the top-tier clubs with home-court advantage.
This year's different, as even the unsettled lower rungs of the West boast teams with dreams of deep runs and the tools to make them real.
With only two weeks left in the regular season, now's the time to parse out this absurdly loaded conference, splitting them into tiers and establishing the ceiling of each prospective playoff squad.
Just a heads up: Everybody vying for the West crown is dangerous.
The 'No Questions Asked' Contenders
The elite. If one of the teams from this group survived the Western Conference death march and emerged with an NBA title, nobody would be surprised.
San Antonio Spurs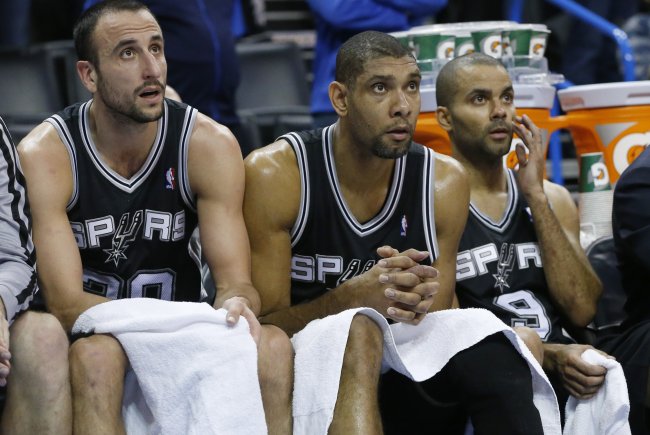 Sue Ogrocki
Following the 103-77 drubbing that accelerated his team's tailspin toward terminal velocity, Indiana Pacers head coach Frank Vogel laid down the bottom line on the San Antonio Spurs:
Indiana's Frank Vogel, on the Spurs: "They are playing as well as anybody in the world right now."

— Jeff McDonald (@JMcDonald_SAEN) April 1, 2014
I'm not up to speed on the quality of basketball in Eastern Europe or China (I hear Stephon Marbury's doing great!), but Vogel's assessment seems fair. And there's no question the Spurs are playing the best ball in the NBA.
Cruising along with 18 straight wins, San Antonio ranks fourth in the NBA in both offensive and defensive efficiency. It's an old axiom that a team is title-worthy when it ranks in the top 10 in both those categories. When a club rates in the top five of both, do we just hand them the trophy?
Based on their play since the All-Star break, the Spurs are making it seem like that move might be a time-saver. After all, they lead the league in offensive rating and defensive rating during that span, per NBA.com.
And since their current winning streak started on Feb. 28, San Antonio leads the NBA in, well...everything, per Ben Golliver of Sports Illustrated:
Since winning streak started, Spurs lead NBA in Off. Eff, Def. Eff, Points, Point Diff., FG%, 3P%, TS%, EFG%, AST/TO, Blocks & Def. Rebounds

— Ben Golliver (@BenGolliver) April 1, 2014
It's a formality to say San Antonio's ceiling is a championship. You can count them out of that conversation if you want, though. Just know you'll immediately be placed on a watch list for the criminally insane.
Oklahoma City Thunder
The uncertain health of Russell Westbrook and a defense that has surrendered its elite status in the second half of the year make the Oklahoma City Thunder less of a sure thing than the Spurs.
But not by much.
OKC still has Kevin Durant, which, by definition makes them eminently capable of winning a title. His growth will likely earn him his first MVP award this season, and the strides he's made as a passer are rivaled only by the mental transformation that has made him the league's most devastating one-man scoring assault.
Two years ago, Durant needed the help of James Harden to reach the Finals. Last year, he failed to make it out of the second round without Westbrook.
Now, he's ready to carry his Thunder all the way to a ring by himself. That's not a guarantee; that's an acknowledgement that Durant is absolutely capable of winning a title this season—no matter what kind of help he has.
Los Angeles Clippers
The Los Angeles Clippers qualify as the newest members of this tier.
Doc Rivers' arrival brought stability, Chris Paul's injury forced key players to step up and as the playoffs loom on the horizon, the Clips look ready to do more than win a series or two.
Back on March 7, Arash Markazi of ESPN was in L.A.'s locker room and noticed signs of title worthiness:
If the Clippers can continue scoring the way they have and start to play the kind of defense Rivers has been preaching about since the start of the season, they might finally be rounding into the kind of contenders many predicted they would be.
All the Clips have done since then is win 10-of-12 while getting healthier and hungrier.
On the year, they've beaten the Houston Rockets four times, the Thunder twice, the Spurs once and the Warriors twice. In other words, there's no team with a clear advantage against the Clippers.
They belong among the legitimate contenders.
The 'It Wouldn't Shock Me' Hopeful
Houston Rockets
Just a hair below the occupants of the "no questions asked" list of contenders, the Houston Rockets are finishing out the regular season with fingers crossed. That's because they recently lost bulldog defender Patrick Beverley to a torn meniscus in his right knee, per Sam Amick of USA Today.
According to Sean Highkin of USA Today, that injury could cause the Rockets to "fall apart."
Let's not get carried away.
Beverley is important to the Rockets' title hopes, but he's not among Houston's three most important pieces. Yes, he brings a buckle-down brand of backcourt defense nobody else on the roster can match. But the Rockets will go as far as Dwight Howard, James Harden and, to a lesser extent, Chandler Parsons and Omer Asik (don't discount his value against some of the West's big front lines) can take them.
The Rockets play at the league's fifth-fastest pace and score at an efficiency clip that ranks fourth in the NBA. All it'll take is a brief hot streak to scorch anyone in their way.
Besides, Adrian Wojnarowski of Yahoo! Sports reports Beverley won't have surgery and should return this season. Disaster averted.
Houston can win the title.
The 'Stunning but Not Impossible' Long Shots
The odds are longer here, but every one of the teams in this tier has the chops to make a playoff run that lasts at least a couple of series. In terms of ceiling, we still can't count these guys out of the championship picture.
Portland Trail Blazers
If LaMarcus Aldridge ever gets the political itch, he could probably scratch it by running for mayor of Portland. With the way he's reversed the course of the Trail Blazers' scary swoon since returning from a back injury, he'd win in a landslide.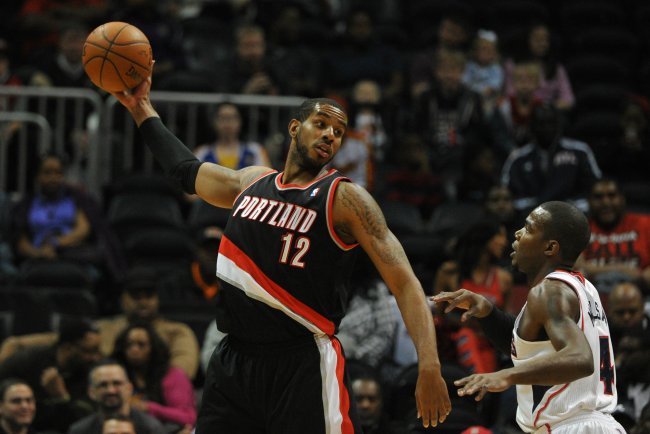 Dave Tulis
The Trail Blazers have won three straight since Aldridge rejoined the lineup on March 27.
For all the problems with spacing and offensive balance he solves, Aldridge still doesn't address the Blazers' troublesome defensive woes. And he doesn't magically bolster the bench that, yet again, has hung the starters out to dry.
Still, the Blazers showed during the first half of the season that their offense, when rolling, makes them capable of beating absolutely anybody.
Getting past a likely first-round matchup with the Rockets won't be easy; Houston has won three out of four meetings with Portland this year. But the Blazers are a dangerous team that seems to have pulled itself together at just the right time.
Golden State Warriors
The slightest misstep down the stretch could result in the Warriors missing the playoffs entirely. Of course, a late surge could also vault them into the No. 5 spot in the West.
In other words, the Dubs' future is uncertain. So uncertain, in fact, that Doc Rivers isn't counting on Golden State retaining that No. 6 seed, and is deploying advance scouts left and right in order to prepare for any first-round matchup, per Broderick Turner of the Los Angeles Times: "We just met with our scouts on where to send people. We send them all over the place because there are three or four teams we could literally play in the first round."

Don't let Rivers' uncertainty mislead you; the Warriors' instability doesn't mean they'll be a soft foe in the postseason.
Their defense ranks third in the NBA, Stephen Curry requires at least two defenders' attention at all times and as the players rally to support embattled head coach Mark Jackson, a newfound unity could propel this team to its full potential.
A weak bench has surrendered leads all year, but reserves matter far less in the playoffs. And as long as the Warriors starters are on the court, they're one of the most statistically dominant outfits in the NBA. As proof, consider how the NBA's five most effective three-man units (based on net rating and limited to groups who have played at least 1,000 minutes this year) come from the Dubs' starting bunch.
On the strength of their elite defense and top-notch starting five, the Warriors have a chance to win a ring this year. It's a tiny, almost invisible chance. But it's a chance.
Memphis Grizzlies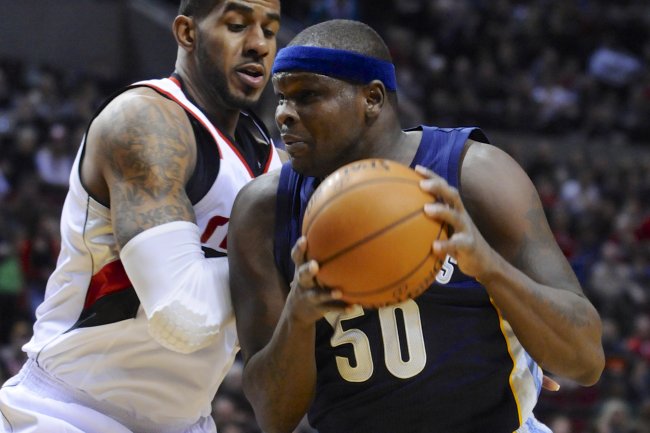 GREG WAHL-STEPHENS
Every year, there's a low seed nobody wants to face in the first round. The Memphis Grizzlies are locked in a three-way battle with the Phoenix Suns and Dallas Mavericks for the bottom two playoff spots, so their presence in the postseason isn't yet guaranteed.
But if Marc Gasol and Co. make the dance, they'll be that team no one wants to tangle with.
Per Sam Amick of USA Today, Memphis head coach Dave Joerger likes how his club has come together over the past couple of months: "The chemistry is the best that I've ever seen it in all of my years here. Guys really like each other. They like playing together. They like traveling together. They're playing for each other, and I think that's very positive."
The good vibes hide a brutal, punishing style in Memphis. Nobody emerges from a series with the Grizzlies unbloodied, so even if they can't make serious playoff noise, they'll wreak enough havoc on their opponents to rearrange the face of the postseason.
Memphis winning a title would be a world-shaking stunner. Its offense is still predictable and there's just not enough shooting on the roster to change that. But this is a battle-tested group that will defend until it can't breathe anymore.
The ceiling for this group is a championship. Don't go betting on it, but don't rule it out entirely either.
The 'Scary but Flawed' Spoilers
Excellent offensive teams lacking either the defensive profile or reliable experience to win a title. Make no mistake, either one of these squads could topple a high seed in the first round. Just don't rely on them to go all the way.
Dallas Mavericks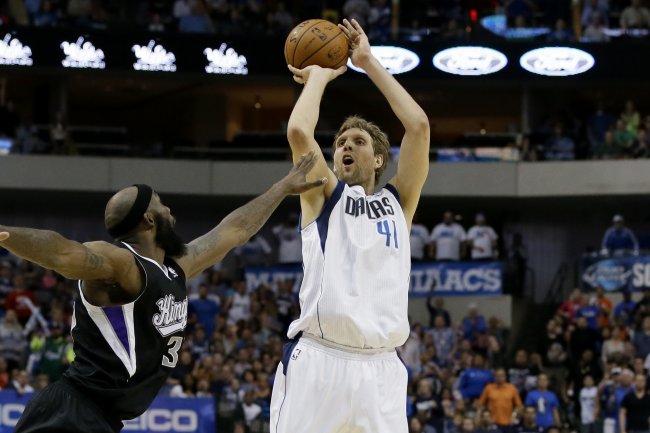 Tony Gutierrez
We've already described the three-way battle for the final two spots in the West, but it bears repeating that Dallas isn't assured a playoff seed.
Unlike the teams above, we can safely rule the Mavs out of championship contention. They haven't beaten the Spurs in three tries this year, which makes them a prohibitive underdog as a No. 8 seed—which sounds admittedly redundant.
A seventh seed could make things more interesting, as Dallas defeated the Thunder by 23 points in OKC on March 16. Even if the Mavericks managed to get past Durant and friends in the first round, there's just not enough defense (Dallas ranks 22nd in the league with a rating of 105.7, per NBA.com) to support the point production of Dirk Nowitzki and Monta Ellis.
Given the right matchup, the Mavs can be first-round spoilers. But they don't profile as a club capable of making it past the conference semifinals.
Phoenix Suns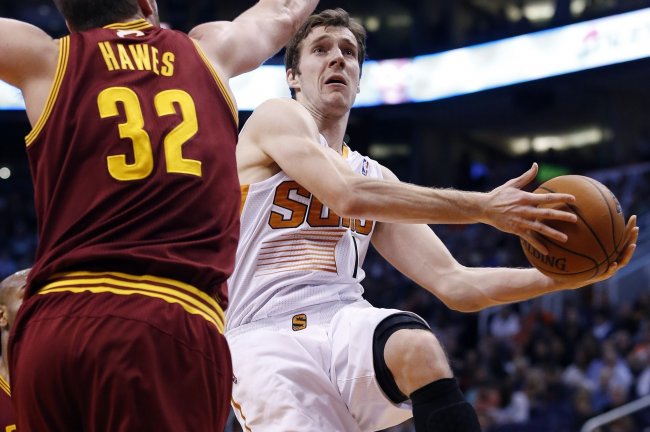 Ross D. Franklin
Much of what's been said about the Mavericks also applies to the Suns. They boast a terrific offense, an unproven defense and, against the right opponent, could cause serious trouble in the first round.
It's harder to know which top seed should be more worried about Goran Dragic and Eric Bledsoe's deadly backcourt attack. Phoenix has notched wins against both the Spurs and Thunder this year, and for what it's worth, it's the last team to actually defeat San Antonio—way back on Feb. 21.
Which Western Conference team can we count OUT as title contenders?
Unlike the Mavericks, these Suns will head into the playoffs with absolutely nothing to lose. Phoenix isn't supposed to be a postseason team, and the freedom that comes with exceeding expectations makes it dangerous.
Being dangerous doesn't equate to being a contender, though. Realistically, the Suns' don't have the experience necessary to do more than scare a top seed. A first-round out—but probably an entertaining one—is all Phoenix has in its future.
The Final Tally
In total, no fewer than seven teams out West have a shot to win a championship. Four of them—the Spurs, Thunder, Clippers and Rockets—could do so without raising many surprised eyebrows around the league.
And even the Warriors, Blazers and Grizzlies could collect rings without causing epic stirs.
Unfortunately for the Mavericks and Suns, the ceiling is a bit lower. But don't be stunned if either of those teams nearly floors a first-round foe.
This collection of Western Conference teams is loaded, making predictions tougher than ever. So instead of counting clubs out, it seems the only safe play is to count almost everybody in.