Updates from Wednesday, April 2
Al Iannazzone of Newsday provides an update on Tim Hardaway Jr.:
Mike Woodson said Tim Hardaway Jr will play tonight against Nets. Hardaway sprained his ankle Monday in Utah.

— Al Iannazzone (@Al_Iannazzone) April 2, 2014
Updates from Tuesday, April 1
Marc Berman of the New York Post has the latest on Tim Hardaway Jr.:
#Knicks are going to officially list Tim Hardaway Jr. as questionable for tomorrow's Brooklyn showdown with sprained ankle.

— Marc Berman (@NYPost_Berman) April 1, 2014
Original Text
Just when things were starting to turn around for the New York Knicks in their quest for a playoff spot in the Eastern Conference, the injury bug reared its ugly head.
Chris Herring of The Wall Street Journal alerted fans that the victim was Tim Hardaway Jr.:
Hardaway came out of the X-ray room in a wheelchair. Still unclear on severity of his ankle injury

— Chris Herring (@HerringWSJ) April 1, 2014
Rotoworld Basketball did provide some solace for Knicks fans, though, in the form of X-ray results:
X-rays negative on Tim Hardaway Jr. (ankle) http://t.co/N8828nEV6d

— Rotoworld Basketball (@Rotoworld_BK) April 1, 2014
Before exiting the game against the Utah Jazz, Hardaway Jr. scored 10 points, dished out two assists and grabbed two rebounds. The Knicks managed to secure the victory against the lowly Jazz despite Hardaway's injury, which was critical given the late stage of the season.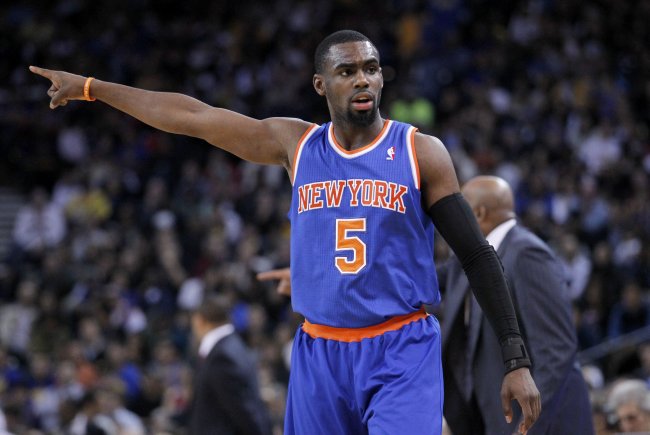 Cary Edmondson-USA TODAY Sports
New York is currently locked in a tight battle with the Atlanta Hawks and Cleveland Cavaliers for the final playoff spot in the Eastern Conference, so any time that Hardaway misses will certainly hurt.
Given the way the Indiana Pacers have played lately, if the Knicks could secure that final spot there is a chance they could come away with a series win (assuming the No. 1 seed isn't Miami). However, having a healthy Hardaway would help the cause.