Updates from Wednesday, May 7
The Nationals' official Twitter feed reported good news on Ramos this morning:
Welcome back Wilson Ramos! @WRamosC3 will be reinstated from the DL and catch today's game vs. the #Dodgers, per Matt Williams.

— Washington Nationals (@Nationals) May 7, 2014
CSN's Mark Zuckerman adds more on Ramos:
#Nats vs. #Dodgers RHP Haren: Span CF, Rendon 3B, Werth RF, LaRoche 1B, Ramos C, Desmond SS, Espinosa 2B, Frandsen LF, Strasburg P.

— Mark Zuckerman (@ZuckermanCSN) May 7, 2014
Updates from Tuesday, May 6
James Wagner of the Washington Post provides an update from Wilson Ramos:
Wilson Ramos (hamate bone surgery) is here today, will take regular BP with the Nats and hopes to be activated tomorrow. "I'm ready to go."

— James Wagner (@JamesWagnerWP) May 6, 2014
Updates from Monday, May 5
The Washington Nationals have updated Wilson Ramos' status as he looks to return from a hand injury:
#Nats Manager Matt Williams said the plan is for @WRamosC3 to catch 9 innings for @HbgSenators tonight.

— Washington Nationals (@Nationals) May 5, 2014
Updates from Friday, May 2
The Nationals and CSN's Mark Zuckerman had an update on Ramos' performance in extended spring training:
#Nats Manager Matt Williams said @WRamosC3 had a good day in extended Spring Training. Caught 3 inn, hit 2 HR & a 2B.

— Washington Nationals (@Nationals) May 2, 2014
Ramos caught 3 innings in Viera. Hit two homers and a double. Williams encouraged but really cautious about bringing him back too soon.

— Mark Zuckerman (@ZuckermanCSN) May 2, 2014
Williams says it's "possible" Ramos returns for part of Dodgers series next week. Next weekend in Oakland sounds very realistic.

— Mark Zuckerman (@ZuckermanCSN) May 2, 2014
Updates from Sunday, April 27
Adam Kilgore of the Washington Post has the latest on Wilson Ramos:
The most promising development pertains to Ramos. The Nationals expected him to miss four to eight weeks when he broke the hamate bone in his left hand on opening. It now appears Ramos will miss much closer to four — he may return as soon as the Nationals' next homestand, which begins May 5 against the Dodgers.
Updates from Saturday, April 26
Washington Post reporter James Wagner has an update on Ramos:
The scar on his left hand is healing and he is more than a week into his rehab, but he has progressed well.

Ramos "looked good," Manager Matt Williams said. "He's gotta get strength back and all of that. But so far so good. Pretty fast, all things considered."

This weekend, Ramos will take part in defensive drills and catch a light bullpen session for the first time, another step in his recovery process. Coaches Randy Knorr, Bobby Henley and Matt LeCroy, all former catchers, will supervise the catching activities, which will likely include a coach throwing light pitches to Ramos behind the plate.

"Swinging the bat is one thing; you have two hands on it," Williams said. "But being a catcher is completely different. … But the strength of catching the ball, that's the key. Swinging the bat is one thing but 100 plus times [catching] in the game doing that he's gotta make sure that he can do that properly to make sure he can play again."
Updates from Wednesday, April 2
Wilson Ramos provided an update following his surgery:
Thank you to all of you surgery went will . I will be back soon with the arms up. The búfalo love you all.

— Wilson Abrahan Ramos (@WRamosC3) April 2, 2014
The Washington Nationals provide an update on Ramos' hand surgery and recovery:
#Nats Wilson Ramos underwent successful surgery today to remove a fractured hamate bone from his left hand. He will begin rehab immediately.

— Washington Nationals (@Nationals) April 2, 2014
#Nats have placed W. Ramos on the 15-Day DL w/a left hamate fracture & recalled C Sandy Leon from Double-A Harrisburg http://t.co/hfJOMsPFXQ

— Washington Nationals (@Nationals) April 2, 2014
Updates from Tuesday, April 1
James Wagner and Adam Kilgore of the Washington Post provided the expected timeline for Wilson Ramos to be sidelined:
Nationals catcher and opening day cleanup hitter Wilson Ramos will likely undergo hamate bone surgery on his left hand Wednesday morning, according to multiple people familiar with situation. The procedure would sideline the Nationals' bedrock catcher for more than a month and affect him once he returns.

After he received a MRI on Tuesday, Ramos will visit specialist Kenneth Means in Baltimore for a final opinion. If Means determiness Ramos needs surgery, as expected, Ramos could miss up to eight weeks and experience diminished power at the plate once he returns.


Hamate bone injuries are common in baseball. Recovery tends to take four to eight weeks. Many players require longer to recapture their power once they return.
Original Text
It took less than one game into the 2014 MLB season for the Washington Nationals to receive some unwelcome news, as catcher Wilson Ramos injured his hand against the New York Mets on Opening Day.
James Wagner of The Washington Post filled fans in on the details:
Wilson Ramos exited Monday's season opener against the New York Mets with a fractured bone in his left hand, according to a person a familiar with the situation. It is unclear how it happened during the game or how long he will be out, but Ramos was replaced in the bottom of the seventh inning with backup Jose Lobaton.
However, that report was denied and Dan Kolko of MASN is reporting that x-rays are negative on Ramos' hand:
X-rays on Wilson Ramos' hand are negative. Will see hand specialist tomorrow, Williams says.

— Dan Kolko (@masnKolko) March 31, 2014
Ramos was 0-for-3 before exiting the game.
Clearly, any injury is disheartening for a player or franchise, but it is especially so in the case of Ramos. The Nationals catcher has played a mere 103 games over the past two campaigns thanks to knee surgery in 2012 and hamstring issues in 2013.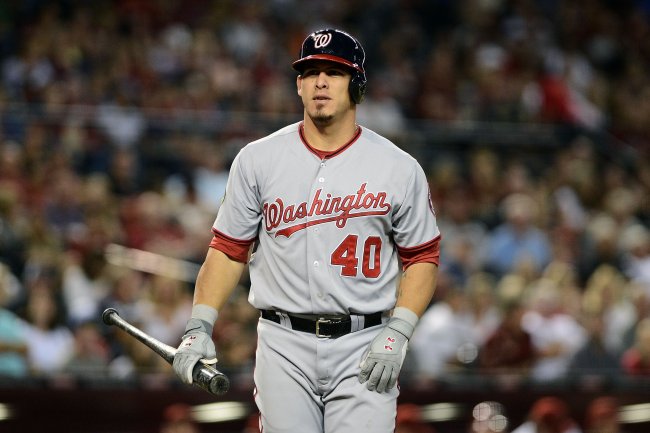 Jennifer Stewart/Getty Images
Looking forward, Washington will have to rely on Jose Lobaton for the foreseeable future. It is worth mentioning that Lobaton did register a base hit after filling in for Ramos on Monday. Lobaton hit .249 with seven home runs for Tampa Bay last season, so he is a capable backup option offensively.
Still, the Nationals would prefer Ramos as part of their everyday lineup.