There's one matchday remaining in the 2014 World Twenty20 Super 10, with three of the semi-finalists already determined and one more ticket left up in the air.
The Netherlands upset England in embarrassing fashion on Monday, scoring 133/5 and coming away with a 45-run win as England could only muster 88 runs. Then Sri Lanka put together the finest bowling display we've seen all tournament to beat New Zealand by 59 runs, despite only scoring 119 themselves.
Super 10 Group 1

| | | | | | |
| --- | --- | --- | --- | --- | --- |
| Team | Played | Won | Drawn | Lost | |
| Sri Lanka | 4 | 3 | 0 | 1 | 6 |
| South Africa | 4 | 3 | 0 | 1 | 6 |
| New Zealand | 4 | 2 | 0 | 2 | 4 |
| England | 4 | 1 | 0 | 3 | 2 |
| Netherlands | 4 | 1 | 0 | 3 | 2 |
Espn Cricinfo
Super 10 Group 2

| | | | | | |
| --- | --- | --- | --- | --- | --- |
| Team | Played | Won | Drawn | Lost | Points |
| India | 4 | 4 | 0 | 0 | 8 |
| West Indies | 3 | 2 | 0 | 1 | 4 |
| Pakistan | 3 | 2 | 0 | 1 | 4 |
| Australia | 3 | 0 | 0 | 3 | 0 |
| Bangladesh | 3 | 0 | 0 | 3 | 0 |
ESPN Cricinfo
India, South Africa and Sri Lanka will be joined by either Pakistan or West Indies as both teams will face off in cricket's equivalent of a sudden death on Tuesday.
Hosts Bangladesh will play Australia first, though, and with both teams winless in the Super 10, tensions will be high in both matches.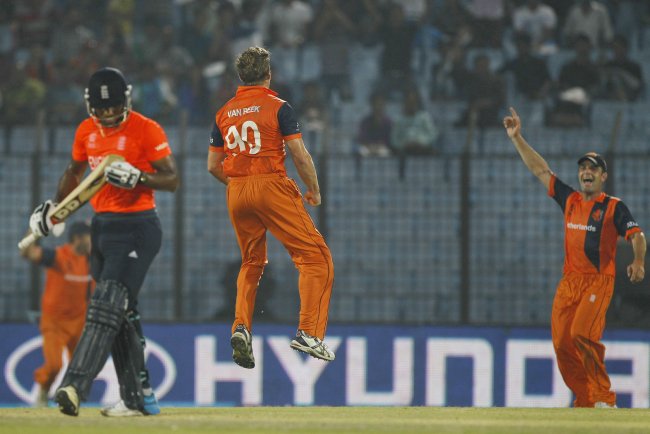 A.M. Ahad
The Netherlands shocked the world (again) with a win over England, their second in two meetings. The result was the latest in a string of embarrassing defeats for the English team and, unsurprisingly, Twitter had a field day.
Andrew Miller started things off:
Mentally, England are already at cruising altitude, somewhere over the Caspian Sea. Nearly home boys, nearly home...

— Andrew Miller (@miller_cricket) March 31, 2014
Freddie Wilde shared this image:
England are a happy cricket team. #TheOnlyWayIsEthics #EngvNed #WT20 pic.twitter.com/osgv6HNLen

— Freddie Wilde (@fwildecricket) March 31, 2014
Holland batted first and were held for 133/5, which should have been a more-than-reasonable target for England. Wesley Barresi scored 48 runs and Stephan Myburgh added 39, but the rest of the lineup was contained quite well by Ravi Bopara and Chris Jordan, both keeping their economy rates under five and taking a wicket.
And then it was England's turn to bat.
Holland's bowling was solid but unspectacular. There were no heroics or miracle plays. The English batsmen simply didn't show up: four total boundaries; 88 runs; the lowest-ever total for a Full Member against an Associate.
Ravi Bopara had 18, Alex Hales was held for 12. Chris Jordan added 14 and the rest of the group was held to single digits.
Mudassar Bukhari took three wickets for an economy of 3.27, leading the charge for a Dutch team that gets to end the tournament on a very high note. As for England, Dave Tickner perhaps put it best:
Nasser on Giles' job prospects: "You don't want to go into that meeting with a CV saying 'lost to the Netherlands last game'."

— Dave Tickner (@tickerscricket) March 31, 2014
With this latest loss, one has to wonder whether this team can fall any lower.
In the second match, New Zealand seemed to be on their way to the semi-finals after early dismissals of Kusal Perera and Kumar Sangakkara, but a phenomenal performance from Sri Lanka's bowlers, led by Rangana Herath, held the Kiwis to 60 runs, making Sri Lanka's 119 more than enough for the win.
It truly was an odd match, with Sri Lanka forced to bat first and quickly losing some of their top batsmen. Trent Boult was on point, taking several early wickets and ending with three in total, while Corey Anderson kept his economy under five and limited any damage the Sri Lankan batsmen could do.
Chasing 119, New Zealand looked to be in prime position to beat last month's Asia Cup winners and advance to the semi-finals. And then Herath happened.
ESPNcricinfo shared the spin bowler's final stat line:
Herath today W (run out) . . . . W . . . . W W . 1 1W . W 3.3 - 2 - 3 - 5 #Unplayable http://t.co/1XZYJsqQsz

— ESPNcricinfo (@ESPNcricinfo) March 31, 2014
As reported by Mazher Arshad, his partnership with Sachithra Senanayake was beyond deadly:
Herath and Senanayake have conceded only 5 runs in 6 overs between them. Also accounted for 6 wickets. Their figures: 6-2-5-6

— Mazher Arshad (@cricket_U) March 31, 2014
Herath was simply unstoppable, putting together one of the finest bowling performances T20 cricket has ever seen. Black Caps captain Brendon McCullum was one of the many batsmen not scoring a single run off the experienced bowler. As shared by Matiu Workman, he was obviously not happy:
McCullum: 'We played some pretty mindless cricket..we took some poor options today.' #understatementsgalore

— Matiu Workman (@matiuworkman) March 31, 2014
New Zealand would end with a mere 60 runs, but with the way Herath played on Monday, calling it an embarrassment would simply not give the Sri Lankan bowler enough credit.
The roar from the crowd as he took wicket after wicket without conceding runs was deafening, as fans couldn't believe they were privileged enough to witness such a performance.
With the win, Sri Lanka will progress to the semi-finals, while the Black Caps will be going home.
Tuesday will see the conclusion of the Super 10 stage with two more matches; Bangladesh and Australia will warm up the crowd before Pakistan and West Indies play an all-or-nothing match, with the winner taking on Sri Lanka in the semi-final.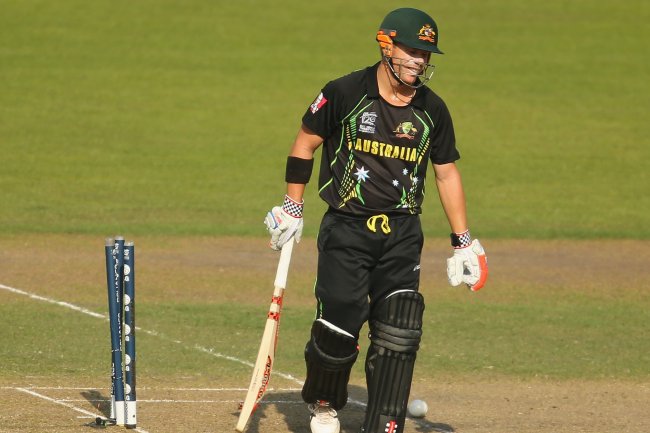 Scott Barbour/Getty Images
Australia were thought of as potential winners of the 2014 WT20, and three straight losses will have come as a shock to the team that dominated South Africa in several matches leading up to this tournament.
David Warner has been unable to reproduce his excellent form of recent months, and the Aussies have struggled without his production in the early part of the innings.
As the team's main (and perhaps only) contributor with the bat recently, Glenn Maxwell will be counted on to perform against a group of bowlers that has struggled for Bangladesh this tournament.
The hosts breezed through the qualifiers but were unable to carry that momentum through to the Super 10, with the bigger nations easily dispatching of Bangladesh in every one of their matches.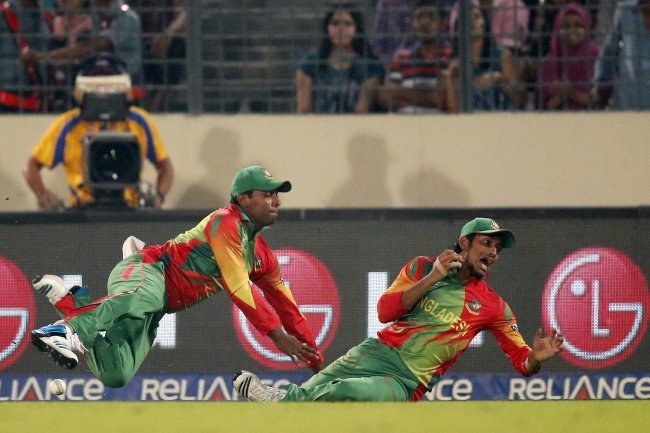 Aijaz Rahi
Anamul Haque is the team's most explosive player, and he leads Bangladesh in runs, but an average of 36.80 is perhaps lower than what the youngster would have hoped for.
On paper, Australia should easily handle the hosts, but with the way the team has played this tournament and the fact Bangladesh would love to give their fans something to cheer about, don't be surprised if the hosts send the Aussies back home with four losses in four tries.
The main event will, of course, be the match between Pakistan and West Indies, with the winner advancing to the next round and the loser going home.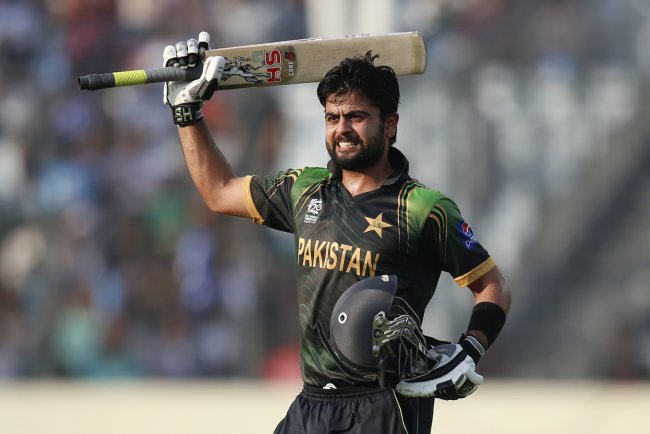 Aijaz Rahi
The defending champions have looked vulnerable from the start of the tournament, but some late heroics from Darren Sammy gave the Windies the win over Australia and opened the door for a potential upset over Pakistan.
Chris Gayle has been the team's most consistent performer and, as shared by Manpreet, it's easy to see why West Indies rely so heavily on his skills with the bat:
Most number of sixes in World Cup T20 Chris Gayle - 49 Yuvraj Singh - 31 Shane Watson - 27 Mahela Jayawardene - 25 Luke Wright & AB - 21.

— Manpreet (@ItalianLaddoO) March 31, 2014
Without Kieron Pollard, the Windies' batting lineup has looked far from menacing, and Pakistan's group of bowlers should be very aggressive right from the start. Umar Gul leads the team in wickets, and combined with Mohammad Hafeez, Pakistan boast one of the tournament's strongest units.
The Windies' best chance at winning might come in its own group of bowlers, but containing Ahmed Shehzad and Umar Akmal is easier said than done. Both have combined for more than 250 runs in three matches and will be looking to do some damage against Sunil Narine, Krishmar Santokie and Samuel Badree.
Pakistan will be favourites going into this tie, but in T20 cricket, anything can happen. The winner of this match will take on Sri Lanka in Thursday's semi-final.