How Jason Hatcher Can Help Save the Washington Redskins Defense
April 2, 2014

Ronald Martinez/Getty Images
DeSean Jackson isn't the only Pro Bowl-caliber starter the Washington Redskins poached from a division rival this offseason. Don't forget about Jason Hatcher, who is coming off a career year in Dallas and is set to make $6.9 million a year as the Redskins' new 4-technique defensive end in their 3-4 scheme. 
Hatcher had a career-high 11 sacks last season, primarily as a 3-technique defensive tackle in Monte Kiffin's 4-3 scheme. That number probably excites Redskins fans because nobody's had that many sacks for them since Brian Orakpo registered 11 in 2009. 
But after carefully examining tape from the last two seasons, we're thinking those fans should cool their expectations regarding Hatcher's overall sack total. During his first two seasons as a starter in 2011 and 2012, he had a combined 8.5 sacks. In those years, he was playing a very similar role to the one he'll be inheriting in D.C. 
That doesn't mean Hatcher won't have just as large an impact on this defense. Sacks are an overrated stat. In 2012, when Hatcher had just four sacks, he was graded by Pro Football Focus (subscription required) as the fourth-best 3-4 defensive end in the game. In fact, no NFC player at that position had more total pressures than Hatcher did, and he was a stud against the run, missing just a single tackle all season. 
Here he is taking on two Tampa Bay offensive linemen, holding his ground and tackling Doug Martin for no gain on a stellar defensive stop in 2012:
NFL Game Pass
And here he is taking on a pair of blockers again before halting Ray Rice just beyond the line of scrimmage in a 2012 matchup with Baltimore:
NFL Game Pass
He's a guy who'll do what you ask of him. His job in 2011 and 2012 was to be a versatile distraction inside, plugging holes and providing opportunities for DeMarcus Ware and Anthony Spencer to rush the quarterback from the edge.
In that two-year span, those two pass-rushers combined for a ridiculous 48 sacks. 
With Spencer down for the year and Ware struggling with age and injuries in 2013, Hatcher had to pin his ears back more. And he came through with a sack-filled campaign, earning his first Pro Bowl nod. 
The plan in Washington will undoubtedly be for Hatcher to do exactly what he did for Ware and Spencer in 2011 and 2012, this time with Orakpo and Ryan Kerrigan the benefactors. Sacks are overrated, but pressure up the middle is not. Redskins fans who saw Robert Griffin III take a beating as his interior line caved all year are well are of that. Hatcher will help Barry Cofield collapse the pocket from the inside as Orakpo and Kerrigan come from the edges. 
Here's an example of Hatcher pinning his ears back from the 3-4 end position, with Ware offering the type of distraction Orakpo is bound to bring to the table in 2014. In this case, it results in a sack of Cam Newton: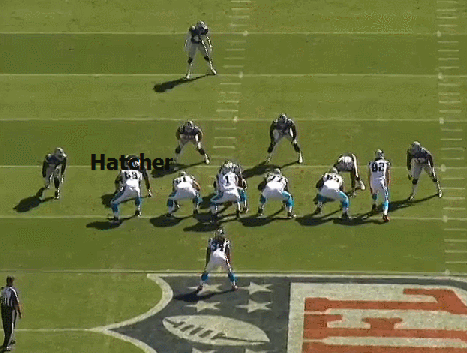 NFL Game Pass
No offense to Jarvis Jenkins and Co., but the Redskins will also benefit from the football smarts Hatcher brings to that defensive front. One play that stood out on tape from 2012 was when Hatcher battled at the line of scrimmage against Atlanta while keeping one eye on Matt Ryan, breaking away to take down Jason Snelling for a three-yard loss on a dump-off:
NFL Game Pass
The guy's also just a physical specimen, as Redskins fans probably know. This utter smackdown on RGIII was a recent lowlight for that offense, as well as guard Kory Lichtensteiger, who was dominated one-on-one:
NFL Game Pass
We also saw that from more of a typical 4-3 point of attack in 2013, like when he ripped past Chris Snee, drawing an offensive holding penalty and yet still sacking Eli Manning in a Week 1 victory:
NFL Game Pass
Later in the season, he embarrassed Chris Williams of the Rams on another phenomenal solo effort:
NFL Game Pass
He also goes into beast mode as a run defender. Just ask Alfred Morris: 
NFL Game Pass
I think a lot of folks wondered if Hatcher's reputation was boosted by the players around him the last few years. But as we mentioned, his breakout season came with Spencer out, Ware off his game and Jay Ratliff gone. 
And Hatcher actually earned his best PFF grade (subscription required) of the year in Dallas' first game sans Ware in October, recording nine pressures, four tackles, three defensive stops and this sack of Nick Foles:
NFL Game Pass
Hatcher brings a new dimension to this defense. The Redskins got only seven sacks from their defensive linemen last year, which is why the team's sack total of 36 was quite disappointing despite the presence of Orakpo and Kerrigan. 
You can't compensate for a bad secondary with only 36 sacks. But now that Hatcher is on board to wreak some havoc, the 'Skins might finally have enough to make things easier on a defensive backfield that has given up the third-highest passing yardage total in football the last two years.
A lot of people think Jackson can put the Washington offense over the top. But don't be completely surprised if Hatcher does the same thing to that front seven, moving this defense from abysmal to respectable.