Scouting Report: Should Manchester United Target Real Sociedad's Inigo Martinez?
March 31, 2014

David Ramos/Getty Images
Could Manchester United target Real Sociedad centre-back Inigo Martinez in the summer transfer window? To cover that scenario, here is a scouting report on Martinez, a 22-year-old Spanish international. 
Positives
Translation: "Inigo Martinez is my idol! Incredible," Real Madrid and former Sociedad central midfielder Xabi Alonso said via a tweet in reaction to Martinez's second freakishly long-range goal of the 2011-12 season, per Sid Lowe at the Guardian. 
Around two years and four months after Martinez's astonishing stoppage-time winning golazo in Sociedad's 3-2 win over Real Betis, he almost scored another bewildering far-flung goal in a 1-1 draw against Osasuna.
Osasuna centre-forward Oriol Riera missed a tackle and Martinez belted the ball just inside his attacking half, which at one point was headed over Osasuna goalkeeper Andres. 
The shot defied physics and dipped drastically, while Andres lost his bearings. 
The ball crashed on to the crossbar saving Andres the embarrassment of being another victim to Martinez's boldness.
Source: LigaBBVA.com
Therein lies what allows Martinez to compensate his 5'11" stature when forced to mark stronger and taller centre-forwards—fearlessness. 
In the past, he has dominated games from an aerial perspective because he flings himself at the ball.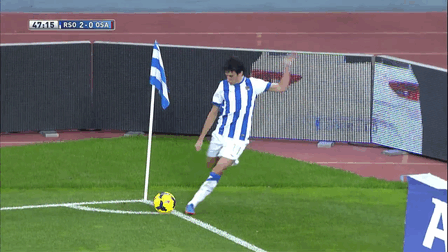 Source: LigaBBVA.com

Source: Squawka.com

Source: Squawka.com

Source: Squawka.com
Martinez is brave, he goes the extra mile to make a stop, he fights for 50-50 balls and he is a no-holds-barred type of tackler. 
Source: LigaBBVA.com
Negatives
It takes a centre-back with a madman complex to purposely shoot from halfway.
When playing out of defence, Martinez lives up to his madman moniker.
Like passing the ball straight to Atletico Madrid centre-forward David Villa or Sevilla left attacking midfielder Manu last season (currently on loan at Elche), even though both players were wearing red shirts, directly contrasting to Sociedad's blue-and-white home shirt. 
Source: LigaBBVA.com
Source: LigaBBVA.com
The primary concern with Martinez is his rash decision-making. 
He was all over the place mentally and positionally, which contributed to his own goal against Manchester United in the UEFA Champions League. 
Martinez has a habit of committing daft acts such as a back-heel own goal or getting caught by referee Jose Antonio Teixeira for attempting to recreate the "Hand of God" against Malaga.
Source: LigaBBVA.com
Source: LigaBBVA.com
This happened in the 18th minute with the score at 0-0, so it was a low-football-IQ decision.

Stanley Chou/Getty Images
That would also be an apt description of him getting sent off in Spain's 1-0 defeat to Japan at the 2012 London Olympics for a needless professional foul on Kensuke Nagai with the second half still to play. 
Another example was Martinez cussing out referee Jose Luis Gonzalez in Sociedad's 2-0 Copa del Rey defeat to Barcelona, which led to a red card in the first half. 
Martinez needs to think before he acts.
He tends to rush into plays and it explains why he only completes 82.8 percent of his passes, which decreases to 70 percent on long passes, despite being a defender with extraordinary vision and technical prowess. 
Bottom Line
Martinez is a special left-footed left-sided centre-back with high upside.

Source: Marca.com and WhoScored.com
He is a realistic transfer target for United. 
Why?
He is not a finished product and he has clear flaws in his game, so it would be surprising if another major European club signed him to be a week in, week out starter. 
Yes, in theory he could be a backup or a squad-filler at a UEFA Champions League-contending team.
But Martinez should choose United, where he will walk into the starting XI and strive to develop into a world-class centre-back while United rebuild in the David Moyes era. 
Statistics via WhoScored