If you're having a tough time keeping your own house in order, the least you can do is lay savage waste to those of your enemies.
That ethos was taken straight to heart by the New York Knicks, who upset the Golden State Warriors 89-84 Sunday night.
In doing so, the Knicks prevented a pair of Eastern Conference foes—the Washington Wizards and Brooklyn Nets—from clinching their own playoff spots, while the Warriors needed a little help from a hapless foe to stay abreast.
The #Knicks will win which means the #Nets won't clinche a playoff spot tonight. Don't worry Brooklyn will make the playoffs.

— threw the Net (@threwthenet) March 31, 2014
Warriors are only two up on ninth-place Memphis, by the way. Lucky the Grizzlies lost tonight.

— Mike Prada (@MikePradaSBN) March 31, 2014
The other, more important part of the equation is that the Knicks are back squarely in the playoff race.
Following their 101-97 loss to the Wizards Saturday night, the Atlanta Hawks—losers of six straight and 20 of their last 26 games—gave up yet another yard of postseason ground heading into the season's final two weeks.
While the Wizards and Nets haven't technically earned their standings X's, ESPN's John Hollinger indicates that both teams have a 100 percent statistical chance of making the playoffs—hence New York's secondary success doing little more than delaying the inevitable.
And yet, after a season of tumult and turmoil punctuated by but one truly happy interlude—and if you don't know what that is, you've been living under a stadium traffic cone—New York is somehow, against every shred of justice and basketball logic, a legitimate playoff factor.
Even the way the Knicks have reasserted themselves into the equation has been quintessentially, well, Knicks-ian: huge wins over the Indiana Pacers and Warriors interspersed with awful duds against the Cleveland Cavaliers and Los Angeles Lakers, not to mention a very close call against perhaps the worst team in the NBA, the Philadelphia 76ers.
However, the second the Knicks fall, it seems, the Hawks fall longer and harder—a byproduct, perhaps, of the fact that not even Atlanta is sure whether its best bet is to push forth or bow out in lieu of potential lottery luck.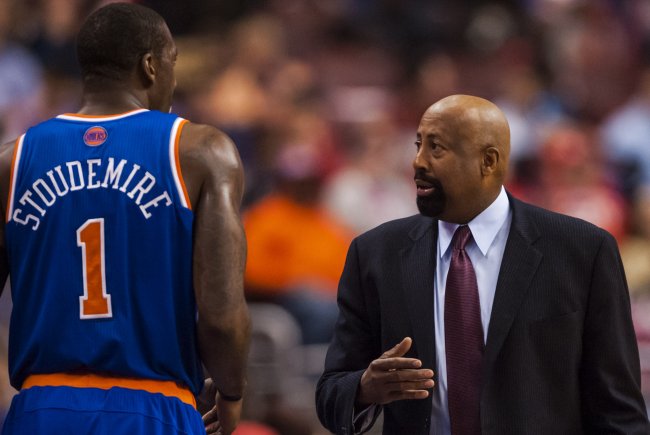 Howard Smith-USA TODAY Sports
The Knicks' upcoming stretch is far from friendly, though. After squaring off against the lowly Utah Jazz Monday night, New York's remaining slate consists entirely of Eastern playoff teams: the Nets (twice), Wizards, Miami Heat, Toronto Raptors (twice) and Chicago Bulls.
Atlanta's docket, meanwhile, includes dates with the Sixers, Cleveland Cavaliers, Detroit Pistons, Boston Celtics and Milwaukee Bucks—in other words, the dregs of an already dreg-logged conference.
You better believe that's all common knowledge in the Knicks' locker room, where for months it seemed the slightest setback could send the team careening off the psychological cliff.
However, should it pull off the virtually impossible according to Hollinger, the team it would meet might well have arrived equally embroiled in an ill-timed floundering.
As of Sunday, that would be the Indiana Pacers: once a seemingly insurmountable summit, lately a quaking foothill over which even the amateurish feel comfortable hiking—see: the Cleveland Cavaliers, who delivered a convincing 90-76 thumping to Indiana Sunday afternoon.
Even if the Knicks bully their way into the fray, they'd likely remain enormous underdogs—understandable, given the team's unique brand of bipolar basketball.
Whatever you do, just don't rain on Sunday night's parade.
"To come in here & get this win says a lot about our ball club" #Knicks head coach Mike Woodson in the victory over the Warriors.

— NBA New York Knicks (@nyknicks) March 31, 2014
"Everyone played their part tonight. It was a great team effort." -- @carmeloanthony on beating the Warriors

— NBA New York Knicks (@nyknicks) March 31, 2014
"I just hope we can build on this and win tomorrow" -- @carmeloanthony

— NBA New York Knicks (@nyknicks) March 31, 2014
Interestingly, the Knicks upended the Warriors thanks in modest part to an act of franchise fealty on the part of head coach Mike Woodson, conscious as he is of his own, seemingly impending doom.
Pretty excited that the #Knicks ran a ton of triangle today. And it worked really well.

— Tommy Dee (@_TommyDee_) March 31, 2014
The triangle offense was, of course, the chief stratagem employed by newly minted president of basketball operations Phil Jackson to the tune of 11 coaching championships from 1991 to 2010.
A strange, potentially suicidal time to be implementing a new offense on the fly? Perhaps.
At the same time, there's a strange kind of karmic intrigue to the notion that the Knicks could somehow render their deluged, dingy harbor safe by giving in to their new captain's most cherished compass—an offensive system, it should be noted, that can take years to truly master.
All of which makes for a fairly colorful confluence of factors heading into New York's last-gasp stretch: a coach most believe is toast implementing a crucial offensive wrinkle in the scant hope the gambit works, while the team's best player—Carmelo Anthony—ponders whether sticking around can yield more than mere wishful thinking.
With eight games left to play, New York has very little margin for error.
But if the last week has proven anything, it's that these Knicks—so close to sunk so many times only a cabin fire could bring the ship down now—might just like it that way.