The Kentucky Wildcats have grown up in a hurry. After an up-and-down regular season, the freshman-led team is making history with its run to the Final Four.
Aaron Harrison's clutch three-pointer with 3.2 seconds left beat Michigan on Sunday. The shot will go down as one of the best in the program's storied history.
Harrison and his freshmen teammates have played like anything but freshmen in the tournament. Max Kellerman of ESPN and HBO Boxing agrees:
Calipari's "don't worry about score, just play" cliche's what #Kentucky's done all tournament. Hard to tell they're freshman. #Wildcats

— Max Kellerman (@Max_Kellerman) March 30, 2014
Per ESPN Stats and Info, the young 'Cats' are already in rare air:
Kentucky is the first team to start 5 freshmen in an Elite 8 win since Michigan's "Fab 5" in 1992.

— ESPN Stats & Info (@ESPNStatsInfo) March 30, 2014
Wisconsin Isn't Enamored With Kentucky's Journey
As cool as Kentucky's story is, the Wisconsin Badgers probably aren't very impressed. The versatile team from the Big Ten had to knock off the West region's No. 1-seeded Arizona Wildcats to make it to Saturday's semifinal.
The Badgers will undoubtedly want to put the kids in their place. The Wildcats are the sexy pick, but seven-footer Frank Kaminsky and Co., will use that as motivation. Kaminsky is the star, but the Badgers' ball movement and unselfishness is just as big of a quality.
Per Tom Lea, head coach Bo Ryan strongly endorses his team's selflessness:
"It's amazing what you can accomplish when you're not concerned about who gets the credit." - Bo Ryan #Badgers

— Tom Lea (@TomLea09) March 30, 2014
Improbable Meeting
Kentucky and Wisconsin are both solid programs, but that doesn't mean people expected them to come out of their respective regions.
Think this was an improbable Final Four matchup? You bet it was. Take a look at the percentage of fan brackets that had the Badgers or Wildcats winning it all:
Of the six possible champions, @CBSSports brackets picked... Florida: 33.1% MSU: 16.6% Michigan: 3% Wisconsin: 1.7% Kentucky: 1% UConn: 0.1%

— CBSSports.com (@CBSSports) March 30, 2014
Nevertheless, the matchup is a reality, and the contrasting styles have people all over the sports world intrigued. PGA golfer Hunter Mahan weighs in:
A perfect clash of styles with Wisconsin and Kentucky. Should be fun!!

— Hunter Mahan (@HunterMahan) March 30, 2014
The game will take place at 8:49 p.m. ET on Saturday, April 5, after the first national semifinal between Florida and Connecticut. Both games can be seen on TBS and via live stream on March Madness Live.
All Your Bracket Essentials
Download the Printable Bracket
Follow the Latest Bracket Updates Live
Play the Free Bracket Challenge
Key Players to Watch
Julius Randle, Kentucky
Jonathan Daniel/Getty Images
With every passing game, Julius Randle gets better.
His 16-point, 11-rebound performance against Michigan on Sunday was his fourth straight double-double. All of them have come in the NCAA tournament.
The Badgers don't have an answer for his combination of size, strength, speed and touch around the basket.
He's playing like a player NBA teams should consider drafting with one of the top three picks in the draft.
Frank Kaminsky, Wisconsin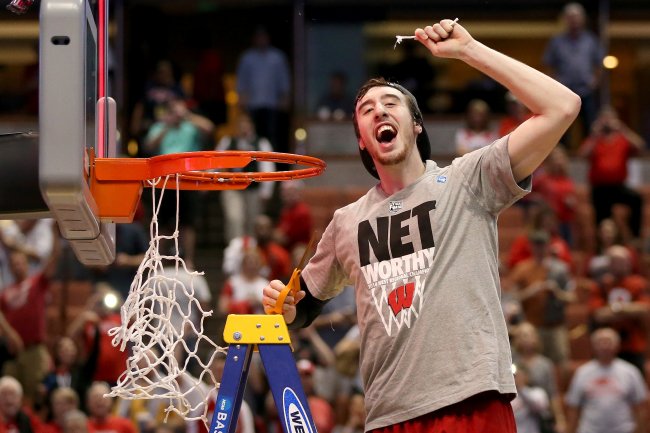 Jeff Gross/Getty Images
Standing seven-feet tall and possessing a feathery touch from the outside has made Kaminsky a matchup nightmare.
Against Arizona, the Wildcats had issues finding lineups with the right blend of size and athleticism to match up with Kaminsky.
He's not quick, but because of his size and ability to create space with two or three dribbles, he's a tough defensive assignment.
What Kentucky Must Do to Win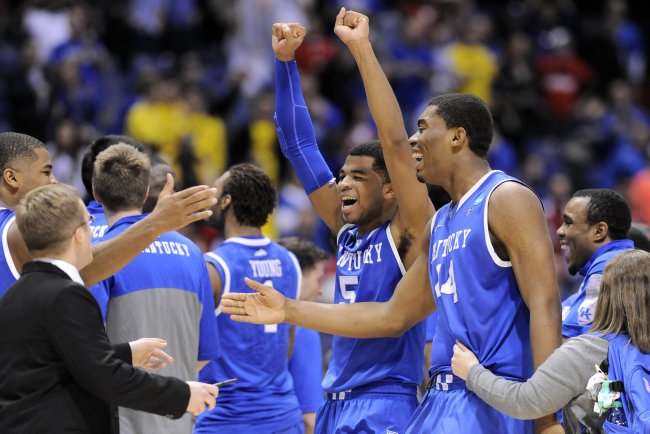 Thomas J. Russo-USA TODAY Sports
Sure, the Wildcats are talented, but playing smart is what has landed them in the Final Four.
With the size and athleticism the Wildcats possess at almost every position, there is no reason for one player to play out of the flow of the team's offense.
Kentucky has learned to play and win together. If the Wildcats play smart against Wisconsin, they will be tough to beat.
What Wisconsin Must Do to Win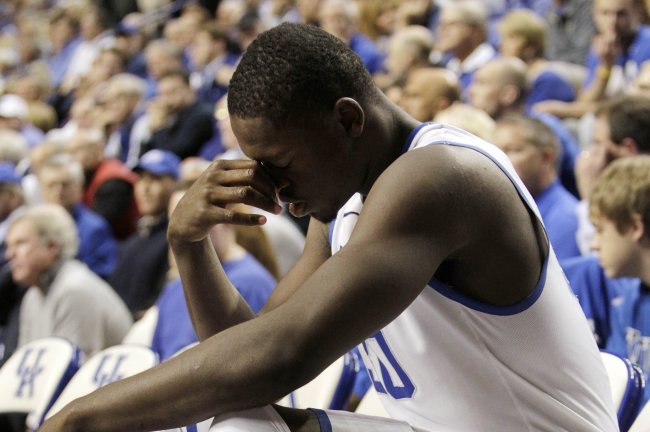 James Crisp
Wisconsin needs to get Randle in foul trouble.
When he gets the ball 15 feet away from the basket and drives, he breaks down the interior defense. His recent willingness to pass the ball when the defense converges has been one of the biggest changes in the way Kentucky's offense operates.
Wisconsin needs to neutralize him. The only way to do that is to get him off the floor.
Prediction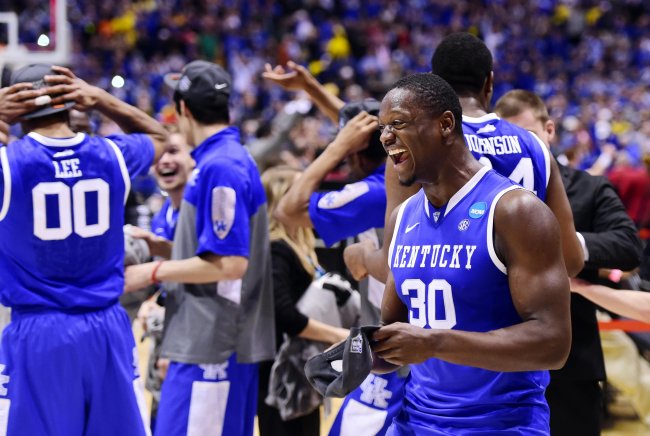 Bob Donnan-USA TODAY Sports
CBS Sports' Doug Gottlieb said it best in this tweet:
IMHO Kentucky is a bad match-up for Wisconsin— shooters and very athletic bigs if WCS plays — Michigan is a better matchup

— Doug Gottlieb (@GottliebShow) March 30, 2014
Kentucky won't have the same issues Arizona had matching up against Kaminsky. Willie Cauley-Stein (if he plays), Marcus Lee and Randle have the size to give Kaminsky issues, and they are better athletes.
Kentucky's size and athleticism across the board will present an obstacle Wisconsin can't overcome.
The Wildcats are headed to the national championship game.
Follow me. I'm addicted to hoops.