LIVERPOOL, England — Brendan Rodgers saw his Liverpool side tear Tottenham Hotspur apart in the Premier League to go top of the table on Sunday, and he credited his young and ambitious side for playing with no fear as it aimed for the title.
The songs and chants from the Kop certainly intimated that they believed the long wait for a championship was drawing to a close. Based on the way Liverpool put four goals past a team in the top half of the table, it's difficult to argue against their convictions.
After the game, the Liverpool boss praised a number of his younger players for aiding the composed, attack-minded nature of his team's play.
BR: "I thought Sterling was brilliant. Intelligence, he's fast and direct, makes angles to receive the ball…magnificent."

— Karl Matchett (@karlmatchett) March 30, 2014
BR: "we've a young, technical, British side. There's no fear. The fans can see something building here. They respected it was a wonderful >

— Karl Matchett (@karlmatchett) March 30, 2014
BR: > performance. We're together as one club here but won't be getting carried away."

— Karl Matchett (@karlmatchett) March 30, 2014
BR: "3rd was a wonderful team goal. Flanagan opened up space with nice skill and great finish from Coutinho."

— Karl Matchett (@karlmatchett) March 30, 2014
Wide forward Sterling returned to the starting XI as Rodgers reversed from his recent diamond midfield back to a 4-3-3. His impact on the game was both immediate and repetitive.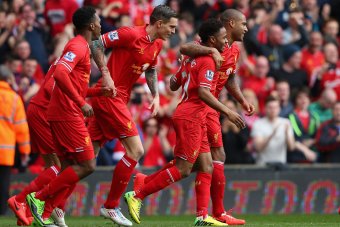 Alex Livesey/Getty Images
Countless times he blazed past left-back Danny Rose, and he contributed to the opening goal with one such run, which ultimately saw Younes Kaboul score an own goal.
His pace and drive were relentless in those opening stages, but as the game wore on, other sides of his game were equally apparent—strength, vision and close control chief amongst them. No Spurs midfielder could get anywhere near him as the England winger twisted and turned and got his body between man and ball to protect possession.
Add that to his ability to turn almost on the spot and his acceleration away from challenges, and it left Spurs' midfield opened up time after time as Sterling sought out space and used the ball intelligently. He was not restricted in Liverpool's fluid front line either, having an effect the entire width of the pitch and taking up a central role shortly before being substituted.
Philippe Coutinho
The Brazilian schemer has had some ups and downs this season, but he was excellent against Tottenham. Of late it has been Sterling or Coutinho in the starting XI; this time, Rodgers went with both. Sterling and Coutinho excelled in their own roles and when they linked up with each other from time to time, justifying Rodgers' decision to play them simultaneously.
Coutinho found space repeatedly as Liverpool outnumbered Tottenham in the centre of the park, and the No. 10 had the vision and ambition in his passing to make the most of it.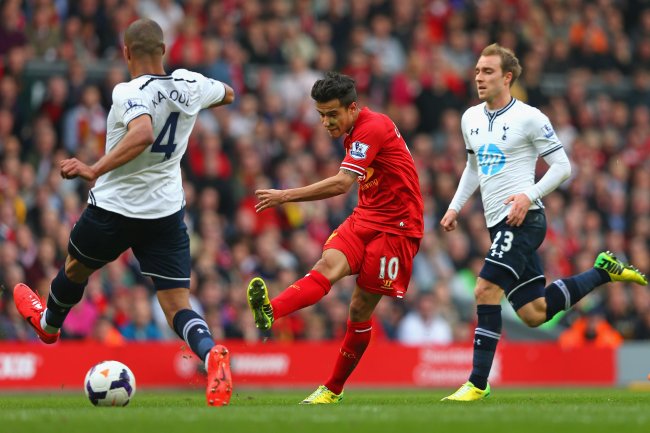 Alex Livesey/Getty Images
Just as impressive, though, was his ferocious desire to win back possession and defend in both halves of the pitch.
Shortly into the second half, he made a terrific sliding tackle around the halfway line, flicking the ball back to a team-mate in the process. The mix of endeavour and precision was a snapshot of his hour or so on the pitch, the brightest part being his fantastic shot.
All those wayward long-range efforts earlier in the season are finally beginning to pay off.
Jon Flanagan
The two young attackers were excellent, but "Flani Alves" was also a class apart.
Playing at left-back again, Flanagan was monstrous in the challenge, thundering into Spurs players to win the ball cleanly and clearly and with the likes of Roberto Soldado and Nacer Chadli on the receiving end.
"Flani Alves" may be one nickname Reds fans have given Flanagan. Another is "Red Cafu," and the great Brazilian full-back took to Twitter to praise the young Liverpool star.
Good to see the RedCafu is playing well! Liverpool amazing to watch!

— Cafu. (@officialcafu) March 30, 2014
High praise indeed.
As well as being utterly solid at the back, though, Flanagan produced one of the biggest pieces of skill of the game, Cruyff-turning into space in the second half before bursting forward into space and feeding a pass central to Coutinho (thus claiming an assist for the third Liverpool goal).
Could not get tweet oembed code for tweet 450307723662741504
He was, once again, a standout member of the team against Spurs, and it seems quite incredible that a player who made just two appearances last season—and couldn't even get a loan to a Championship side this term—is now a huge part of a team chasing the league title in such style.
Nobody will go overboard about the contribution of these players in the Liverpool dressing room, especially when compared to the longevity of Steven Gerrard or the insane consistency and heights hit by Luis Suarez. But there is no doubt at all that the youthful face of the Liverpool team is a big part of the fearlessness which has put them top of the league.
With six games to go, it's all in the Reds' hands now. With the heart and quality that these three have shown, and more experienced players around them offering so much too, it really is now on for Liverpool.