The 2014 NCAA tournament has lived up to the expectations thus far, and the excitement surrounding next weekend's Final Four has college basketball fans in a frenzy over the potential dream matchups.
With Michigan State squaring off against Connecticut and Kentucky taking on Michigan, the final two matchups of the Elite Eight are a microcosm of the intense action that has been the calling card of this year's March Madness.
Here is all the latest bracket information, the full remaining schedule and all the vital details needed to enjoy the rest of the 2014 NCAA tournament.
All Your Bracket Essentials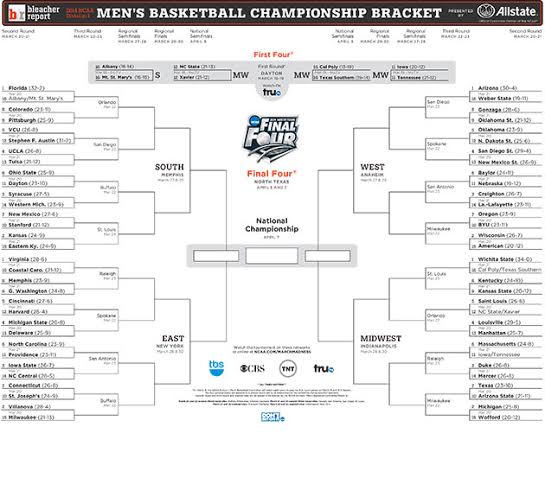 Bleacher Report
Full Schedule, TV and Live Stream Info

| | | | | |
| --- | --- | --- | --- | --- |
| Date | Regional Finals | Time (ET) | TV | Live Stream |
| Sun, March 30 | Connecticut vs. Michigan State | 2:20 p.m. | CBS | March Madness Live |
| Sun, March 30 | Kentucky vs. Michigan | 5:05 p.m. | CBS | March Madness Live |
| Date | National Semifinals | Time (ET) | TV | Live Stream |
| Sat, April 5 | National Semifinal - TBD | 6 p.m. | TBS, TNT, truTV | March Madness Live |
| Sat, April 5 | National Semifinal - TBD | 8:30 p.m. | TBS, TNT, truTV | March Madness Live |
| Date | National Championship | Time (ET) | TV | Live Stream |
| Mon, April 7 | National Championship - TBD | 9:10 p.m. | CBS | March Madness Live |
Source: NCAA.com
No. 2 Michigan (28-8, 15-3 Big Ten) No. 8 Kentucky (27-10, 12-6 SEC)
When the No. 2-seeded Michigan Wolverines square off against the No. 8-seeded Kentucky Wildcats, college basketball fans will be treated to one of the most marquee matchups of the entire tournament.
Kentucky boasts one of the youngest teams in the nation, and the freshmen presence was a force throughout the season and into March Madness, according to ESPN's stats department:
Kentucky has started 5 freshman in 15 games this season (went 11-4). Michigan's Fab 5 started 15 games together in 1991-92 and went 12-3.

— ESPN Stats & Info (@ESPNStatsInfo) March 29, 2014
One of the top stars on the roster, sophomore forward Willie Cauley-Stein, injured his ankle in the Sweet 16 matchup with Louisville and will likely miss Sunday's game against Michigan, according to Jeff Goodman of ESPN.com.
The Wildcats rank fifth in the nation with an average of 41.3 rebounds per game and will dominate the Wolverines on the glass in this matchup as well. While Kentucky has the size advantage, the team's success has been a year-long work in progress.
Despite a sluggish start to the season, head coach John Calipari told Brian Hamilton of Sports Illustrated about the adjustments he made to the program that led to this Elite Eight matchup:
We'll go to whatever we have to try to do to do this. The stuff we tweaked before the (SEC) tournament, I should have done that two months before. And they know it. The stuff I did before the NCAA tournament, I should have done that earlier.

I'm going to wait until it's over and I'll go through everything that we did and when I did it. When you hear what I did, you'll say: Makes perfect sense. And then you're going to ask: Why didn't you do it earlier? And I'm going to tell you: I don't know.
As well as Kentucky has played in the tourney, Michigan is just as hot right now and has the more consistent overall offensive unit. Led by sophomore guard Nik Stauskas—averaging 17.3 points per game—the Wolverines have beaten Wofford, Texas and Tennessee on the road to the Elite Eight.
Calipari on Michigan "If you give them threes they're going to make them."

— John Clay (@johnclayiv) March 29, 2014
Michigan will lean on the offense that averages 75 points per game this season and shoot with an efficient .481 field-goal percentage. With 10 victories in the last 11 games, the Wolverines have proven that the program is legitimate.
This game could go either way with all the intangibles of being the final Elite Eight matchup, but Michigan has the edge on paper. This will be must-watch television.
Predicted Final Score: Michigan 77, Kentucky 76
*Stats via ESPN.com.