The 10 Most Despised Athletes - New York Style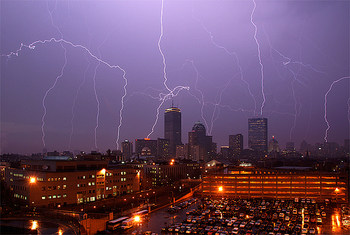 Now that I've got my favorite NYC athletes out of the way it's time to move on to the more interesting ones-the most despised athletes in NYC.
Earning the "despised" label in NYC is not very hard to do, with our rabid media base and passionate fans, one botched play could result in hoards of New Yorkers "despising" you for the rest of your career. These are not the type of players I'm looking for.
Sure Knicks fans despise Charles Smith for getting his layup blocked four times in a row in a must-win playoff situation, or Giants fans despise Plaxico Burress for ruining the team chemistry last year after poppin a cap in his thigh. Although these two make strong cases to make the list, I am excluding them and focusing mainly on our rivals and their least likeable players who make a habit of torturing New York fans... if you know your history I'm sure you can guess who #1 on this list will be, but come along for the ride anyways.
(that's the Boston skyline FYI)
10. Brian Dawkins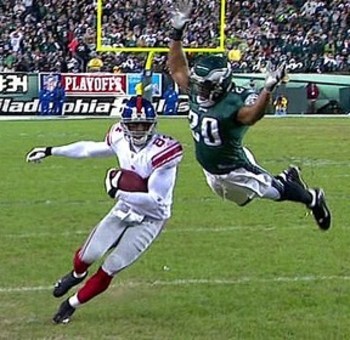 The combination of Dawkins being a former Eagle AND one of the NFL's dirtiest players make him a lock for this list. It's well known that his tackling-techniques border on illegal (helmet first tackles) and dangerous.
Sure the NFL is a violent game and players are going to get hurt, but there is also a code of how to do things right, one that Dawkins doesn't follow. Good riddance from the NFC East... Brian Dawkins-a true scumbag.
9. Carl Pavano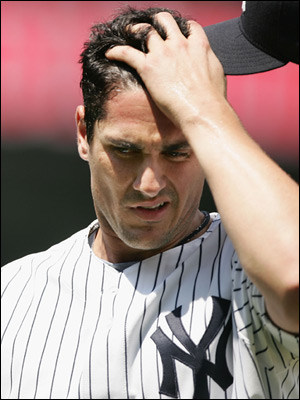 Carl Pavano recently stated that he was "exhausted" from his years on the Yankees. This has to be a joke right?
"Exhausted"?! 26 starts over four years wears you out that much? The "American Idle" will forever be hated by Yankee fans, and for good reason!
8. Roger Clemens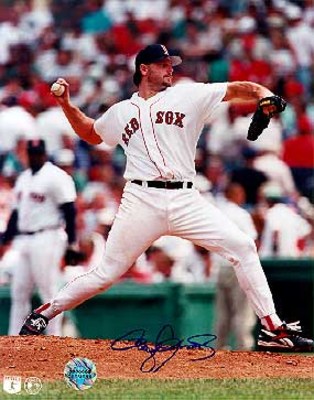 I'm pretty sure Clemens isn't just hated in NYC, but across the country for his blatant lying and failed attempts at pleading innocent (in front of Congress nonetheless). If he would just admit already that he was juicing, people would forget about it and move on, yet he continues to insist that he was throwing 98 MPH fastballs at age 40, during a sudden burst of energy after his stuff had fallen off for the previous few seasons.
Okayyyy Roger. Steroids or not, Clemens was one of the greatest pitchers of the modern era, you can't take that away from him...but Jesus what a d-bag.
The guy named all his sons names that start with "K" (Koby, Kory, Kacy and Kody) and constantly promoted his "family man" image while having an affair with country singer Mindy McCready (for more great dirt on Clemens pick up Jeff Pearlman's fabulous book "The Rocket that Fell to Earth").
7. Jeff Garcia
There's just something about Jeff Garcia that rubs me the wrong way. Maybe I'm jealous of his super-hot Playmate wife, or maybe I'm pissed off that he continuously used to beat the Giants (first with the 49ers in the epic playoff collapse of 2003 where they blew a 24 pt lead to the Jeff Garcia/Terrell Owens 49ers (god what a loathsome combo) and then with the Eagles).
Luckily we took down Garcia and the Bucs during our Superbowl run, but that doesn't change the fact that he's one of the more annoying QB's in the NFL. Retire already.
6. Kevin Youkilis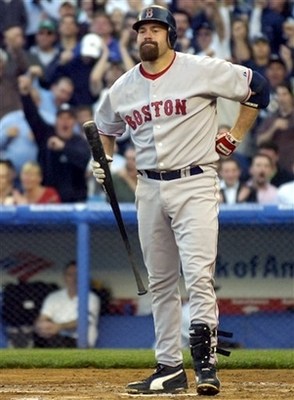 Typical Red Sox henchman, complete with ugly goatee and annoying batting stance. Keep nailin' him with pitches Joba!
Good work! What's even more annoying is how much Red Sox fans love him with their dumbass "Youuukkk" chants and bumper stickers-the worst.
5. Michael Jordan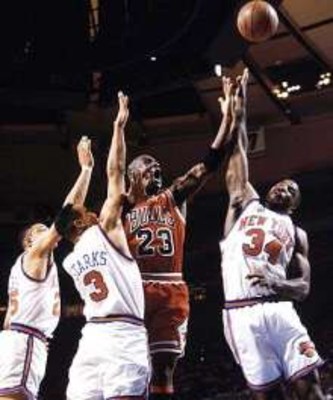 I'm putting Jordan here at #5 because I have a love/hate relationship with the greatest basketball player of all time. I love his skills, competitive drive, talent and respect him tremendously.
However, as a Knicks fan I can't help but recall my childhood when Jordan would just annihilate the Knicks at home, on the road and most upsettingly in the Playoffs. Not that anyone else had much of an answer for Jordan, but it seems like some of his best performances came against the Knicks.
True heartbreak watching him beat three different Knicks teams in the playoffs.
4. Curt Schilling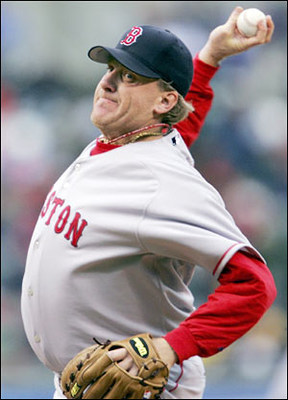 The ultimate obnoxious blowhard. Curt Schilling always has some ridiculous opinion about something or other and for some reason feels people give a crap.
I can't stand him, and neither can many others. I just found a great bleacher report article titled "Schut Up"-go read it for a "laundry list" of reasons to hate Schilling:
http://bleacherreport.com/articles/29160-curt-schilling-schut-up
3. Stephon Marbury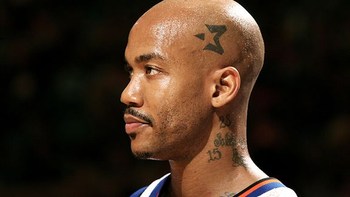 Oh Starbury-what a complete fool you are. I don't even know where to begin with this clown-from proclaiming himself to be the "best PG in the NBA" to the head tattoo to the "truck party" to signing with the Celtics!
Or to just being an overall jackass...Marbury was a lock for this list. The shoot-first, overly cocky, locker room cancer whom the Knicks paid hundreds of millions of dollars to single-handedly drive Larry Brown out of town, alienate the entire team and fanbase and draw out a messy buyout negotiation that took way too much attention from the game of basketball and placed it on Marbury (which I'm sure he loved).
I'm glad you suck now, enjoy him Boston!
2. Tony Romo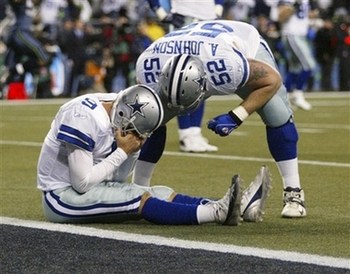 Ahhh good ol Tony Romo.
As Artie Lange recently put it: "As a Giants fan, and a well-known homophobic, it's like a white trash gift from god that the f*cking Cowboys have a quarterback whose last name rhymes with homo."
Now, I'm no homophobe, but it's so true...too easy of a target.
The pretty-boy, whiny, wanna-be superstar who isn't really that good and still hasn't won a playoff game. Stick to the tabloids Romo.
It is nice that he's destined to doom the Cowboys for the near future and continue failing in the clutch (at least until Jerry Jones dies, which now that I think about it could be a VERY long time...do not let this man get his hands on any anti-aging technology). Wipe that grin off your face Romo, you suck.
1. Reggie Miller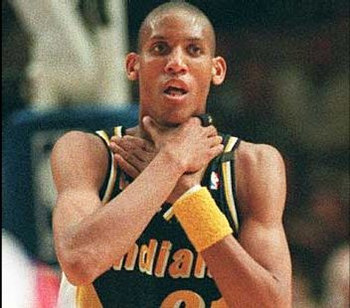 The all-time Knick-killer, flop artist extraordinaire—Reggie Miller. Congrats on making it to #1 on the Most Despised list.
He now spends his time offering mindless commentary on TNT and continues to haunt Knicks fans for many reasons (mainly his 8 pts in 9.6 seconds... which STILL haunts me). Great player, but an even greater pain in the ass to play against. Thank you for torturing my childhood Reggie.
Keep Reading