A trip to the Elite Eight was at stake on Sunday as the remaining Sweet 16 games were contested, and the ladies of the 2014 women's tournament put on a show worthy of the moment.
After BYU's second-half collapse against Connecticut on Saturday, the lowest seed remaining in the tourney heading into Sunday's action was LSU (No. 7). Unlike the men's NCAA tournament, Cinderella stories are few and far between. As usual, the top teams in the nation emerged from the fray victorious heading into the latter rounds.
Getting things kicked off, Maryland (No. 4) took on top-seeded Tennessee in the early game and stunned the Lady Vols with a resounding wire-to-wire 73-62 victory.
LSU couldn't hang with Louisville (No. 3) in the second contest of the afternoon, losing badly by a score of 73-47. Penn State (No. 3) was crushed in similar fashion by Stanford (No. 2) in the third game.
North Carolina (No. 4) will attempt to knock off South Carolina (No. 1) in the final game of the evening.
For the full bracket, check out NCAA.com.
Sunday Scores
| | | |
| --- | --- | --- |
| Winner | Loser | Score |
| Maryland (No. 4) | Tennessee (No. 1) | 73-62 |
| Louisville (No. 3) | LSU (No. 7) | 73-47 |
| Stanford (No. 2) | Penn State (No. 3) | 82-57 |
| North Carolina (No. 4) | South Carolina (No. 1) | 65-58 |
Elite Eight Schedule
| | | | | |
| --- | --- | --- | --- | --- |
| Date | Time (ET) | Matchup | TV | Live Stream |
| March 31 | 7:30 p.m. | Baylor (No. 2) vs. Notre Dame (No. 1) | ESPN | Watch ESPN |
| March 31 | 9:30 p.m. | Texas A&M (No. 3) vs. Connecticut (No. 1) | ESPN | Watch ESPN |
| April 1 | TBD | Louisville (No. 3) vs. Maryland (No. 4) | ESPN | Watch ESPN |
| April 1 | TBD | Stanford (No. 2) vs. North Carolina (No. 4) | ESPN | Watch ESPN |
Recap
North Carolina Upends No. 1 South Carolina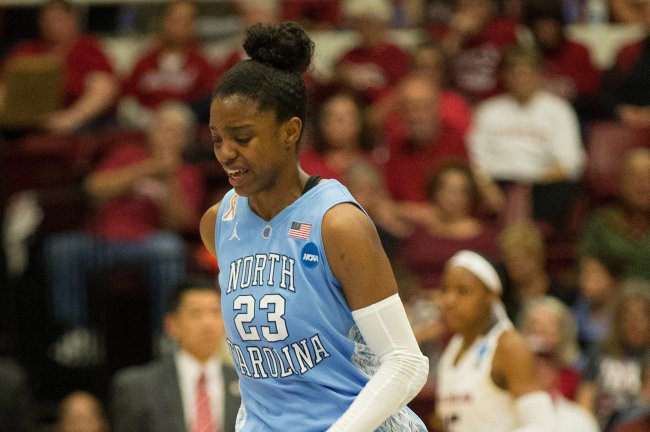 Kelley L Cox-USA TODAY Sports
Gamecocks fans have seen this story before.
North Carolina entered Sunday night with an air of confidence considering the Tar Heels had already defeated South Carolina back in December, and four free throws from Brittany Rountree in the closing seconds ensured that the record on the season would move to 2-0.
It was not an ideal outcome for South Carolina, as this year marked the first time the program had obtained a No. 1 seed. The team shot just 37.7 percent from the field and turned the ball over 13 times. Three players reached double figures, but it was Alaina Coates and her 22 points that led the team.
The Tar Heels shot a little better from floor and got 19 points from Diamond DeShields. Three bench players pitched in with a minimum of five points each.
It was DeShields who came through with a heroic effort, as she appeared to suffer an injury twice before going back in the game. She said after the game that it was a simple matter of effort and trust between her and coach Andrew Calder, as captured by the Associated Press, via ESPN:
"I didn't want to have that burden on my shoulders not having done everything I could to contribute to the team win. I didn't hold my team back," DeShields said. "Coach trusted me, trusted my instincts. He put me out there and he gave me a chance."
The Tar Heels advance to take on Stanford, the No. 2 seed of the Region. They'll need DeShields at 100 percent to counter the elite offense the Cardinal bring to the table.
Maryland Stuns Top-Seeded Tennessee, 73-62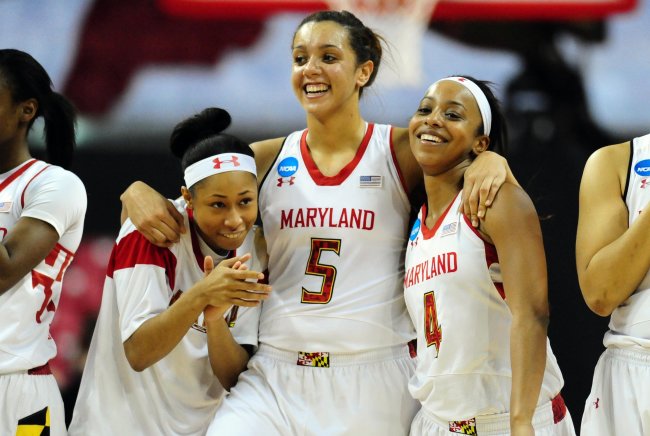 Evan Habeeb-USA TODAY Sports
Maryland surprised a lot of folks by coming out and dominating top-seeded Tennessee from the opening tip.
The Terrapins played stifling defense, and senior forward Alyssa Thomas was on fire from the field. Also, as Jason Frakes of The Courier-Journal pointed out early in the proceedings, she was a major contributor on the glass:
Maryland 6, Tennessee 5, 15:52 in first half. Maryland's Alyssa Thomas with 4 points, 3 rebounds already. She's a machine on the boards.

— Jason Frakes (@kyhighs) March 30, 2014
Thomas finished with 33 points, which is a new career high for her, and 13 rebounds (four offensive), adding three assists and one steal to lead the way for Maryland.
NCAA Women's BKB highlighted her performance:
ELITE AGAIN! Alyssa Thomas gets 33 and 13 as @umdwbb beats #1 seed Tennessee 73-62 for Elite 8 berth! #ncaaW pic.twitter.com/gqbqYMeNIU

— NCAA Women's BKB (@NCAAWomensBKB) March 30, 2014
By halftime, the Terps had opened up a 41-27 lead. Courtney Lyle of WBIR in Knoxville pointed out a big reason for the first-half blowout:
Lady Vols down 41-27 to Maryland at the half. Tennessee turned it over 14 times in the first 20 minutes.

— Courtney Lyle (@sportney_lyle) March 30, 2014
Turnovers are tough to overcome, and Tennessee continued its sloppy play in the second half, finishing with 22 turnovers in the game. Morgan Adsit of Fox 45 News in Baltimore shared her thoughts on the contest, noting it wasn't exactly pretty:
Good thing for Maryland, Tennessee hasn't gotten the scoreboard memo and found any spark. Ugly game, but Terps capitalizing

— Morgan Adsit (@MorganAdsit) March 30, 2014
Tennessee cut the lead to 10 points midway through the second half, but the Terps never let the Volunteers get any closer to the lead, winning by double digits.
While not many expected Maryland to put together this kind of dominant showing, the players weren't lacking confidence heading into the pivotal contest.
"With the momentum we have, I think it's going to be a pretty even matchup," freshman point guard Lexie Brown said before the game, via Gene Wang of The Washington Post. "I mean, it's definitely going to be easier being the lower seed, the team that could potentially pull the upset."
Potential morphed into reality for Maryland, which will now take Louisville in the Elite Eight.
If the Terps can continue their strong play inside the paint on offense and match the defensive effort we saw on Sunday, then nobody should be surprised to see this squad earn a trip to the Final Four.
Louisville Crushes LSU With Ease
Unlike the first contest of the afternoon, this one was over before halftime.
Both teams started out cold from the field, and the Tigers hung tough for the first portion of the first half, but the Cardinals quickly took the game over by the 12-minute mark and never looked back, as Scott Rabalais of The Advocate detailed:
Halftime in Louisville where #LSU trails Cardinals 41-23. Lady Tigers stayed with them for about 8 min, then Cards erupted. Ballard 14 pts.

— Scott Rabalais (@RabalaisAdv) March 30, 2014
From that point, Louisville simply cruised to the finish line, outscoring LSU by eight points in the second half to win by 26.
The biggest difference between the two teams was that LSU couldn't seem to get any shots to drop, finishing with a 23.9-percent conversion rate from the field. Meanwhile, Louisville drained a season-high 12 three-point shots.
As shown by NCAA Women's BKB, Shoni Schimmel led the way with 19 points, adding two rebounds and six assists:
BACK 2 ELITE 8! Shoni Schimmel with 19 points as @UofLWBB beats LSU 73-47 in Louisville. #ncaaW pic.twitter.com/iPtKOcHgO5

— NCAA Women's BKB (@NCAAWomensBKB) March 30, 2014
If the Cardinals can continue their hot shooting from outside, then Maryland's dominance inside won't matter much. This upcoming Elite Eight contest should provide fans with a heavy dose of drama, along with a high degree of basketball excellence.
Both teams have shown the ability to beat top teams this year, and it will be fascinating to see which of them ends up earning a trip to the Final Four next weekend.
The Cardinal Devour the Lady Lions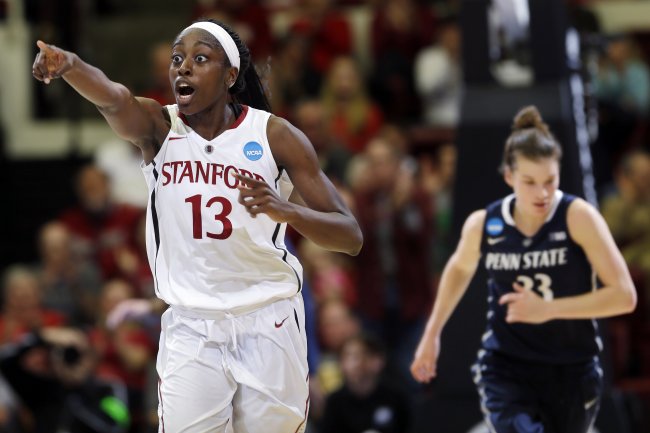 Marcio Jose Sanchez
The Penn State Lady Lions were nothing more on Sunday than a midnight snack to tide the surging Stanford Cardinal over until the Elite Eight.
Midway through the first half, with Penn State up by four, however, it appeared this contest might prove interesting down the stretch. Unfortunately for the Lions, Stanford had yet to awaken, and the Cardinal closed out the first half with an incredible 25-7 run, as detailed by Stanford WBasketball:
Stanford ended the half on a 25-7 run after trailing 23-19 #StanWBB

— Stanford WBasketball (@StanfordWBB) March 30, 2014
Stanford pulled away in the second half, outscoring Penn State by 11 to win the game by 25 points, 82-57.
Chiney Ogwumike continued her hot play, scoring 29 points and pulling down 15 rebounds for the Cardinal, while Ariel Edwards led Penn State with 22 points in a losing cause.
Former Cardinal and current WNBA player Kayla Pedersen joined a large group of former Stanford players in support of their alma matter—a fact ESPN's Mechelle Voepel appreciated:
At the Stanford game!! GO CARD! 🌲🏀 pic.twitter.com/ytgTCZDdUI

— Kayla Pedersen (@kaylapedersen7) March 30, 2014
If you love WBB history, it's great seeing all those former Stanford players in attendance today. A lot of pride/tradition in that program.

— Mechelle Voepel (@MechelleV) March 30, 2014
The tradition of scholastic and athletic excellence could receive another big boost if Stanford can continue playing at this same high level the rest of the way.
The Cardinal now await the winner of the final Sweet 16 matchup between North and South Carolina. This team should be able to beat either of them, playing the way it has been throughout the tournament. If it does, then Stanford will be tough to beat in the Final Four.
Follow me on Twitter @JesseReed78