Reaching the Elite Eight means you had a good postseason, but getting to the Final Four makes you a part of history. Four teams will try to reach the latter scenario in two games on Sunday.
Florida knows the feeling now that it has finally reached the Final Four after losing in the Elite Eight three years in a row. Wisconsin coach Bo Ryan also got to his first Final Four, leaving Sean Miller of Arizona to move higher on the list of best coaches without this on his resume.
There is plenty of history among the four teams that are attempting to get the final two spots in Arlington. All four programs have reached the Final Four in the past five seasons, and a number of players remain from those quality teams.
Which teams can outlast the competition and remain alive in the search for a national champion? Here is a preview for the final day of action in the Elite Eight.
All Your Bracket Essentials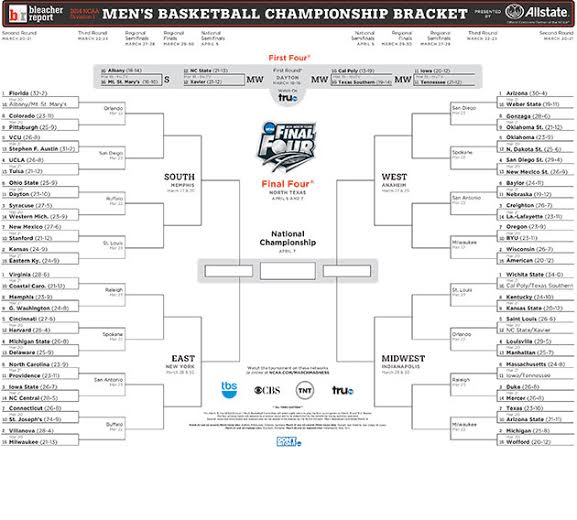 Bleacher Report
Elite Eight Day 2 Schedule (March 30)

| | | | |
| --- | --- | --- | --- |
| Matchup | Time (ET) | TV | Pick |
| No. 4 Michigan State vs. No. 7 Connecticut | 2:20 p.m. | CBS | Connecticut |
| No. 2 Michigan vs. No. 8 Kentucky | 5:05 p.m. | CBS | Kentucky |
via NCAA.com
Elite Eight Day 2 Preview
No. 4 Michigan State vs. No. 7 Connecticut
Connecticut had a simple formula for most of the season: Get the ball to Shabazz Napier. This is for good reason, considering the point guard led the squad in points, assists, rebounds and steals per game during the regular season.
His coach also explained the senior's intelligence on the court, via Adam Zagoria of SNY.tv:
"Many times he's my unpaid assistant coach and I love him to death." Kevin Ollie on Shabazz Napier

— Adam Zagoria (@AdamZagoria) March 29, 2014
However, a strange phenomenon has occurred in the past few games: Napier is getting help from his teammates. Obviously, DeAndre Daniels has been a fine secondary scorer all year, while Ryan Boatright and Niels Giffey could make open threes, but we are seeing them now create for themselves.
Daniels totaled 27 points and 10 rebounds in the win over Iowa State. Boatright scored 16 points, while freshman guard Terrence Samuel has reached double figures in each of the past two games.
Additionally, the Huskies are all coming through in the clutch, as noted by this statistic:
UConn is 48-of-53 (90.6%) at the free throw line in the final 5 minutes of the second half/overtime in the #NCAATournament

— ESPN College BBall (@ESPNCBB) March 29, 2014
With the way Amida Brimah can affect the action on defense, Connecticut has a strong chance of advancing.
Of course, Michigan State just proved that it can defeat a strong defense with a win over Virginia. The Cavaliers were the No. 1 scoring defense in the nation, but the Spartans did enough to escape with the win thanks to 24 points from Branden Dawson.
The problem is that other key contributors did not have their best performances. The worst offender was Gary Harris, who scored only six points after leading the Spartans in scoring during the regular season. Brian Snow of Scout.com said that his passiveness is a problem:
Gary Harris has to be more assertive on offensive end. He isnt even looking at rim

— Brian Snow (@BSnowScout) March 29, 2014
With Keith Appling being mostly ineffective since his wrist injury, the Spartans need their other players to step up on the offensive end. When everyone plays well, they are able to dominate like in the Big Ten tournament. However, inconsistent play has led to a number of losses during the regular season, and it will lead to another one in the NCAA tournament.
Unless Michigan State gets a huge game from Harris, Dawson and Adreian Payne, this battle will be close throughout. At that point, you have to bet on the best closer in college basketball in Napier to help win it for UConn.
Prediction: Connecticut 72, Michigan State 70
No. 2 Michigan vs. No. 8 Kentucky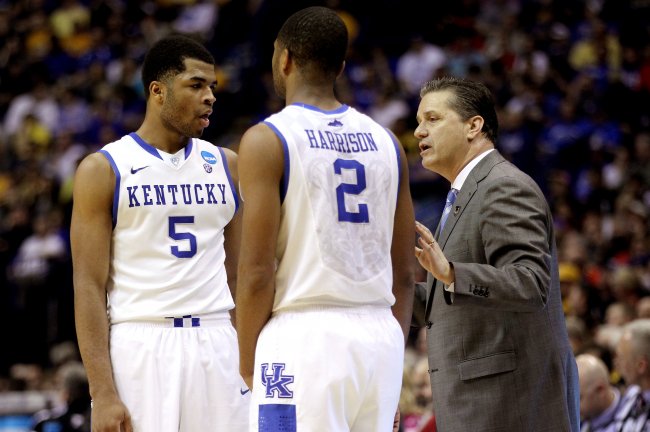 Andy Lyons/Getty Images
It is not often that a No. 8 seed is going to be favored over a No. 2 in the Elite Eight, but that is the case, according to Vegas Insider, which has Kentucky laying 2.5 points in the upcoming game.
The reason for this seemingly absurd line is that the Wildcats are finally playing like the team we expected to see all year long. They entered the year as the preseason No. 1 and struggled early with poor performances and tons of mental mistakes. However, they have turned it on lately.
Kentucky starts five freshmen, but each of them has loads of talent as well as a newfound confidence, which allows the team to play at a high level.
Head coach John Calipari discussed the turnaround in an interesting metaphor, via Eddie Pells of The Associated Press (h/t the Missourian): "I'm just happy we're playing better right now. Because I'm telling you, we almost ran out of runway when we landed the plane. As a matter of fact, the nose of the plane was in grass. But we got down. And if the runway was 25 games instead of 30 games, we probably went off the edge."
The young team was fortunately given enough time in the season to fix its mistakes and now play for a chance to go to the Final Four.
Of course, this upcoming battle will not be easy. Michigan will come after Kentucky with the No. 2 offense in the nation, according to KenPom.com.
The leader of this unit is Nik Stauskas, the sophomore who was able to transform from a spot-up shooter a year ago to a complete scorer who can also run the offense with intelligence plays like this one:
Meanwhile, Jordan Morgan is playing his best basketball of the season to help out the defense, as noted by Myron Medcalf of ESPN.com:
Jordan Morgan just contested back-to-back dunk attempts. I think he's enough interior defense for Michigan.

— Myron Medcalf (@MedcalfByESPN) March 29, 2014
In the past two games, Morgan has slowed down strong forwards like Cameron Ridley and Jarnell Stokes, and he will hope to do the same with Julius Randle and Dakari Johnson of Kentucky.
The problem is that the Wildcats can keep coming offensively with a number of different future NBA players. If Randle somehow struggles, James Young or one of the Harrison twins should be able to step up and provide the scoring. This depth will be tough for Michigan to manage defensively.
On the other end, Kentucky's length and athleticism will make it difficult for the Wolverines to get off shots from the outside. Considering this is their strength, that could be a problem.
Win or lose, the coaching job that John Beilein has done this year has been incredible, as noted by ESPN's Dick Vitale:
UM's John Beilein lost @MitchMcGary4 to back injury - lost Burke/ Hardaway to the NBA yet has chance 4 Final 4 http://t.co/N8120EDXMe

— Dick Vitale (@DickieV) March 30, 2014
Unfortunately for Michigan, it seems like the physical matchup in this game will not be in its favor. Kentucky can hardly be considered a Cinderella, but the No. 8 seed should keep rolling into the Final Four.
Prediction: Kentucky 68, Michigan 64
Follow Rob Goldberg on Twitter for the latest breaking news and analysis.