Lewis Hamilton won the Malaysian Grand Prix on Sunday, but Benedict Cumberbatch somehow stole the show.
The Sherlock star was unexpectedly on-stage in the aftermath, conducting post-race interviews for a baffled audience.
Hamilton wins Malaysian GP then is 'grilled' by Sherlock on podium - yes really http://t.co/S9656Ex2WG pic.twitter.com/yTqIDMITa5

— Telegraph Sport (@TelegraphSport) March 30, 2014
In fact, general confusion reached the point where "Why is Benedict Cumberbatch" was trending on Twitter.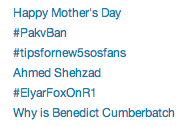 Twitter
Why indeed? Perhaps that is a mystery only Sherlock himself can solve.