The second day of the NCAA tournament's Elite Eight boasts some very meaningful matchups, and it'll be hard not to tune in to catch them both.
Between Michigan State's resurgence after injury issues and Kentucky's rapid maturation, these games contain some powerful title contenders.
However, Michigan and Connecticut are two teams that can't be overlooked either, and undoubtedly made the Elite Eight for a reason.
Read on for a full schedule, live stream info and picks for the second day of the Elite Eight.
All Your Bracket Essentials:
Elite 8 Day 2 Schedule and Picks

| | | | | |
| --- | --- | --- | --- | --- |
| Matchup | Time (ET) | TV Info | Live Stream | Pick |
| (7) Connecticut vs. (4) Michigan State | 2:20 p.m. | CBS | NCAA.com | MICH ST |
| (8) Kentucky vs. (2) Michigan | 5:05 p.m. | CBS | NCAA.com | KEN |
ESPN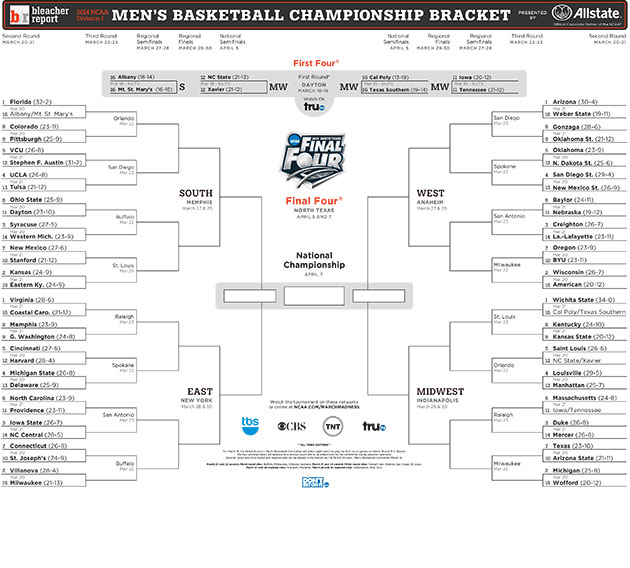 Bleacher Report
(7) Connecticut vs. (4) Michigan State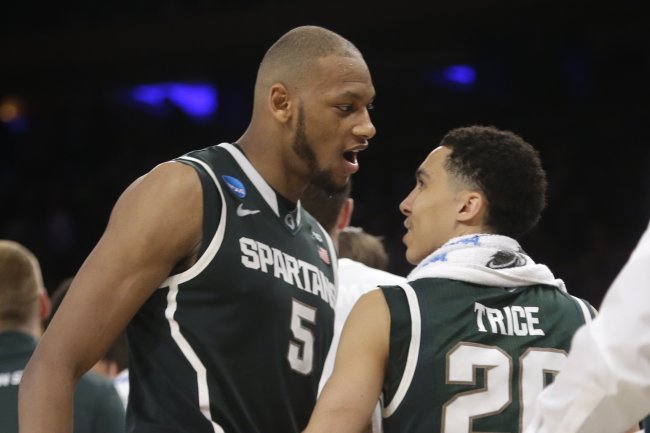 Frank Franklin II
The Spartans looked very impressive toppling the top-seeded Virginia Cavaliers, and they seem like a good bet to advance to the Final Four.
Now that the team is finally healthy, we're starting to get a good look at what Tom Izzo expected this team to play like.
As Brian Hamilton of Sports Illustrated notes, it's fun to watch.
Because everyone is healthy and — stop us if you've heard this one before — when everyone is healthy, the Spartans are as deep and formidable as any team in the country. The 44.7 percent shooting against Virginia on Friday should have a degree-of-difficulty component; it is actually a massively impressive number when considering the Cavaliers were No. 5 in the nation in adjusted defensive efficiency. If the backcourt battle with Connecticut is bound to be a draw, at best, the contributions are pouring in from Michigan State's front court. Branden Dawson has averaged 25 points and 9.5 rebounds in his past two games. Adreian Payne has three double-digit scoring efforts in the NCAA tournament. Gary Harris and Keith Appling are equipped to make it difficult on the Huskies guards and cut the attack off at the head.
All of this doesn't mean UConn won't present a challenge, however.
The Huskies looked pretty good themselves beating the nation's fifth-best scoring team in the Iowa State Cyclones, but the Spartans still have an edge.
MSU will have to contend with both Shabazz Napier and DeAndre Daniels—both have looked very strong in the tournament—but they have the veteran depth to handle them and head to the Final Four once more.
(8) Kentucky vs. (2) Michigan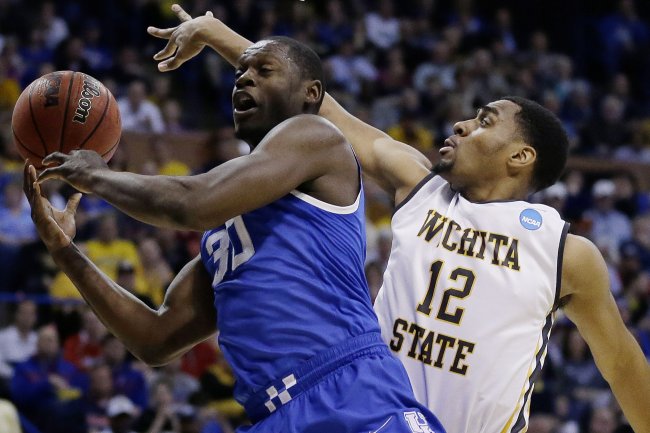 Jeff Roberson
The Wildcats may be the lower seed, but they're favored to beat the Wolverines and it's no secret why.
Michigan has plenty of talent shooting the three, starting with star guard Nik Stauskas, but Kentucky has so much size up front that it won't matter.
However, they will likely be missing some of that size with 7-footer Willie Cauley-Stein listed as doubtful heading into Sunday's game, as tweeted by SportsCenter.
The sophomore was only averaging three points per game in the tournament, though, and Dakari Johnson filled in for him admirably against Louisville, scoring 15 points in his absence.
The Wildcats may be youthful, but they just have so much talent between the Harrison twins—Aaron and Andrew—and Julius Randle that their youth doesn't seem to matter any more.
Kentucky has been very good at defending the three, allowing opponents to shoot 31.8 percent from downtown, and if they can keep that up while hammering Michigan inside, this shouldn't be much of a contest.
Neither Kentucky nor Michigan State was considered a Final Four favorite headed into the tournament, but with some key development over the course of March Madness, they now seem poised to complete their big turnarounds.
Connecticut and Michigan aren't any pushovers, but it doesn't seem terribly likely that they have enough to keep up with these two.