Only two spots remain in the coveted Final Four.
On Sunday, No. 4 Michigan State meets No. 7 Connecticut and No. 2 Michigan takes on No. 8 Kentucky to decide which teams will battle No. 1 Florida and No. 2 Wisconsin for a shot at the 2014 NCAA tournament finals.
Expect a no-holds-barred competition between these squads, as each team will leave everything on the floor. As we prepare to behold two epic battles, let's take a look at some last-minute Elite Eight predictions and tournament odds going forward.
All Your Bracket Essentials: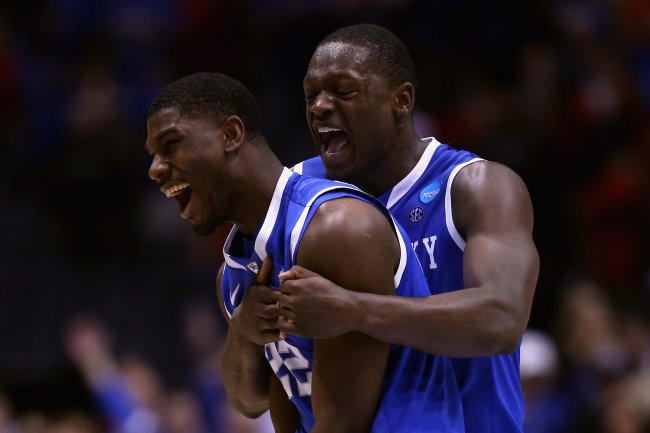 Jonathan Daniel/Getty Images
2014 NCAA Tournament Elite Eight Day 2 Picks

| | | | |
| --- | --- | --- | --- |
| Region | Team 1 | Team 2 | Pick |
| East | No. 4 Michigan State | No. 7 Connecticut | Michigan State |
| Midwest | No. 2 Michigan | No. 8 Kentucky | Kentucky |
Sean O'Donnell's Predictions
Neither of these games are easy to predict. After all, it's called March Madness for a reason.
Both Michigan State and Connecticut have been playing some extremely solid basketball of late.
The Huskies fended off a surging St. Joseph's team, handily defeated No. 2 Villanova and outscored the high-octane Iowa State Cyclones. This is a team that's firing on all cylinders heading into the Elite Eight.
UConn gets CLUTCH to clinch it! Huskies hit 19-of-20 2nd half FT to ice 81-76 win despite 37 Pts from Dustin Hogue. pic.twitter.com/8zxVENDvvY

— SportsCenter (@SportsCenter) March 29, 2014
On the other hand, Michigan State has been equally as impressive. The Spartans have secured victories both by lighting up the scoreboard and playing soundly on the defensive end. This is truly a team that can do it all.
It will be Michigan State's versatility that gets it done on Sunday, as the Spartans are too strong and deep for the Huskies to handle.
Watch out for Kentucky during Sunday's second game.
The Wildcats continue to mature and develop as the tournament goes on. They have been tested three times and emerged victorious in each matchup—including thrillers over No. 1 Wichita State and defending champion Louisville.
Michigan began the tournament on a huge hot streak. The Wolverines handled Wofford and Texas with ease and survived a nail-biter against Tennessee in the Sweet 16. Michigan's defense was exposed in its last game, and that will propel Kentucky's high-flying offense to get past them in an upset victory here.
Updated Odds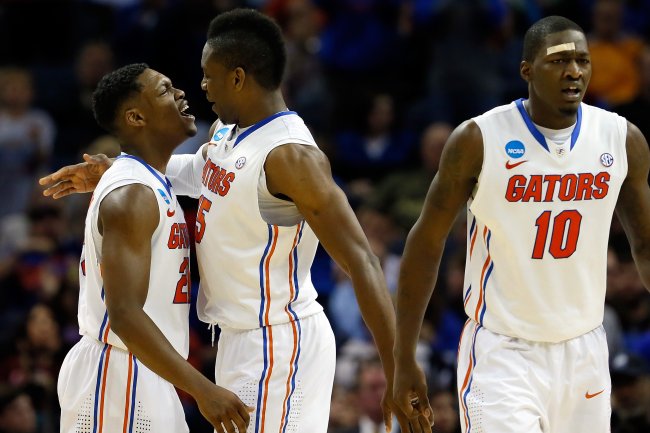 Kevin C. Cox/Getty Images
2014 NCAA Tournament Updated Odds

| | |
| --- | --- |
| Team | Odds |
| Florida | 2-1 |
| Michigan State | 18-5 |
| Kentucky | 6-1 |
| Michigan | 8-1 |
| Wisconsin | 8-1 |
| UConn | 20-1 |
Vegas Insider
Speaking of odds:
You're more likely to be struck by lightning 3 times in a year than select a perfect March Madness bracket. http://t.co/d2yj8ZDONH

— Mashable (@mashable) March 22, 2014
If any team looks like its going all the way this year, it's Florida. The Gators have put on strong showing after strong showing. They've made this tournament look easy at times and have the best chance to earn a national title.
Don't sleep on Michigan State, though. The Spartans have played some stiff competition and are versatile enough to deal with many different-minded teams. If any team has a chance to knock Florida out of the tournament, it's Michigan State.
Like underdogs? Then Kentucky is the team for you. The Wildcats' odds improved greatly after defeating Louisville, but they are playing great and are a fantastic bargain bet at this point.