Kentucky dethroned defending national champion and in-state rival Louisville on Friday night in Indianapolis, as the young and talented Wildcats advanced to the Elite Eight of the 2014 NCAA tournament with a 74-69 win.
KENTUCKY WINS! WHAT A GAME! For 2nd straight game, Kentucky survives a late 3 attempt, beats Louisville, 74-69. Wildcats are in the Elite 8.

— SportsCenter (@SportsCenter) March 29, 2014
All Your Bracket Essentials
With the loss, Rick Pitino falls to 11-1 all-time in the Sweet 16.
Kentucky only got six points from its bench but had four players in double figures. Julius Randle led the way with 15 points and 12 rebounds. For Louisville, Russ Smith and Luke Hancock combined for 42 points in the bitter loss.
No. 8 Kentucky 74, No. 4 Louisville 69

| | | | |
| --- | --- | --- | --- |
| | 1st | 2nd | Final |
| No. 8 Kentucky | 31 | 43 | 74 |
| No. 4 Louisville | 34 | 35 | 69 |
ESPN
Heading into the game, Kentucky freshman point guard Andrew Harrison admitted he and his teammates were having more fun together in the NCAA tournament. Per ESPN.com's Myron Medcalf, Harrison said, "We're playing as a team, having a lot more fun. We're enjoying just being on the court with each other now."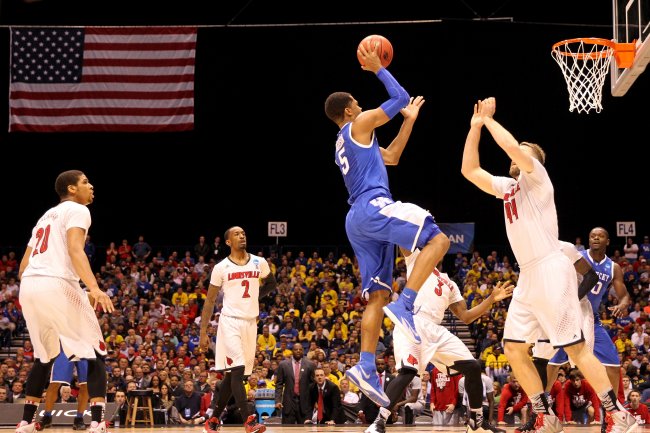 Andy Lyons/Getty Images
Randle added the following, per Medcalf: "We just have committed to each other on both ends of the floor."
It was all Louisville early on, though, as the Cardinals jumped out to an early 18-5 lead. ESPN college basketball insider Jeff Goodman broke down Kentucky's lackluster start:
Kentucky can't score -- or defend right now. Louisville getting whatever it wants against UK thus far. Cards lead 18-5. Still EARLY.

— Jeff Goodman (@GoodmanESPN) March 29, 2014
Bleacher Report's Adam Lefkoe pointed out the Wildcats' early struggles from downtown:
Kentucky is 0-5 from 3...if they're gonna settle for the outside shot, Louisville is sitting pretty.

— Adam Lefkoe (@AdamLefkoe) March 29, 2014
Kentucky would miss its first six three-point attempts before finally connecting.
While Louisville was in control early, each team suffered a huge blow. Foul trouble forced Hancock to the bench less than five minutes into the game, and Kentucky big man Willie Cauley-Stein limped off the court in pain midway through the first half after injuring his left ankle, per Kentucky's official Twitter account:
Official word on Willie Cauley-Stein is that he will miss the remainder of the game with a left ankle injury.

— Kentucky Athletics (@UKAthletics) March 29, 2014
Despite the circumstances, Medcalf warned us of a potential Kentucky comeback:
Louisville can't slow down. Kentucky will come back.

— Myron Medcalf (@MedcalfByESPN) March 29, 2014
Once the Wildcats finally settled down, they were able to cut into Louisville's 13-point lead. Despite Kentucky's resurgence, the Cardinals led by nine points with less than four minutes to play until halftime.
But Kentucky closed the half on an 11-5 run to trail by just three points at the break.
Randle's strength on the glass powered the Wildcats' comeback, aided as well by Louisville's missed opportunities at the foul line.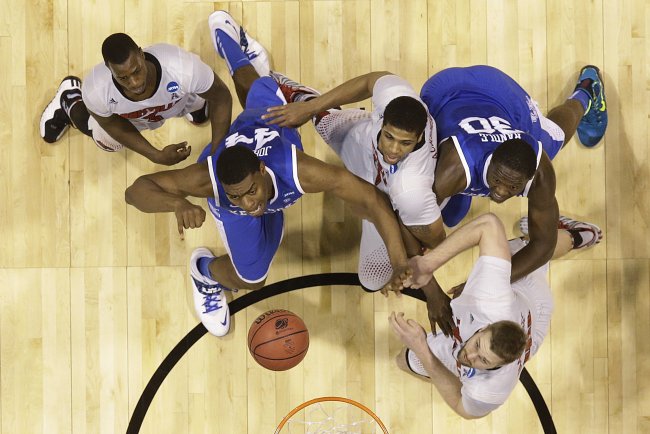 David J. Phillip
Randle led all players with nine rebounds, including four offensive rebounds, at halftime. Meanwhile, Louisville was 6-of-15 from the charity stripe as a team in the first half. Smith, a 72 percent free-throw shooter on the season, was just 4-of-10 from the line.
Kentucky would continue to play with confidence in the early going of the second half, eventually drawing even at 38. But at that point, Louisville's experience began to show as Smith and Hancock took over, combining for six points and an assist during a 10-4 run for the Cardinals, as noted by Goodman and CBS Sports' Gregg Doyel:
Luke Hancock makes such a difference on court. Ball-mover.

— Jeff Goodman (@GoodmanESPN) March 29, 2014
Kentucky is huge and Russ Smith does not care at all.

— Gregg Doyel (@GreggDoyelCBS) March 29, 2014
Louisville looked to be on its way to the Elite Eight, leading 66-59 with under five minutes to play, but couldn't fend off Kentucky's late rally, as the Wildcats used an 8-0 run to take a 67-66 lead. After Smith made a tough shot to put the Cardinals back in the lead, Aaron Harrison nailed a cold-blooded three from the corner to put the Wildcats up 70-68 with 40 seconds remaining.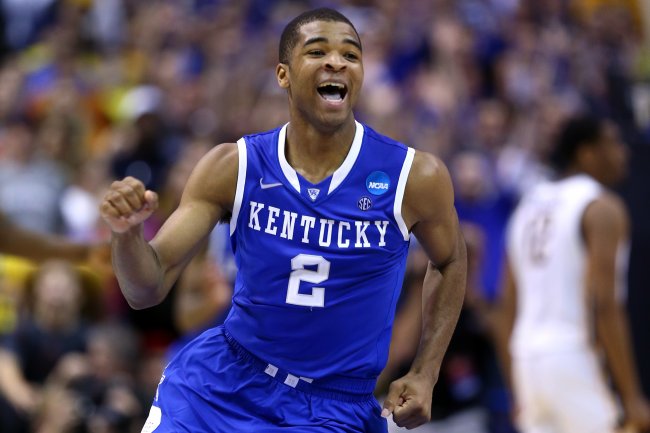 Andy Lyons/Getty Images
The Cardinals would have several chances to tie or go ahead but were unable to convert as the Wildcats iced the game at the free-throw line.
Up next, Kentucky will play second-seeded Michigan for the Midwest Region title. Although the Wildcats are sure to be slight underdogs yet again, they'll have an excellent shot to reach the Final Four if they can continue to pound the glass and cash in at the free-throw line.
Kentucky out-rebounded Louisville 37-29 and sank 22 of 27 foul shots in the win.
John Calipari's side will also have to defend the three-point line against the Wolverines, who can light it up from downtown.
If the Wildcats can do all of that, they have the talent to cut down the nets in Indianapolis and ultimately win it all.
According to Jerry Tipton of the Herald-Leader, Smith visited Louisville's locker room following the game:
I'm told U of L's Russ Smith came to locker room after game and congratulated UK players.

— Jerry Tipton (@JerryTipton) March 29, 2014
Jody Demling provides this quote from Smith, who expressed his regret:
Russ Smith said he "can empathize" with the Louisville fans and then he paused: "I'm so sorry."

— Jody Demling (@jdemling) March 29, 2014
Follow Bleacher Report Featured Columnist Patrick Clarke on Twitter.