No. 7 Connecticut shot the lights out at Madison Square Garden on Friday night, eliminating No. 3 Iowa State, 81-76, and advancing to the Elite Eight in the East Region.
SportsCenter on Twitter confirmed the result:
UConn gets CLUTCH to clinch it! Huskies hit 19-of-20 2nd half FT to ice 81-76 win despite 37 Pts from Dustin Hogue. pic.twitter.com/8zxVENDvvY

— SportsCenter (@SportsCenter) March 29, 2014
The Huskies, who were propelled by the dynamic trio of Shabazz Napier (19 points and five assists), Ryan Boatright (16 points) and DeAndre Daniels (27 points and 10 rebounds), will keep on dancing.
With his timely double-double, Daniels joins a rare list, per SportsCenter on Twitter:
DeAndre Daniels with a CAREER night for UConn, puts up 27 Pts, 10 Reb. Second Husky ever to get 25 and 10 in tourney. The other? Ray Allen.

— SportsCenter (@SportsCenter) March 29, 2014
Meanwhile, the Cyclones, who were averaging 89 points per game in the NCAA tournament coming into Friday's game, struggled offensively all night long as 2014 Big 12 Player of the Year Melvin Ejim finished with just seven points on 3-of-13 shooting from the floor.
Dustin Hogue and DeAndre Kane would combine to score 50 of Iowa State's 76 points.
No. 7 Connecticut 81, No. 3 Iowa State 76

| | | | |
| --- | --- | --- | --- |
| | 1st | 2nd | Final |
| No. 7 Connecticut (29-8, 12-6 AAC) | 36 | 45 | 81 |
| No. 3 Iowa State (28-8, 11-7 Big 12) | 26 | 50 | 76 |
ESPN
Ahead of Friday's game, Napier talked about the edge the Huskies' crowd would give them playing just two and a half hours from campus, per The Associated Press via CBSSports.com:
When we are at home games and we're tired, and they get us going, I don't think anybody on the court would be tired after that. Guys are just exerting all their energy that they possibly have and pushing themselves to get the game.
Energized by a pro-Huskies crowd, Connecticut started fast on Friday, jumping out to an early lead and taking advantage of a wild back-and-forth pace and some hot shooting.
The Chicago Sun-Times' Seth Gruen elaborated:
#UCONN and #IowaState each have four turnovers. Frenetic pace causing mistakes.

— Seth Gruen (@SethGruen) March 28, 2014
The two teams would eventually settle in, though, as they each went the final 13 minutes of the first half without a single turnover.
Napier was the catalyst early on for the Huskies, hitting his first four three-pointers to pick up 12 quick points.
Gruen and ESPN.com's Myron Medcalf were among the many watching in awe:
#IowaState needs someone to check Shabazz Napier quickly. Guy is making it look way too easy #UConn

— Seth Gruen (@SethGruen) March 28, 2014
I'm only watching Iowa State-UConn during timeouts. But looks like Shabazz is being ridiculous again.

— Myron Medcalf (@MedcalfByESPN) March 28, 2014
But Napier wasn't the only Connecticut player with the hot hand as Boatright and Daniels combined to shoot 7-of-14 in the first half, per The Des Moines Register's Tommy Birch:
Good news if you're an Iowa State fan: #Cyclones are rebounding well. Bad news if you're an Iowa State fan: UCONN isn't missing.

— Tommy Birch (@TommyBirch) March 28, 2014
On the other end of the floor, Iowa State struggled mightily, missing 16-of-23 shots from inside the arc in the first half, per The Dallas Morning News' Chuck Carlton:
Melvin Ejim has missed three consecutive close-in shots for Iowa State. Not fluid. Seems bothered by UConn's length.

— Chuck Carlton (@ChuckCarltonDMN) March 29, 2014
Kane, who was the hero in the Cyclones' last-second win over North Carolina in the round of 32, would shoot just 2-of-7 in the first half, but was one of only four Iowa State players to score in the opening 20 minutes.
Iowa State's only advantage in the first half was at the foul line, where the Cyclones sunk 6-of-10 free throws compared to 1-of-2 shooting for the Huskies. Nonetheless, Connecticut led 36-26 at halftime, shooting nearly 52 percent from the field and better than 58 percent from beyond the arc (7-of-12).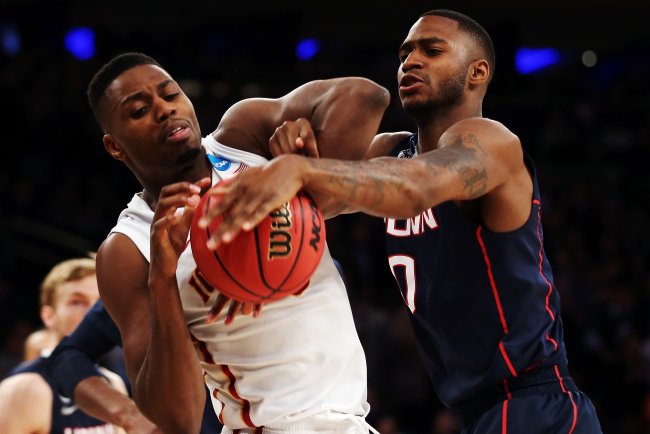 Bruce Bennett/Getty Images
Unable to convert on several easy shots inside, Iowa State struggled to cut into Connecticut's lead in the early moments of the second half, falling behind by 14 points, per Fox Sports writer Aaron Torres:
My hard hitting analysis of Iowa State-UConn right now: The Cyclones are rattled, man

— Aaron Torres (@Aaron_Torres) March 29, 2014
The Cyclones would trail by as many as 17 points in the second half. At 49-32, CBSSports.com's Jeff Borzello summed up Iowa State's struggles:
UConn is shooting better from 3-point range than Iowa State is from the free-throw line.

— Jeff Borzello (@jeffborzello) March 29, 2014
Led by Hogue's non-stop motor, the Cyclones would cut the Huskies' lead to 10 points midway through the second half. But Iowa State had no answer for Connecticut's guards, who penetrated with ease and got to the rim time and again.
Late in the game, sensing that time was running out on their season, the Cyclones upped the intensity, earning some key stops and crashing the offensive glass to ignite an 11-2 run that brought them within seven points.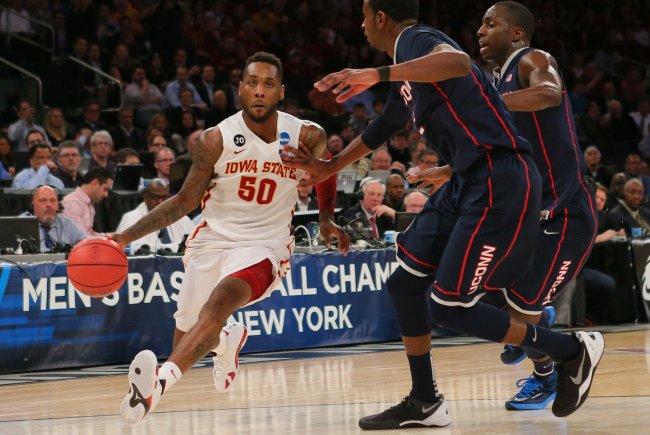 Adam Hunger-USA TODAY Sports
A Naz Long three with a little over two minutes to play would cut the Huskies' lead to four, but Connecticut answered right away with a three of its own to restore order and fend off the Cyclones' late rally.
The Huskies would nail 15 consecutive free throws down the stretch before Napier finally missed one, per Carlton:
Iowa State took way too long to start playing like Iowa State. UConn going all Rick Barry at the free-throw line.

— Chuck Carlton (@ChuckCarltonDMN) March 29, 2014
With the win, Kevin Ollie's side will have a little less than 48 hours to gear up for an Elite Eight showdown with either Virginia or Michigan State. Regardless of who the Huskies face, they'll need to continue their hot shooting in order to crash the Final Four in North Texas.
Connecticut was superb from every spot on the floor on Friday and took excellent care of the ball, turning it over just nine times.
The seventh-seeded Huskies will also need Daniels to continue his strong play. The junior forward played big inside and out against Iowa State and must be a difference-maker in the next round if Connecticut is going to survive and advance.
Follow Bleacher Report Featured Columnist Patrick Clarke on Twitter.