If you don't think the 2014 NCAA tournament could get any better, think again.
It seems that the action gets more intense with each passing game. That certainly bodes well for the Elite Eight.
ELITE EIGHT: South: 1 Florida vs. 11 Dayton West: 1 Arizona vs. 2 Wisconsin MW: 2 Michigan vs. 8 Kentucky East: 4 Michigan State vs. 7 UConn

— CBSSports.com (@CBSSports) March 29, 2014
Day 1 of the Sweet 16 featured some dominating performances by Wisconsin and Florida, a stellar win by this year's Cinderella Dayton and a nail-biting finish for Arizona.
Not to be outdone, Day 2 upped the ante with some fantastic finishes of its own. Michigan barely squeezed past a resilient Tennessee team, Connecticut won in down-to-the-wire fashion, Kentucky advanced on a come-from-behind victory and Michigan State outdefended Virginia.
If those contests give any indication of what's to come during Elite Eight action, we are in for a treat.
Not a moment of the remaining madness should be missed. Let's take a look at all of the essential tournament information as the final eight teams standing ready themselves for battle.
All Your Bracket Essentials
Elite Eight Viewing Information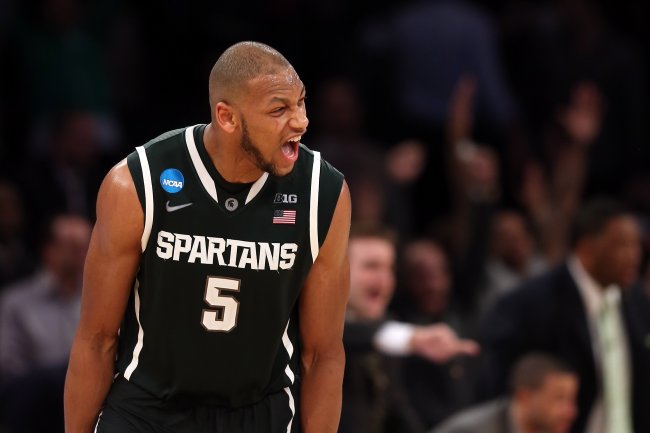 Bruce Bennett/Getty Images
The Elite Eight features a variety of intriguing matchups this year.
Just 8 out of the 11 million ESPN Tournament Challenge brackets got all Elite Eight teams correct.

— ESPN Stats & Info (@ESPNStatsInfo) March 29, 2014
We kick off on Saturday when No. 1 Florida takes on No. 11 Dayton. The Gators have been one of the most dominant teams of late, and they appear to be the favorite going forward. However, one simply cannot count out Dayton. The team's unpredictable Cinderella run has captivated the nation and could be in line for another shocking upset.
A No. 1 vs. No. 2 matchup is next on the slate. No. 1 Arizona looks to fend off the surging No. 2 Wisconsin Badgers on Saturday evening. Arizona has looked good, but it hasn't been as dominating as Wisconsin has been recently. Expect this one to come down to the final seconds.
On Sunday, Michigan State will attempt to continue its dominating ways against a surging Connecticut team. The Spartans are very well rounded; however, the Huskies showed a great deal of firepower against Iowa State on Friday.
Michigan vs. Kentucky may be the marquee matchup of the Elite Eight. The Wolverines have been tremendous lately, but they barely squeezed past Tennessee. On the other hand, Kentucky continues to improve with each game and looks to force an upset once again.
2014 NCAA Tournament Elite Eight Schedule

| | | | |
| --- | --- | --- | --- |
| Region | Matchup | Time (ET) | TV Info |
| Sat., March 29 | | | |
| South | No. 1 Florida vs. No. 11 Dayton | 6:09 p.m. | TBS |
| West | No. 1 Arizona vs. No. 2 Wisconsin | 8:49 p.m. | TBS |
| Sun., March 30 | | | |
| East | No. 4 Michigan State vs. No. 7 Connecticut | 2:20 p.m. | CBS |
| Midwest | No. 2 Michigan vs. No. 8 Kentucky | 5:05 p.m. | CBS |
CBSSports.com
All Elite Eight action can be live streamed on NCAA.com.
The updated 2014 NCAA tournament bracket can be viewed on CBSSports.com.