And then there were eight.
Day 2 of the 2014 NCAA tournament's Sweet 16 games concluded on Friday night, sending four more teams home and four others to the coveted Elite Eight.
After Thursday's thrilling action in which Arizona, Florida, Wisconsin and Dayton advanced, Friday's games upped the ante by delivering four more breathtaking matchups.
The eight remaining teams are now vying for a spot in the Final Four—a round in which legends are made.
Missing any of the forthcoming action would be highly unwise, so let's take a look at all of the essential need-to-know information as March Madness progresses.
All Your Bracket Essentials
Elite Eight Schedule
2014 NCAA Tournament Elite Eight Schedule

| | | | |
| --- | --- | --- | --- |
| Region | Matchup | Time (ET) | TV Info |
| Sat., March 29 | | | |
| South | No. 1 Florida vs. No. 11 Dayton | 6:09 p.m. | TBS |
| West | No. 1 Arizona vs. No. 2 Wisconsin | 8:49 p.m. | TBS |
| Sun., March 30 | | | |
| East | No. 4 Michigan State vs. No. 7 Connecticut | 2:20 p.m. | CBS |
| Midwest | No. 2 Michigan vs. No. 8 Kentucky | 5:05 p.m. | CBS |
CBSSports.com
All of the Elite Eight action can be live streamed on NCAA.com.
Elite Eight Picks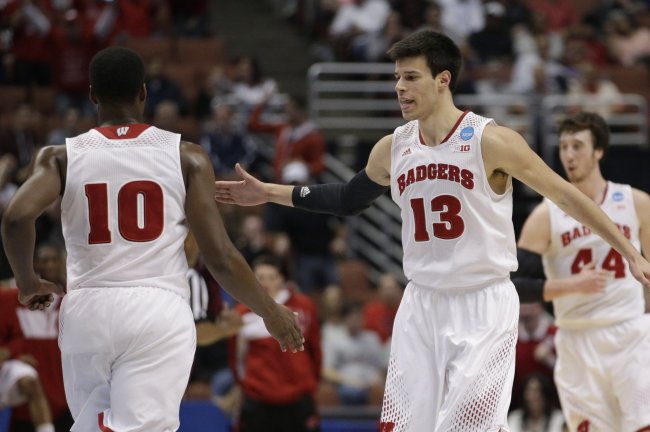 Jae C. Hong
Dayton's had a great run; however, that will end when the Flyers face the dangerous Florida Gators on Saturday. The Gators are the most dominating team in the 2014 NCAA tournament, and although the Flyers will make a game of it, Florida will prevail.
Watch out Arizona, Wisconsin is on a tear. With two top-seeded teams already ousted from the tournament, the Wildcats will be next. The Badgers are simply too good to overtake right now, and they'll find their way into the Final Four.
Connecticut was absolutely impressive on Friday; however, Michigan State was even more so. After knocking off a top-seeded team, the Spartans are riding high. They'll carry that momentum to another tournament win.
Michigan barely escaped Tennessee on Friday. Kentucky barely escaped Louisville. This one could be a big toss up; however, the Wildcats won in style, and that boost in confidence will carry them past the Wolverines in the Elite Eight.
2014 NCAA Tournament Elite Eight Predictions

| | | | |
| --- | --- | --- | --- |
| Region | Team 1 | Team 2 | Pick |
| South | No. 1 Florida | No. 11 Dayton | Florida |
| West | No. 1 Arizona | No. 2 Wisconsin | Wisconsin |
| East | | | |
| Midwest | | | |
Sean O'Donnell's Predictions
Odds Advice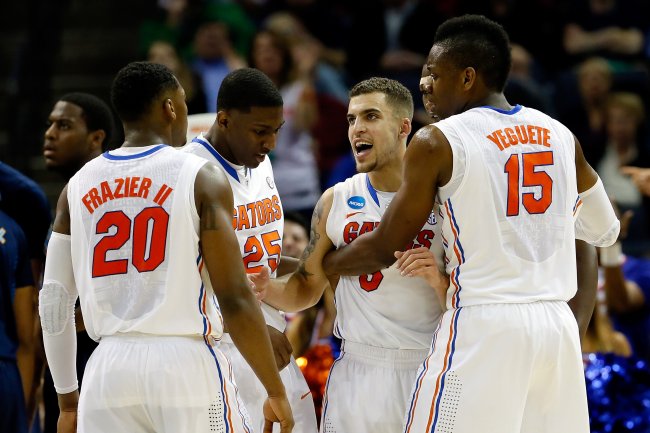 Kevin C. Cox/Getty Images
Of course, Florida remains the safest bet here. The Gators have arguably the easiest path to the finals and have been playing some astounding basketball lately. The Gators are still the best pick to go the distance here.
Florida will be a big favorite over Dayton, and rightly so. Florida was a big fave over Butler in the Elite 8, too. Should be a good one.

— Zac Jackson (@FSOhioZJackson) March 28, 2014
If you're into long shots, Kentucky is on a tremendous hot streak. Gambling on the Wildcats could go a long way, as they continue to build momentum with every passing day.
Michigan State also looks favorable. The Spartans are coming off of a tough win and should be able to handle Connecticut with ease on their way to the Final Four.
Michigan State moves on to play UConn. Sparty fans better show or this will be a road game at MSG.

— Andy Katz (@ESPNAndyKatz) March 29, 2014
The other Elite Eight teams just don't appear trustworthy enough to bet on. However, as we know, anything can happen during March Madness.
2014 NCAA Tournament Updated Odds

| | |
| --- | --- |
| Team | Odds |
| Florida | 7-2 |
| Arizona | 9-2 |
| Michigan State | 9-2 |
| Wisconsin | 16-1 |
| Michigan | 16-1 |
| Kentucky | 20-1 |
| UConn | 28-1 |
| Dayton | 85-1 |
Vegas Insider