Reaching the Final Four is one of the great achievements in sports. By the end of Saturday, two teams will see their dreams come true.
Of the four teams in action on the first day of Elite Eight play, three of them feel they deserve to get to next level after years of being so close.
Florida starts four seniors who have been to the Elite Eight all four years of their career, but they have never reached the Final Four. Meanwhile, Wisconsin coach Bo Ryan and Sean Miller of Arizona are two of the best active coaches without a Final Four on their resume. Ryan has not missed the NCAA tournament in 13 years as the Badgers head coach, and Miller has reached the Elite Eight twice in four years.
Of course, No. 11 Dayton is not quitting on its magical run just yet despite the fact that the team should already be incredibly proud of getting to this point.
All of the teams that reached this point have a legitimate chance of taking home a national championship, and the next few games will determine which squad is the best. It all starts with a strong performance in the Elite Eight, though, so here is a look at which teams will advance.
All Your Bracket Essentials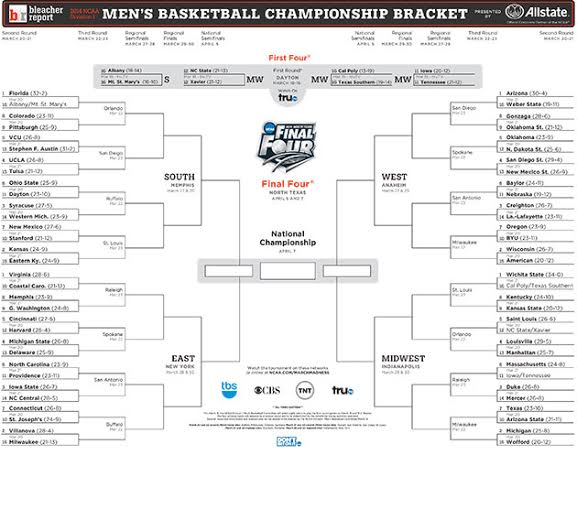 Bleacher Report
Elite Eight Day 1 Schedule and Picks

| | | | | |
| --- | --- | --- | --- | --- |
| Matchup | Time (ET) | TV | Pick | Pick (ATS)* |
| No. 1 Florida vs. No. 11 Dayton | 6:09 p.m. | TBS | Florida | Dayton (+10) |
| No. 1 Arizona vs. No. 2 Wisconsin | 8:49 p.m. | TBS | Arizona | Arizona (-3) |
Spread info courtesy of Vegas Insider
Elite Eight Day 1
No. 1 Florida vs. No. 11 Dayton
It is important not to be too quick to judge the teams based on seeds. George Mason and VCU each reached the Final Four as No. 11 seeds and Dayton certainly has the ability to do the same.
Both teams have incredible balance with multiple players who can post big numbers in any game. Dayton coach Archie Miller discussed this ability after his latest win, via David Brandt of the Associated Press (h/t Pittsburgh Post-Gazette):
We had 11 guys score in the game and from top to bottom, we kept coming and coming. The way they shared the ball and moved the ball ... it was a true team effort. It's nice that on the biggest stage, we acted like ourselves.
The Flyers not only have depth, but multiple players are willing and able to take big shots when needed. While Jordan Sibert can be counted on late in games, Vee Sanford is the one who hit the biggest shot of the season in Round 2 against Ohio State:
On the other hand, Florida provides just as much versatility with its scoring with five different players either leading or tied for the team lead in points in the past four games.
Still, everyone in the building knows who gets the ball for the Gators when they need a play, as noted by Gary Parrish of CBS Sports:
Final minutes of a close game and Scottie Wilbekin is taking over? That seems about right, I guess.

— Gary Parrish (@GaryParrishCBS) March 28, 2014
Wilbekin was the SEC Player of the Year thanks to his ability to contribute on both ends of the court and come through in the clutch for the No. 1 team in the country. If the team once again gets off to a slow start, you can count on the point guard to carry the squad out of trouble.
Dayton will certainly cause some trouble, but this will be a strong defensive game for both teams. Florida gets the advantage thanks to the ability of its players to create their own shots and score tough baskets.
Prediction: Florida 68, Dayton 60
No. 1 Arizona vs. No. 2 Wisconsin
Like Florida, Arizona has a player that can be counted on to contribute late in games no matter what he did early on. Nick Johnson struggled against San Diego State and was held scoreless for 37 minutes before turning it on late and scoring 15 of the team's last 16 points.
ESPN provided a look at the historical significance of this performance:
Nick Johnson scored 15 pts in the final 3 mins, the most for any player in the final 5 mins of a game in the last five NCAA Tournaments.

— ESPN College BBall (@ESPNCBB) March 28, 2014
Arizona also has other players who can pick up the scoring load when Johnson has an off night. Aaron Gordon and Rondae Hollis-Jefferson each totaled 15 points in the recent win. However, the junior is the only consistent threat on the perimeter who can stretch the defense, and he will certainly be needed in the next round.
If Baylor showed us anything in the Sweet 16, it's that Wisconsin's defense cannot be easily beaten. This came at a bit of a surprise for a squad that had struggled on that end of the court for much of the year, but the Badgers are clearly peaking at the right time.
Wisconsin completely shut down the red-hot Bears on Thursday, holding them to just 52 points and a 31.6 shooting percentage. The Big 12 team went just 2-of-15 from behind the arc.
Baylor point guard Kenny Chery was impressed, telling reporters after the game, "Credit to them. They did a great job containing us and making every shot difficult," via Lindsay Schnell of Sports Illustrated.
The question is whether Wisconsin can pull a similar result against Arizona. The biggest difference is the Wildcats' skill in the backcourt between Johnson and T.J. McConnell, each of whom will be able to get into the lane and finish there.
Arizona is also ready for a physical battle against Wisconsin. Myron Medcalf of ESPN described his thoughts on the last round:
That wasn't a basketball game. That was a brawl. Arizona earned it. SDSU went down swinging. Can't be mad at that.

— Myron Medcalf (@MedcalfByESPN) March 28, 2014
The Badgers might not be ready for this and they could end up falling apart late in a close game.
Prediction, Arizona 71, Wisconsin 67
Follow Rob Goldberg on Twitter for the latest breaking news and analysis.