Day 1 of the Elite Eight will feature one Cinderella team and three squads that undoubtedly envisioned themselves advancing this far in the tournament.
Dayton is that Cinderella squad and their coach Archie Miller is the brother of Sean Miller, the head coach at Arizona. Needless to say, the family is well represented.
How proud is their dad? He seemed almost speechless when he said this to Gary Parrish of CBS Sports after watching Dayton down Stanford on Thursday night:
"It really is just crazy," John Miller told me after watching his 35-year-old son reach the Elite Eight. Column: http://t.co/DhSYZMQ2dn

— Gary Parrish (@GaryParrishCBS) March 28, 2014
It's a great story that would get even bigger if the two teams somehow met in the national championship.
That's the earliest that magical meeting could take place. The No. 2-seeded Wisconsin Badgers and Sean's No. 1-seeded Arizona Wildcats will settle things in the West Region, while No. 1 seed Florida will take Archie's No. 11-seeded Dayton Flyers. A spot in the Final Four is at stake.
Here's a look at the schedule and viewing information for Day 1 of the regional finals. Just beneath the table is a prediction for both games.
| | | | | |
| --- | --- | --- | --- | --- |
| Date | Regional Finals | Time (ET) | TV | Live Stream |
| Sat, March 29 | Dayton Flyers vs. Florida Gators | 6 p.m. | TBS | March Madness Live |
| Sat, March 29 | Wisconsin Badgers vs. Arizona Wildcats | 8:30 p.m. | TBS | March Madness Live |
(Click here to see the most updated bracket.)
Florida Will End Dayton's Magical Run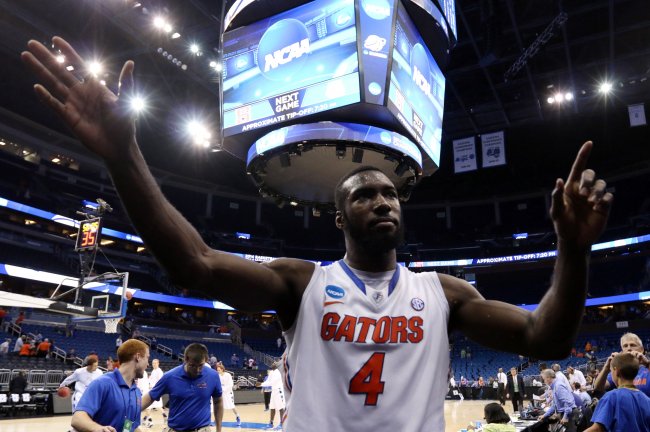 Kim Klement-USA TODAY Sports
UCLA gave Florida the best game it will see in the region on Thursday night. As well as Dayton is playing, it doesn't have the size or overall talent to keep pace with Florida.
Patric Young and Dorian Finney-Smith are a tough duo to handle on the boards. Dayton doesn't have the bigs to bang with them for 40 minutes.
Essentially, the two teams like to play a similar style. Both grind it out on defense with ball pressure on the perimeter and attempt to shut down driving lanes. Florida is simply better at it.
Over the course of the regular season, the Gators allowed just 57.5 points per game. Against weaker competition, Dayton gave up 67.1.
The Gators also have far more NCAA tournament experience. Head coach Billy Donovan led most of these same core players to the Elite Eight in 2013.
Dayton wasn't even in the tournament last season. Though the Flyers deserve credit for knocking off Ohio State, Syracuse and Stanford, each of those teams had glaring weaknesses that the Flyers were able to exploit.
Florida is playing at the top of its game having won 29 straight, and Donovan won't allow Dayton to sneak up on his team.
The Gators are going back to the Final Four for the first time since 2007.
Arizona's Athletes Will Run Wisconsin Off the Court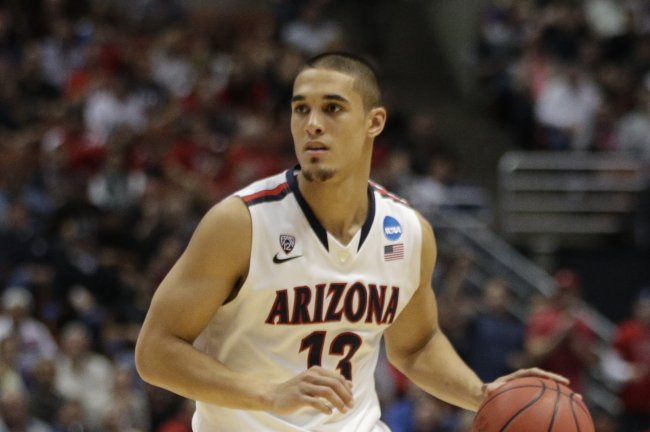 Jae C. Hong/Associated Press
The San Diego Aztecs gave Arizona all it could handle on Thursday but in one of the Wildcats' most impressive wins of the season, they played strong and smart late in the second half to get the win.
Miller has his team playing upset-proof hoops. Per Patrick Stevens of D1scourse.com, Miller's squads haven't faltered against a lower seed:
Sean Miller's teams are now 11-0 against lower-seeded opponents in the NCAA tournament.

— Patrick Stevens (@D1scourse) March 28, 2014
The Badgers are a No. 2 seed, but they still fit into that category.
Wisconsin surprisingly manhandled a red-hot Baylor Bears squad. Somehow Baylor forgot how to defend and made only 31.6 percent of its shots. The Badgers' defense deserves some credit for that, but it shouldn't expect a repeat against Arizona.
What the Wildcats have that the Bears didn't is strong leadership at the point guard position.
Nick Johnson was instrumental in guiding the Wildcats past the Aztecs—though he shot terribly from the field (2-for-15). He sank all 10 of his free throws, grabbed eight rebounds, dished three assists and only committed one turnover.
Combine his steady play with athletes like Aaron Gordon in the frontcourt and the Badgers don't have the horses to keep pace with Arizona.
Look for the Wildcats to punch their ticket to the Final Four as well.
All stats per Statsheet.com, unless otherwise noted.
Follow me. I'm addicted to hoops.