Examining What Henry Melton Brings to the Cowboys' Defense
March 28, 2014

Jonathan Daniel/Getty Images
If free agency is the Christmas of professional football, Dallas Cowboys fans had one of those years in which they received one big present surrounded by stocking stuffers. Henry Melton is the big gift.
Although there are concerns about the health of his surgically-repaired left knee, don't be surprised if he keeps on giving for a long time to come. 
We've had a chance to study game tape and advanced statistics from Melton's Pro Bowl season in 2012, and we've come away believing that the guy has a chance to wreak more havoc than Dallas' departed 3-technique defensive tackle, Jason Hatcher. 
Even with Hatcher and the legendary DeMarcus Ware now gone, this defense truly has the ability to improve next season. That's partly because luck with injuries is statistically bound to favor them eventually, but it's mainly because Melton has All-Pro potential and is only 27 years old. 
What's most exciting is that he'll be reunited with Rod Marinelli, who coached Melton in Chicago for the first four years of his career. Marinelli turned the fourth-round pick into one of the most dominant defensive players in the game in short time. 
He'll perform the same role with Dallas, which is that of a versatile, aggressive 3-technique 4-3 defensive tackle. 
Strictly from a statistical standpoint, I'll let Bleacher Report NFC North lead writer Zach Kruse explain what happened from the time Melton became a regular starter in 2011 until Marinelli's departure after the 2012 season:
From 2011 to 2012, the former fourth-round pick emerged as one of the NFL's better interior pass-rushers. His 13.0 sacks over that period—which included seven in 2011 and six in 2012—ranked second among all 4-3 defensive tackles, with only Geno Atkins of the Cincinnati Bengals (20.0) registering more.

According to Pro Football Focus (subscription required), Melton tallied 76 total quarterback disruptions in 2011 and 2012 combined. Only Atkins had more. Among Melton's 76 disruptions were 14 quarterback hits and 47 hurries.

He also made 50 stops (a solo tackle that PFF counts as an offensive failure) over the two years and finished first in run stop percentage in 2012.
The first thing you notice when watching Melton on tape is his insatiable motor. Unfortunately, we have to go back to 2012, since he missed all but three games due to a torn ACL in 2013. But that's when he was last with Marinelli anyway, and it was also when his career really began to take off. 
Both Melton and Hatcher weigh just under 300 pounds, but Melton is 3 inches shorter. In other words, he's thicker. He's got a higher BMI, but he's also faster. I mean, truly explosive. 
I think this play from a home game against Minnesota really gives you that feel. At the snap, Melton explodes while making a quick move in order to embarrass John Sullivan, who PFF graded as the best center in football that season.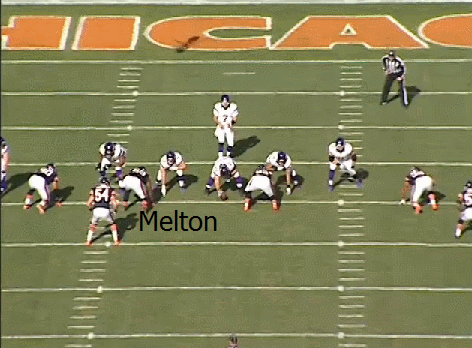 NFL Game Pass
Christian Ponder stood absolutely no chance. It was a one-on-one blowout victory and a sack in fewer than three seconds. 
But we were also surprised by just how relentless he was, either as a pass-rusher or on run defense, showing his versatility. Here, in another game against Minnesota, he busts through about four players in the trenches in order to get across to the other side of the field, tackling the game's best running back, Adrian Peterson, for only a short gain.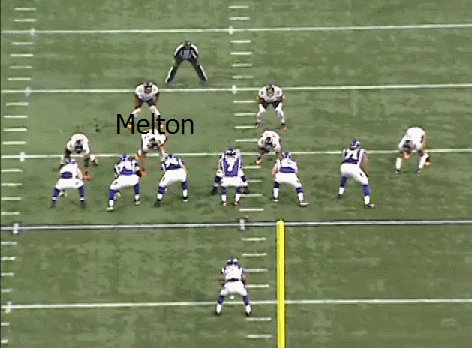 NFL Game Pass
He put that on display again here in a matchup with Seattle, this time chasing down mobile Seahawks quarterback Russell Wilson to limit him to only a 1-yard pickup on the sideline. It's amazing he was able to stay with the play and chase Wilson down, but the anticipation he exhibits by literally turning with Wilson and away from John Moffitt is phenomenal. 
NFL Game Pass
Marinelli is a magician as is, and now he's got a weapon like this? Scary thought. Watch for them to get creative with Melton. Here he is ripping away from a blocker and making mincemeat of Andrew Luck on a stunt:
NFL Game Pass
What's amazing is that Dallas got a player like that for as little as $2.25 million on a one-year contract. If he lives up to expectations, he'll earn twice that in 2014, but that's still a bargain. Beyond that, the Cowboys get to choose whether to pay bigger bucks to keep him around.
He can earn as much as $29 million over the the course of the full four-year deal, according to Brandon George of the Dallas Morning News, but that'll be money well spent because it'll mean he's earning bonuses and the team has been picking up options.
The knee was definitely a factor, but—and the team-friendly contract probably helps with this—the Cowboys don't seem too worried. 
"Like all of the injured players he's just going through his rehab process, right now," head coach Jason Garrett said this week, per ESPN.com's Calvin Watkins. "He had the surgery, I believe in October. We feel like it's a reasonable timetable to see him at some point this spring or training camp. He's responded well to the surgery."
The first year back from reconstructive knee surgery isn't always easy, but the obstacles have become less cumbersome as medical science has improved. Peterson and Redskins quarterback Robert Griffin III both made it back in about eight months (Peterson was fabulous, Griffin was just OK but a lot factors were at play). 
Because Melton's injury took place early in 2013, he'll have more than 10 months between surgery and his next regular-season game. At the very same juncture of the previous season, Darrelle Revis tore his ACL, and Revis was back in time to start all 16 games last year in Tampa, earning the league's highest PFF grade at the cornerback position. 
Unsurprisingly, Watkins reports that team medical officials believe he'll be back for training camp, which usually gets started in late July. 
We mentioned stocking stuffers, and that's important too. Melton can't single-handedly carry this defensive line. There's still a chance Anthony Spencer returns, which would help tremendously considering that Spencer was arguably the team's best defensive player in 2012 before suffering his own knee injury in 2013. 
But they also signed veterans Jeremy Mincey and Terrell McClain, who have a combined 21 sacks in 52 career starts. Neither is a star, but they're the kind of guys Marinelli can coach up to contribute beyond presumed limitations. That's exactly what Marinelli did with George Selvie and Nick Hayden when the going got tough last year, and those two will be back for more in 2014. 
But the Cowboys were once again 8-8 with spare parts along the defensive line last season. It could have been worse, but everyone involved with that organization has to demand better. And the key to finally moving above the .500 mark for the first time since 2009 could be the big man in the middle. 
If Melton can capture that 2012 form, Christmas will have come early for Cowboys fans.