Are there major differences between last year's Tottenham Hotspur that finished fifth under Andre Villas-Boas and the current one under Tim Sherwood?
Gareth Bale's Impact
Villas-Boas had a bona fide star in Bale, who would carry Spurs in matches and will the team over the line in games they should not have won.
Bale scored what turned out to be winning goals against Sunderland (1-0), Southampton (1-0), West Ham United (3-2), Newcastle United (2-1), West Bromwich Albion (1-0) and Liverpool (2-1).
He was influential in a 3-1 win over Manchester City and dominated Aston Villa in a 4-0 win with a 23-minute hat-trick.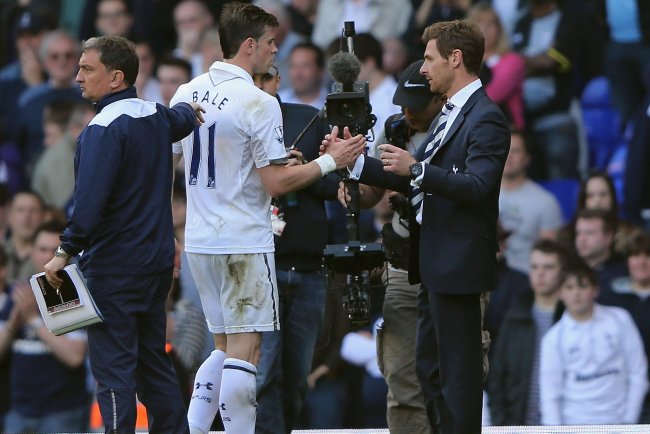 Ian Walton/Getty Images
Villas-Boas should have received more credit for Bale's greatest-ever season at White Hart Lane, yet the Portuguese manager was plagued with the same criticism: Spurs are just a one-man team.
That was what Southampton manager Mauricio Pochettino said, per Simon Head at the Mirror.
Villas-Boas believed in Bale, which allowed the Welsh international to take his game to the next level.
"He [Bale] is up there with the best. He is showing tremendous skills and talent, I think he is improving every day," Villas-Boas said, per beIN Sports. "He is one of our major assets."
Villas-Boas was right: Bale was an asset worth around £78 million, the amount Real Madrid paid for him, per Intereconomia (h/t FIFA.com).
Spurs chairman Daniel Levy had the right idea in selling Bale and assembling a team of nameable footballers (Christian Eriksen, Erik Lamela, Etienne Capoue, Nacer Chadli, Paulinho, Roberto Soldado and Vlad Chiriches) worth around £110 million, per the Guardian, which would make the team less dependent on one player.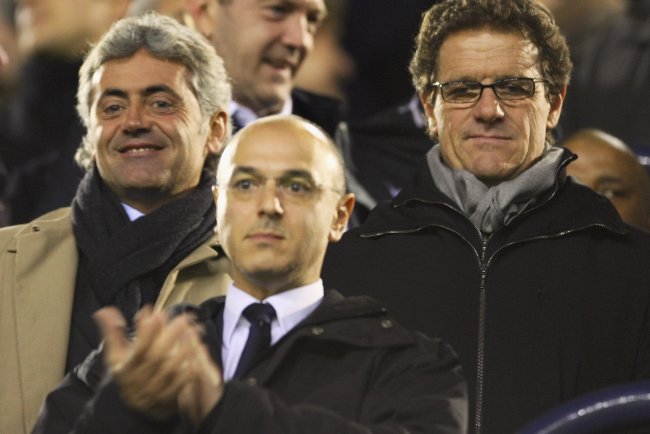 Richard Heathcote/Getty Images
However, Levy and technical director Franco Baldini did not let Villas-Boas make the key signings because he wanted in David Villa, Joao Moutinho and Hulk, per Matt Barlow at the Daily Mail.
"Villas-Boas objected to the acquisitions of Erik Lamela, Nacer Chadli, Vlad Chiriches and Christian Eriksen," Barlow wrote. "None of these signings materialised and the £110 million recruitment drive lies at the heart of a power struggle inside White Hart Lane which culminated in the sacking of Villas-Boas."
Eriksen (five), Lamela (zero), Chadli (one), Paulinho (four) and Soldado (six) combine for 16 league goals, whereas Bale scored 21 goals by himself last season.
If there was one player Levy and Baldini should have signed, it was Hulk.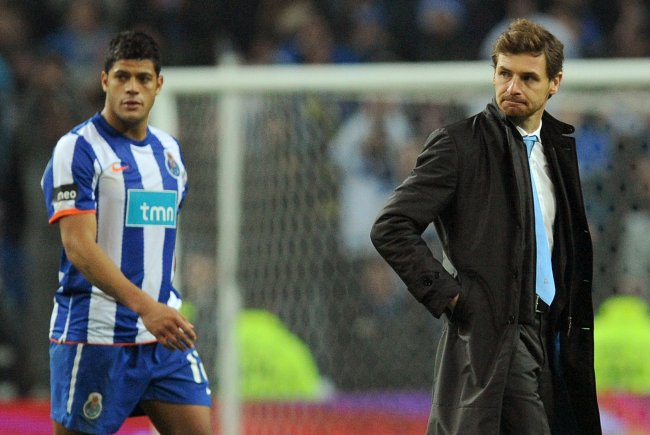 Paulo Duarte/Associated Press
Villas-Boas turned Hulk into a star at Porto. When Villas-Boas moved to Chelsea, he tried to sign Hulk.
"I see room for an explosive player on the wing, someone who is strong in one-on-one situations," the then-Chelsea manager said, per the Telegraph. "Hulk fits that profile."
When Hulk to Chelsea did not eventuate, Villas-Boas attempted to mould Daniel Sturridge, a centre-forward, into a Hulk-type player, per Duncan White at the Telegraph.
Upon moving to Spurs, Villas-Boas wanted Hulk instead of Lamela, if you are to believe Barlow's sources.
Well, who was the main player who swayed Villas-Boas to become the new Zenit St. Petersburg manager? Hulk, who scored twice on Villas-Boas' league debut as Zenit manager.
You could envision Villas-Boas at Spurs rubbing out Bale's name and putting in Hulk's name because it would have been the same system.
In hindsight, a one-man team in Bale is better than an overvalued and underperforming bunch of names that the first manager, Villas-Boas, did not want and the second manager, Tim Sherwood, has inherited.
Is Christian Eriksen Sherwood's Bale?
Bale was the man of the moment and Villas-Boas tailored the team around him, and he became Spurs' answer to Cristiano Ronaldo: Pass him the ball and get out of the way.
Bale, who made it as a winger, operated centrally and had the freedom to roam and take as many shots as possible.
Bale averaged five shots per game; no other Spurs player averaged 3.5 shots per game.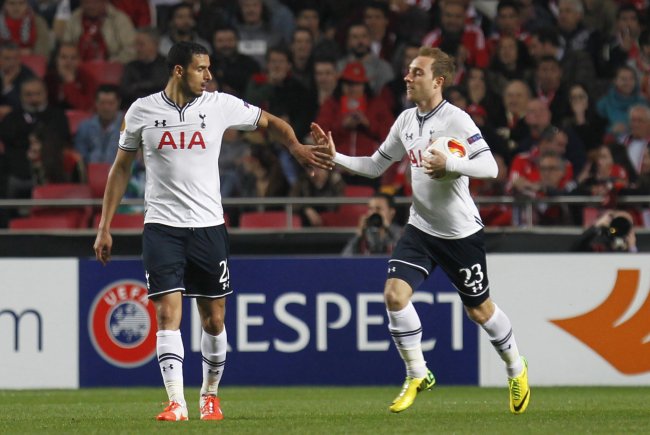 Francisco Seco/Associated Press
Sherwood has given free central roles to Harry Kane and Nacer Chadli, while persisting with Eriksen out wide, despite the Danish international drifting into the middle and his best moments being from a central position.
Why not just play Eriksen in the middle?
This is a major difference because Villas-Boas did everything in his power to be Bale-centric, while Sherwood is experimenting with quirky tactics.
Same Old Story Again
What is not a difference between last season's Spurs and this season's Spurs is a refusal from Levy, the elephant in the room, to admit his errors.
Baldini knew he was in the wrong, accepted culpability and offered to resign (which was rejected), per Jason Burt at the Telegraph.
Levy needs to understand managers will not tolerate being given players they do not want.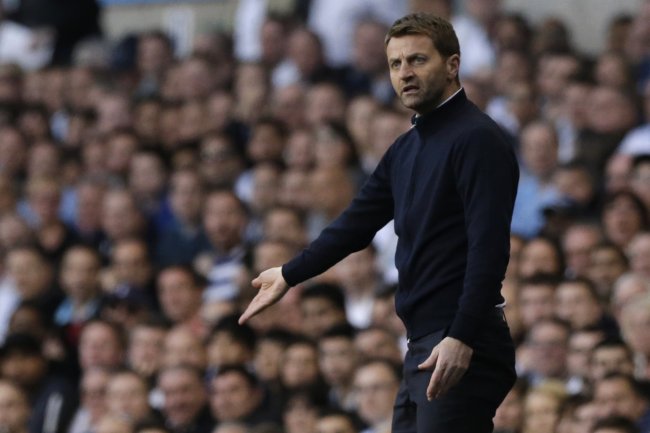 Matt Dunham/Associated Press
Sherwood dismissed the idea of signing FC Dnipro Dnipropetrovsk left-attacking midfielder Yevhen Konoplyanka after his club president said Konoplyanka was in negotiations with Spurs management, per Ukrainian TV channel 2+2 (h/t Pete O'Rourke at Sky Sports).
"Nobody else will come in unless I sanction it," Sherwood said, per Tom Collomosse at the Independent. "Is Konoplyanka the kind of player I want to sign? Not at the moment."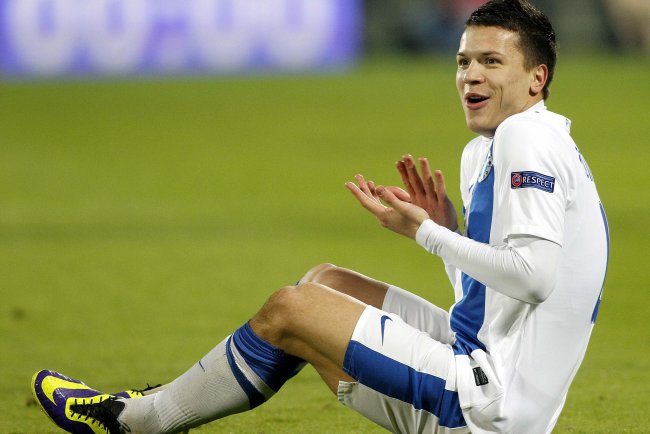 Fabrizio Giovannozzi/Associated Press
Levy needs to trust his manager's eye for talent.
Either Levy hires a yes-man, essentially the antithesis to Villas-Boas and Sherwood, or manages the team by himself.
Was Lamela the kind of player Villas-Boas wanted? Evidently not.
That is essentially £30 million (per Sky Sports) down the drain because Lamela wanted to return to Italy, per ESPN FC.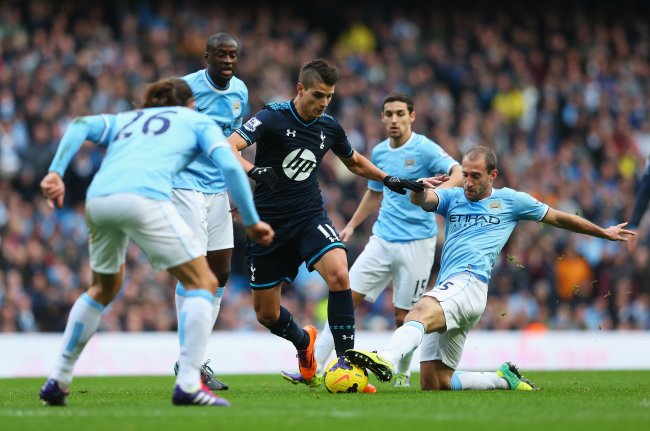 Alex Livesey/Getty Images
Conclusion
Villas-Boas' Bale-inspired Spurs finished fifth last season.
After pumping in £110 million into a mishmash of nameable footballers, this Spurs team, minus Villas-Boas and Bale, are on course to get fifth again under Sherwood, who is essentially a lame-duck manager, should Levy hire Louis van Gaal (per Dominic Fifield at the Guardian).
The same institutional problems inside Spurs are hindering the club from becoming a European powerhouse.
Statistics via WhoScored