Falcon's Defense Looks To Soar In 2009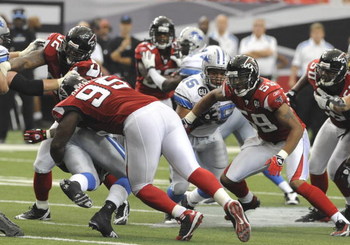 Atlanta's defense did one thing right last year. They were successful pressuring the QB.
Led by sack master John Abraham, Atlanta registered 38 sacks on opposing quarterbacks last season. Abraham had 16 1/2 sacks, but that is a feat he will be hard-pressed to repeat this upcoming season though.
With that in mind, somebody else has to step up if Atlanta is going to be successful pressuring the quarterback this year. Of the eight players besides Abraham who had sacks, no player had more than four sacks and only two of the eight had more than two sacks.
"A good pass rush covers a multitude of deficiencies." Now I'm not sure where I heard this, but I do know that this fit Atlanta's defensive personality to a tee last year.
The Falcons were tied for 11th in sacks with the Baltimore Ravens last season, but unlike Baltimore, their success in that area didn't extend to other parts of their defense.
Case in point, the Falcons were 29th in tackles, tied for 27th in interceptions, and tied for 19th in passes defended during the regular season. They were also tied for 29th in forced fumbles and tied 20th in fumble recoveries.
Both Coach Mike Smith and General manager Thomas Dimitroff were concerned about their defense's lack of speed and physicality, and have devoted the off-season to improving these areas.
One step they've taken was to use seven of their eight draft picks on defensive players. Another step they've taken is to sign a number of undrafted rookies and young players released from other teams in order to bolster competition in training camp.
One more thing that will help is getting back players who were injured last year like CB Brent Grimes, DT Trey Lewis, and CB Von Hutchins.
Here's how the defense is shaping up so far:
Defensive Line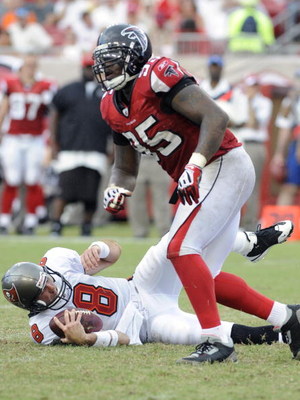 John Abraham is the undisputed leader of Atlanta's defensive line.
His 16 ½ sacks were half of Atlanta's total sack output (minus one team sack) last season. Even though nine of those sacks came in only three games, he was still able to get to the quarterback 7 ½ times in the other 13 regular season contests.
With offenses scheming to slow down Abraham last season, it seems that some of the other Falcons would have benefited from the attention he was getting but that didn't seem to be the case.
One guy in particular the Falcons were looking to have a big season was left defensive end Jamaal Anderson. Despite starting 15 games, Anderson was only able to register 2 sacks. To make matters worse, Chauncey Davis had the team's second highest sack total (4 sacks) coming off the bench.
If Davis continues to make strides then Anderson may be out of a job. Reserve DE/LB Kroy Biermann played well last season, and the Falcons drafted DE Lawrence Sidbury in the fourth round. Sidbury looks to be a very promising pass rushing prospect but it's doubtful he will challenge for a starting spot this season.
DT Jonathen Babineaux only had 3 ½ sacks but he was tied for third in the league with 11 tackles for loss. He led all defensive lineman in that category. The coaching staff loves his quickness shooting the gaps and hope he continues to improve at bringing pressure inside.
The last spot on the line was manned by DT Grady Jackson last season. With Jackson gone, first-rounder Peria Jerry looks to fill this position. Jerry has quickness and a nasty streak that the coaching staff want in a player filling this position.
Trey Lewis is probably Jerry's stiffest competitor for that spot. Lewis was injured all last season but has a little more size than Jerry. Jason Jefferson started the one game Jackson missed last year but he doesn't look to provide much competition for the starting position.
Linebackers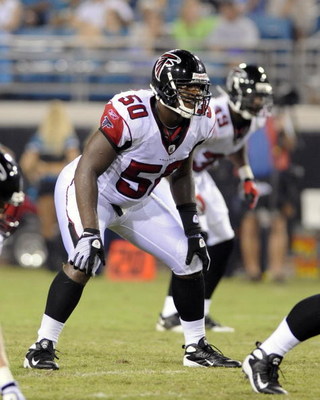 The Falcons allowed both of their starting outside linebackers from last season to leave via free-agency. They did fill one of those positions by signing veteran LB Mike Petersen from the Jacksonville Jaguars.
Petersen knows all three linebacker positions in this defense and is expected to replace Keith Brookings at the weak-side position. Playing Petersen on the weak side will allow him to use his instincts and experience to make plays.
Petersen may also be able to help the pass-rush which is something the Falcons may need. He had a career-high six sacks in 2005 when he played for coach Smith in Jacksonville.
Rookie Curtis Lofton manned the middle position last year and did a great job stuffing the run.
Lofton had four tackles for loss, a sack, three passes defended, and a forced fumble despite being replaced by a safety on obvious passing downs. This season the coaching staff will play him on more passing downs.
Coy Wire started the last three games on the strong side after the coaching staff demoted Michael Boley. This year Stephen Nicholas will most likely be the starter on the strong side.
Nicholas is younger and more athletic than Wire. He also has more size and matches up better with tight ends than Wire does.
Secondary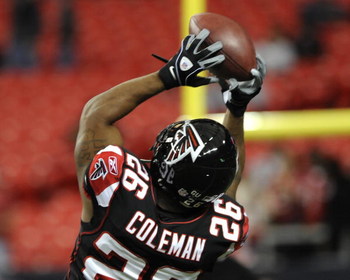 The secondary is where the most heated battles will take place this off-season.
Left cornerback is up for grabs since Domonique Foxworth left via free-agency.
Brent Grimes began the season at the starting left cornerback position, but was outplayed by Foxworth and lost his starting job after six games. Grimes would then miss the last four games after injuring his knee.
Grimes is the Falcons' most athletic corner and believes he has learned from some of the mistakes he made by studying film.
Chris Houston started all 16 games at right cornerback, but the coaching staff wants more physical play from that position. Houston may start again this season but he will be pressed hard by rookie Chris Owens.
Owens is a very physical and aggressive corner who will likely own a starting spot before the end of the season if he doesn't beat out either Grimes or Houston in camp.
The Falcons also drafted William Middleton and have Chevis Jackson, David Irons, Von Hutchins, Glenn Sharpe, Ronnie Prude, and Tony Tiller battling it out in camp.
Erik Coleman started all 16 games at free safety which is the only position in the secondary that is not up for grabs.
Lawyer Malloy started at strong safety last year but was not resigned by the team leaving that spot open for competition.
Jamal Fudge started one game at strong safety last year but Thomas DeCoud was the main back-up at this position. Both will compete with rookie William Moore for the starting spot.
Moore was drafted in the second round and is a big, prototype safety with speed who loves to hit. He is also a sure open field tackler so if he can pick up coach Smith's defensive scheme, then he is a sure bet to start.
There have already been reports of numerous scraps going on during Atlanta's OTAs so you know the training camp battles are going to be fierce. The Falcons have a lot of holes to fill on defense so let's hope all this competition provides results.
Keep Reading

Atlanta Falcons: Like this team?