My Mocking of a NBA Mock Draft: Picks 23 to 30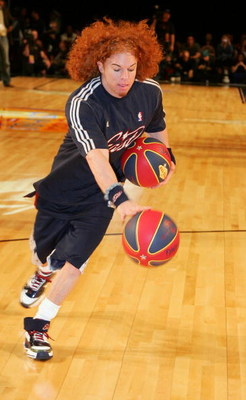 This is the fourth and final section of this particular mock draft. Although these players do not represent the cream of the crop, hopefully some will be drafted.
Perhaps others will be invited to summer camps with an opportunity to make an NBA club.
Here is a list of the selections so far:
1. Clippers—Stephen Curry
2. Grizzlies—Darren Collison
3. Thunder—John Bryant
4. Kings—Terrence Williams
5. Wizards—Dionte Christmas
6. Timberwolves—Ben Woodside
7. Warriors—Dominic James
8. Knicks—Josh Akognon
9. Raptors—Jermaine Taylor
10. Bucks—Gary Wilkinson
11. Nets—Jon Brockman
12. Bobcats—Danny Green
13. Pacers—Garret Siler
14. Suns—Tyrese Rice
15. Pistons—DeMarre Carroll
16. Bulls—Jeff Pendergraph
17. 76ers—Patrick Mills
18. Timberwolves—Luke Nevill
19. Hawks—Lester Hudson
20. Jazz—Dante Cunningham
21. Hornets—Leo Lyons
22. Mavericks—A.J. Abrams
The Sacramento Kings Select at No. 23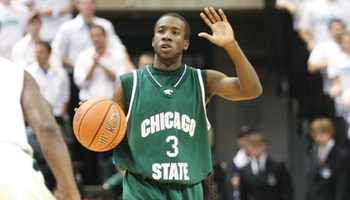 David Holston
PG/SG Chicago State 5'8"/160 lbs.
Without a doubt, David Holston has the odds stacked against him. Not only is he small, Holston played at an obscure school.
David Holston finished last season fourth in Division I in scoring at 25.9 points per game. He also averaged 3.7 rebounds and 6.4 assists.
His assists could have been greater, but he was the primary scorer on Chicago State.
He is a strong three-point shooter and is confident of his skill level. He plays good defense and has lightning quick speed.
The Portland Trail Blazers Select at No. 24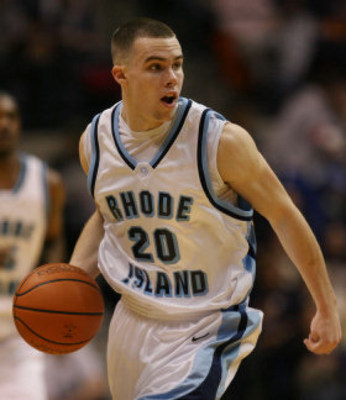 Jimmy Baron
SG Rhode Island 6'3"/195 lbs.
As soon as he enters a gymnasium, Jimmy Baron is in shooting range.
He was named to the 2009 All Tournament Team at the Portsmouth Invitational Tournament.
Baron made the most three-pointers ever in the history of the Atlantic 10. He is mainly a stand-still shooter but is able to move without the ball to get open.
The Oklahoma City Thunder Select at No. 25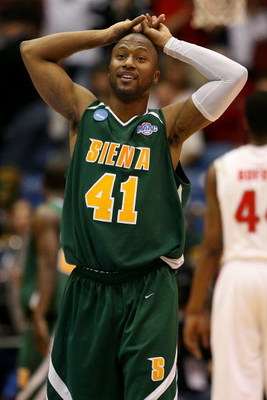 Kenny Hasbrouck
PG/SG Siena 6'3"/192 lbs.
Kenny Hasbrouck averaged 14.6 points per game for Siena last season. He also won the MAAC Player of the Year.
Hasbrouck is a versatile player who can drive to the basketball or shot from the outside.
It would certainly be a help to his family if Habrouck was drafted since his father suffers from multiple sclerosis.
The Chicago Bulls Select at No. 26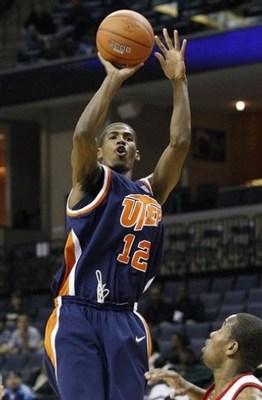 Stefon Jackson
SG UTEP 6'5"/185 lbs.
Stefon Jackson finished fifth nationally in scoring at 24.5 points per game.
Jackson can go either to his left or right when he attacks the basket. He uses his tremendous quickness to slice up defenses.
Jackson's release is quick enough that he doesn't need space to get his shot off cleanly.
The Memphis Grizzlies Select at No. 27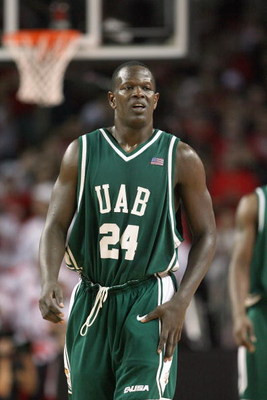 Robert Vaden
SG UAB 6'5"/200 lbs.
Robert Vaden averaged 17.6 points per game last season at UAB.
He is proficient at moving off the ball, reading screens, and finding open shots for himself.
He has tremendous range on his jump shot.
The Minnesota Timberwolves Select at No. 28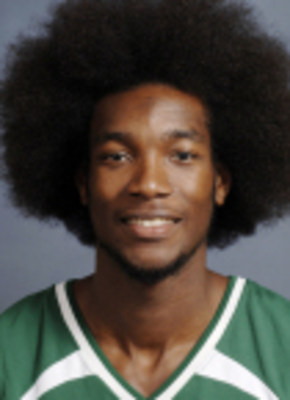 Charlie Coley III
SF Charlotte 6'7"/220 lbs.
Unlike many of the players selected for this mock draft, Coley is ultra-athletic. He is famous for jumping over tables, chairs, and people during dunk competitions.
Coley is a high-energy player that is still developing his offensive game. He is very fast in the open floor.
Coley does a great job following up missed shots.
He gives solid effort on the defensive end and has the ability to block lots of shots.
Coley's hairstyle is definitely an attraction, and he would be fun to watch in dunking contests.
The Los Angeles Lakers Select at No. 29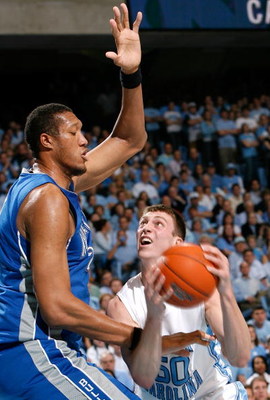 Kenny George
C North Carolina-Asheville 7'7"/360 lbs.
After winning the NBA title, the Lakers can afford to take a sympathy pick.
Back in October 2008, George had to have part of his right foot amputated because of a staph infection.
Kenny George certainly would have been an interesting prospect if he was healthy.
It is always fun to watch a guy dunk without jumping.
The Cleveland Cavaliers Select at No. 30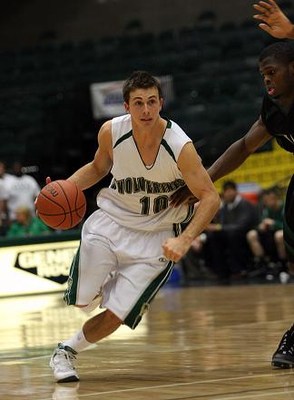 Ryan Toolson
SG Utah Valley 6'4"/190 lbs.
Ryan Toolson is a tremendous scorer. In college, he once scored 63 points in a game.
He finished seventh in the Divsion I in scoring by averaging 23.8 point per game last season. Toolson is also a strong free throw shooter.
Toolson comes from good genes. His uncle is Danny Ainge.
Keep Reading