Five Plays That Defined My Childhood as a Florida Gator Fan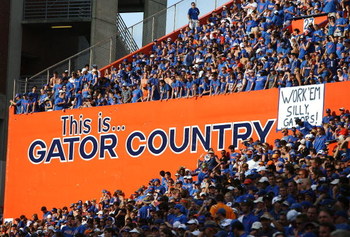 We all have those moments. Couch-hopping moments. Clicker-throwing moments. Turn-off-the-TV-in-shame moments.
Growing up as a Florida Gator fan in the 1990s certainly had its share of awesome and awful times. This list includes plays that, for better or worse, are forever imbedded in my cerebellum. I'll admit, they are all related to my love of the University of Florida, but not all games in this article include the Gators.
So come, Florida Gators and haters, and let's take a stroll down memory lane.
DISCLAIMER: This list includes only plays/games
A) that I watched live on TV or at the game
B) that were played during the 1990s, which, for all intent and purposes, was my childhood.
Virginia Defense: "The Stop" vs. Florida St. 11/2/95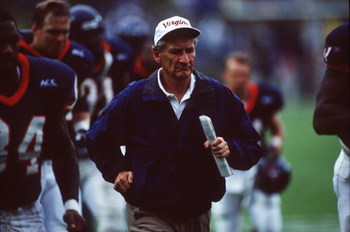 If you are born and raised a Gator, it also means that you grow up hating the Seminoles.
Many may speculate that part of FSU's success in the 1990s was due to playing in such a weak ACC conference. On the first Thursday night game in 1995, undefeated FSU, ranked No. 2 in the nation, was on the ropes against a Virginia team led by the Barber brothers (Tiki on offense and Rhonde on defense).
The game went back and forth, as the Cavaliers traded blows with the mighty Seminoles. The final play still brings a smile to my face. [watch clip now]
The close-up shot of Warrick, face down on the goal line as Virginia defenders leap up off of him to go celebrate will forever be burned into my mind.
It took four years and 29 games, but a conference foe finally socked it to the 'Noles. The ACC has since become a solid conference. But that crucial stop shocked the football world—kind of like when one of your buddies brags about how good they are at NCAA football on PS2, so you invite them over for a game and play on Heisman level, and they don't know what hit them. Yeah, that's right.
Tommie Frazier: "The Run" vs. Florida. 1/2/96 (Fiesta Bowl)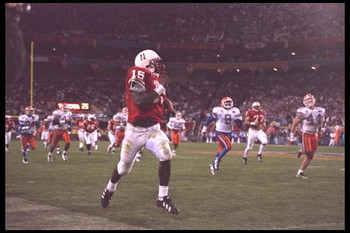 This is not a happy memory. In fact, this is the only clip on here that has brought me to tears...
I was 12, OK!?
Frazier's 75-yard run, complete with 74 broken tackles, remains in my mind as the most painful play I've ever watched. [watch clip now]
Sure, the Gators have lost plenty of other games, and some on last-second heartbreaks. But this joyride through the Florida defense illuminated to the college football world that No. 1 Nebraska was better prepared, more skilled, and more determined than their tropical counterpart.
UF's defense would have had less cuts inflicted at a sleepover on Elm Street. It got completely shredded the rest of the way and Florida was embarrassed in its first National Championship game apperance.
The Gators have since overcome that catastrophe and won three titles, while Nebraska has wallowed in the Big 12 North.
But this play still leaves me shaking my head in disgust.
Ike Hilliard: "The Move" vs. Florida St. 1/2/97 (Sugar Bowl)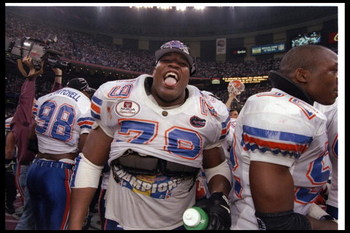 This remains the greatest single move I have ever witnessed live, and it was in the most anticipated game of my young life: The rematch on the Bayou, with the National Championship at stake.
I remember simply staring slackjawed as the play unfolded. It was Wuerffel to Hilliard, just like 54,000 times before. But this time, something magical was about to happen. [watch clip now].
Watching him go from 60-0 in one step, I still don't understand how he didn't break every tendon, ligament and bone in his knees.
Whenever I meet a Gator fan, I love to mention "the move," and of course they will begin to say "Ike Hil…?" I will nod in agreement with a goofy smirk on my face.
Then, reminiscing, we can both bask in the sweet Florida breeze left by the FSU defenders who both fell at Ike's feet.
Scott Frost/Shevin Wiggins/Matt Davison: "The Catch" vs. Missouri. 11/8/97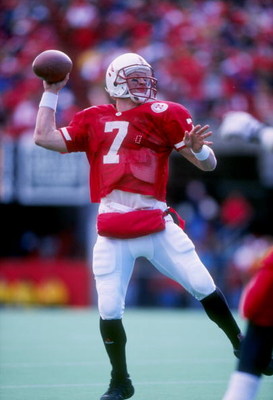 Nebraska is the Clubber Lang to my Rocky Balboa. Ever since the debacle in the desert (see No. 2), I can't stand the red and white of the Cornhuskers.
1997 was another banner year for the Huskers, until they ran into a pesky bunch from Missouri. The Corby Jones-led Tigers played their little hearts out against the Goliath that was 1990s Nebraska football.
Watching in a hotel room with my family, it looked as if the underdog would derail Nebraska's hopes of a national championship, as the Tigers were leading by seven with under a minute to go. With one play left, Eric Crouch…well, you can watch the clip and see what happened. [watch clip now]
My heart goes out to any Missouri fans that watch this. Just so you dont have to watch all eight minutes, I'll spoil it: Big Red took that momentum into overtime and came out on top.
It just seems unfair. Sometimes the little guy just can't catch a break, and this play shows why it is so hard to close out an upset against a bigger, stronger opponent.
Alex Brown: "The Sack(s)" vs. Tennessee. 9/18/99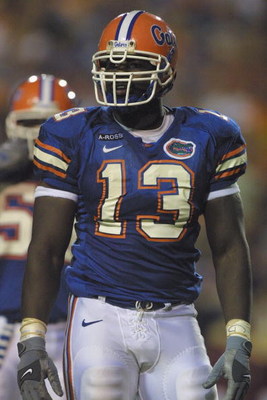 To be frank, this is not actually one play. However, it was included because it is a series of plays that changed the way I follow college football.
Jevon "The Freak" Kearse had just left for the NFL, leaving some large, fast cleats to fill. Enter Alex Brown, who started the game as an unknown sophomore and walked out of The Swamp a legend. [watch clip now]
He single-handedly destroyed Tennessee's offense: recording five sacks and an interception. There hasn't been a one-man show like that since AC Slater ran all over Valley High.
That performance made me realize greatness doesn't only play on the field, but also waits in the wings. His game led me to appreciate the whole team, not just starters.
Soon after that, following the current team was not enough—I had to know the new crop of recruits. I soon fell into an addiction involving Rivals.com, star rankings, and grainy high-school highlight clips.
It wasn't until I got excited about a list of top eighth-graders that I realized I had a problem.
Thank you, Alex Brown.
Keep Reading

Florida Gators Football: Like this team?