They may be separated by 25 and 26 points, respectively, but the quality on display in the 144th Revierderby between Borussia Dortmund and Schalke proved that the gap between them and Bundesliga champions Bayern Munich is not as big as suggested.
Bayern dominance this and last season has spurred a fiery discussion about the quality of their competition. The debate centered around whether that dominance is really a result of seemingly invincible form or just a lack of quality in the rest of the league.
And while most teams in the Bundesliga have not been able to compete against Bayern on or off the field, Dortmund and Schalke have shown that they are indeed capable of challenging Bayern. If not this season, then certainly in the coming years.
The most glaring thing about Tuesday's Bundesliga action was not yet another dominant display by Bayern away at Hertha Berlin, but the quality shown by two injury-plagued teams farther west. The sheer tempo of the game and intensity for 90 minutes was a great example of their ability to play at an incredibly high level.
Dortmund and Schalke went into their game with 16 potential first-choice players out of action due to injury. Injuries have been a recurring problem for both teams from the start of the season.
In fact, Schalke coach Jens Keller fielded the second-youngest starting XI to have ever played in Dortmund in a league match, the youngest since 1971. Overall, there were 10 personnel changes from the last time they met in October.
10 - There are 10 starting lineup changes compared to the 3-1 victory of @bvb against @s04 in October: 4 at Dortmund, 6 at Schalke. New.

— OptaFranz (@OptaFranz) March 25, 2014
All those changes are indicative of just how many injuries both clubs have had to deal with this season, but the fact that they occupy the two spots behind Bayern amidst those shortages is telling of both of their ability to keep up and their overall team development.
Both sides have struggled in their own way this season in a manner that Bayern have not been familiar with. Bayern's deep squad has allowed them to adjust to injuries and maintain their form, while Dortmund and Schalke's forms have fluctuated throughout the season.
Schalke experienced a mini-crisis in the first half of the season that nearly cost Keller his job and had them hovering above the relegation zone. But they have now lost only one of their last 12 league matches (that one being against Bayern) and are experiencing their best run of form since Keller took over.
Their humiliating elimination at the hands of Real Madrid in the Champions League two weeks ago has masked a quite impressive domestic record since the restart. All the while, Keller has been slowly integrating young players like Max Meyer, Leon Goretzka, Sead Kolasinac and Kaan Ayhan, who have improved as the season progressed.
Dortmund, meanwhile, have missed many of their key players from last season, and Klopp has been forced to utilize a lot of inexperienced and untested players at the highest level. Their reliance on a relatively small squad in a congested schedule has seen their usually strong home form drop significantly, and as a result, players have been picking up small injuries left and right.
Yet Dortmund have remained competitive. They are still favorites to finish second, through to the semifinal of the German Cup and have reached the quarterfinals of the Champions League. Coach Jurgen Klopp was right when he said this has already been a successful campaign for the club.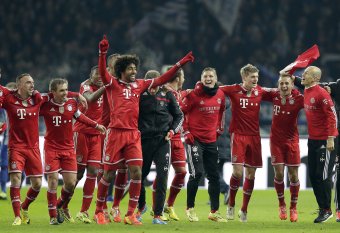 Michael Sohn/Associated Press/Associated Press
It is interesting to imagine what the standings would look like now, had Klaas-Jan Huntelaar not missed the first half of the season or if Dortmund's back line and Ilkay Gundogan had been available.
Not that those factors would have prevented Bayern from winning the title, but they would have certainly made things look less lopsided. At the very least, they would have curbed some of the "one-team league" discussions that have been perpetuated over the course of the season.
Whereas Bayern have little room to improve next term after what will be a perfect season, Dortmund and Schalke can both develop further and thus tighten the gap. Both have a great core of players already in place, supplemented by a good group of young talents coming through.
Can Dortmund and Schalke challenge Bayern in the coming years?
With potentially another treble to add to their trophy cabinet, the pressure and expectations on Bayern will only grow going into next season. The pressures will not be unfamiliar to the club or Pep Guardiola, but they will also create room for slip-ups as teams around them adapt and improve.
Schalke and Dortmund are both in good financial positions to develop their squads further. Dortmund set another record in revenue last season and Schalke broke the €200 million mark. Consistent European appearances have also added more income and given them the profile to attract talents from outside the league.
If both teams can continue to develop the squads they have and make the necessary additions in the summer, that wide gap will only shrink next season. The trend certainly suggests progress on both sides, despite the glaring gulf in points in this and last season.