It was hard to imagine things getting any worse for Arsenal after Saturday's 6-0 defeat at Chelsea, but coming away with just one point at the Emirates against a Swansea City squad near the bottom of the table certainly comes close.
An own goal from Mathieu Flamini in the 90th minute ended the back-and-forth contest at 2-2, essentially putting to bed any chances Arsenal still might have had of a Premier League title.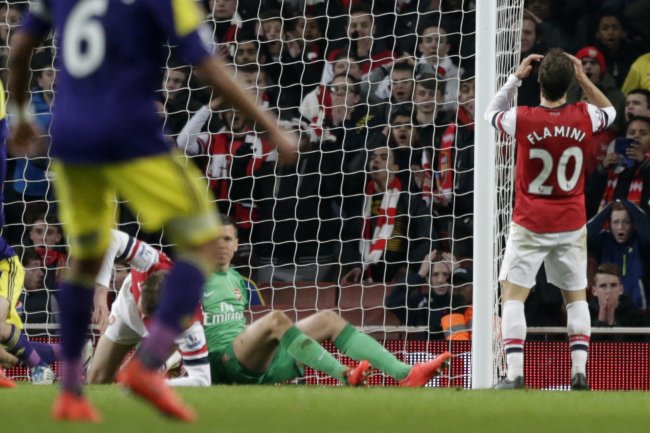 Matt Dunham/Associated Press
"I think at the moment it is not the biggest worry we have," Arsene Wenger said afterward about the club's title hopes, via Arsenal.com. "We have to be realistic a little bit and try to come back a bit in the next game. We have to look behind us and of course try to look in front of us."
The Gunners, who host Manchester City on Saturday, now sit in fourth place—six points behind Chelsea and three behind the Citizens, who have two matches in hand.
As Wenger told reporters, via the club's official Twitter feed, there is still time to turn things around, but it's quite obvious at this point who the favourites are:
Wenger: "The league will be open until the end, and there can still be surprises. Man City and Chelsea are the favourites." #AFCvSCFC

— Arsenal FC (@Arsenal) March 25, 2014
With such a crucial fixture on the horizon, Arsenal will have to find a way to avoid dwelling on Tuesday's potentially crippling draw:
Wenger: "We have to recover from the huge disappointment of tonight." #AFCvSCFC

— Arsenal FC (@Arsenal) March 25, 2014
The Gunners trailed for much of the contest after a Wilfried Bony header put The Jacks ahead in the 11th minute, but then Lukas Podolski and Olivier Giroud each found the back of the net in the span of 60 seconds with just over 15 minutes remaining.
It appeared Wenger and Co. were going to overturn Saturday's "accident" with three important—albeit shaky—points, but the polarising manager believes his team took its collective foot off the gas pedal:
Wenger: "We have to take this on the chin. After we got to 2-1, we were too focused on keeping the result and too conservative." #AFCvSCFC

— Arsenal FC (@Arsenal) March 25, 2014
"We scored two goals in a minute and after that you could see the drive going forward was less" - @Arsenal manager Arsene Wenger on #ARSSWA

— Premier League (@premierleague) March 25, 2014
Sure enough, in the 90th minute, Swansea broke on a counter attack and midfielder Leon Britton's shot was blocked by Per Mertesacker only to deflect off goalkeeper Wojciech Szczesny and then Flamini for the equalising own goal.
Wenger put it simply:
Wenger: "The way this result happens is more frustrating. We made a mistake on the second goal that was not needed." #AFCvSCFC

— Arsenal FC (@Arsenal) March 25, 2014
Arsenal fans were left in disbelief, while Swansea—a squad in the middle of a dogfight to stay out of relegation—celebrated.
But not before some controversy.
About 30 seconds past the allotted four minutes of stoppage time, Swansea broke on another counter attack, only for the referee to blow his whistle and end the match in a draw.
Garry Monk, via the South Wales Evening Post's Gareth Vincent, was less than thrilled about the decision:
Garry Monk rages at Lee Probert over timing of final whistle: "I have never seen anything like that in whole playing career." #Swans

— Gareth Vincent (@Gareth_Vincent) March 25, 2014
Still, his side hadn't earned a point since March 2 (and haven't won since Feb. 8), so to come away from the Emirates with a draw is an unbelievably encouraging result. He wasn't about to let the questionable finish wreck his mood:
Monk: "But if you had offered me a point beforehand I would have taken it. The boys were magnificent."

— Gareth Vincent (@Gareth_Vincent) March 25, 2014
"It's the least the boys deserved. This team goes to the end, I fully believe in the group" - Garry Monk on Swansea's last-minute equaliser

— Premier League (@premierleague) March 25, 2014
Swansea return home to host Norwich City, and another performance like Tuesday's could almost assure them of safety.
As for Arsenal, holding onto a top-four position has to be the most realistic goal at this point.
"We have to do as well as we can and accept our position at the end of the season," said Wenger. "But at the moment [our focus] is to recover from a high disappointment and recover for the next game. It is a huge game."
Three points against the Citizens would be an ideal way to instantly put that "high disappointment" in the rear-view mirror.