Three double-digit seeds and three No. 1 seeds.
After a first weekend where unpredictability was the norm, those numbers are just one way to sum up the madness that has already occurred during the NCAA tournament. Whether you were watching from the living room or had courtside seats to watch it all go down, it was a weekend to remember.
All Your Bracket Essentials
While most fans already know about the fiery rivalry brewing in Kentucky between the Wildcats and Louisville Cardinals, there is plenty of intrigue in the other matchups taking place as well.
Both Johnny Dawkins and Archie Miller, two former guards in the ACC, will do battle as their unheralded programs have earned berths into the Sweet 16 after huge upsets.
With the games just days away, here is a look at all the information fans need to know and a few storylines to watch for when the teams take the court.
NCAA Tournament Sweet 16 Schedule

| | | | | | |
| --- | --- | --- | --- | --- | --- |
| Region | Date | Matchup | Time (ET) | TV | Live Stream |
| South | Thurs, March 27 | No. 11 Dayton vs. No. 10 Stanford | 7:15 p.m. | CBS | NCAA.com |
| South | Thurs, March 27 | No. 2 Wisconsin vs. No. 6 Baylor | 7:47 p.m. | TBS | NCAA.com |
| West | Thurs, March 27 | No. 1 Florida vs. No. 4 UCLA | 9:45 p.m. | CBS | NCAA.com |
| West | Thurs, March 27 | No. 4 San Diego State vs. No. 1 Arizona | 10:17 p.m. | TBS | NCAA.com |
| East | Fri, March 28 | No. 2 Michigan vs. No. 11 Tennessee | 7:15 p.m. | CBS | NCAA.com |
| East | Fri, March 28 | No. 7 Connecticut vs. No. 3 Iowa State | 7:27 p.m. | TBS | NCAA.com |
| Midwest | Fri, March 28 | No. 4 Louisville vs. No. 8 Kentucky | 9:45 p.m. | CBS | NCAA.com |
| Midwest | Fri, March 28 | No. 4 Michigan State vs. No. 1 Virginia | 9:57 p.m. | TBS | NCAA.com |
NCAA.com
Red vs. Blue…Enough Said
Louisville won the national championship in 2013. Kentucky claimed the crown in 2012.
John Calipari replenishes his team with freshmen every season, highlighted by Julius Randle this season. Rick Pitino has a team led by two seniors in Luke Hancock and Russ Smith.
Before winning the title with the Cardinals last season, Pitino did the same for the Wildcats in 1996.
Sweet 16 will feature a matchup of one of college basketball's best rivalries. Kentucky will face Louisville in Indianapolis. Let's go!

— SportsCenter (@SportsCenter) March 23, 2014
Needless to say, there's a little more than bad blood between these teams, and that only gets heightened during the tournament. When the two teams met earlier this season, Kentucky avenged the loss it was handed by Louisville in the NCAA tournament last year.
But when the two teams make it to the postseason, both are nearly unblemished in the tournament, per Ben Roberts of the Lexington Herald-Leader:
Kentucky and Louisville are a combined 20-1 over the past 3 NCAA Tournaments. The '1' came when they played each other.

— Ben Roberts (@NextCats) March 24, 2014
As for the location the two teams will be playing at, Louisville has a pretty good track record playing in Indianapolis. In their 10 games played in the city, the Cardinals have just one loss, as ESPN Stats and Info notes:
Louisville is 9-1 in NCAA Tournament games played in Indianapolis, the most wins and 2nd-best record of any team there (min. 3 games)

— ESPN Stats & Info (@ESPNStatsInfo) March 24, 2014
Thanks to the players on the court and the two legendary coaches leading the charge, this rivalry has been revived as one of the best in the sport. With the next chapter coming on the national stage in the tournament, this game is easily the most hyped of any matchup during the second weekend.
Tobacco Road Meets Cinderella
Despite the fact that they are head coaches of programs that are on completely different sides of the country and at different levels, Dawkins and Miller know each other quite well.
After ending his career with Duke in 1986, Dawkins joined Coach K's staff from 1998 to 2008 before getting his big shot with Stanford. During his first four years as an assistant under Krzyzewski, Dawkins had to figure out how to contain a budding point guard by the name of Archie Miller.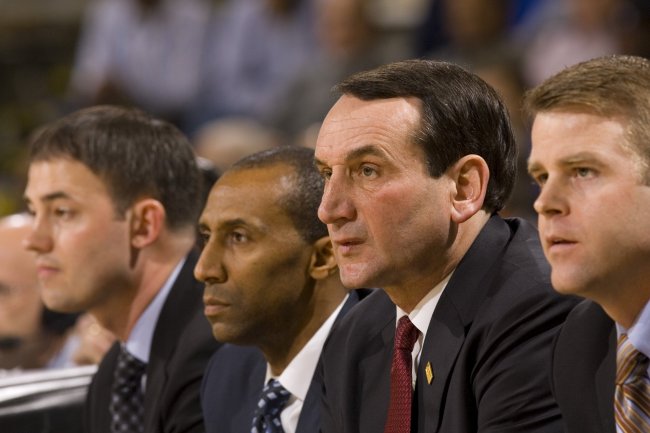 Paul Abell/Getty Images
Following his college career with N.C. State, Miller then took over after his brother Sean—now Arizona's head coach—and faced off with Dawkins for another two seasons before moving on from the Wolfpack.
Though the two are separated by 15 years, the two head coaches know a lot about each other's style of play. In fact, the two are tied at the hip about another decision, as Shawn Ley of Local 4 in Detroit points out:
IF Stanford faces Dayton in the #Sweet16 - side note, Archie Miller is trying to get Johnny Dawkins' son to play at #Dayton.

— Shawn Ley (@ShawnLeyLive) March 23, 2014
As for the two teams on the court, both coaches have stars capable of shooting the lights out. With Chasson Randle and Devin Oliver facing off against each other, either could carry their teams to the Elite Eight in style.
Oliver's game has been so good that President Barack Obama even gave him a shout-out while congratulating the entire Flyers team:
Congrats to the @DaytonFlyers on a huge upset win! Devin Oliver, I may need to take you up on that pick-up game one of these days. -bo

— The White House (@WhiteHouse) March 23, 2014
With two former assistant coaches from Tobacco Road having to carry the torch after the Wolfpack, Blue Devils and Tar Heels were dispatched in the opening weekend, it will be a battle to the end for two coaches that know about championship basketball.
At least there's still something to root for in the Triangle, despite the fact that none of the four teams from the area made the Sweet 16 field.
Follow R. Cory Smith on Twitter.