Taj Gibson scored 23 points off the bench, Joakim Noah finished two rebounds and two assists shy of a triple-double and the Chicago Bulls upended the Indiana Pacers, 89-77, on Monday night at the United Center.
This one wasn't pretty, with the Pacers holding a 34-33 edge at halftime.
The Bulls exploded over the final 24 minutes, however, outscoring Indiana 56-43 and getting 16 second-half points from Kirk Hinrich.
Chicago held the Pacers to 37 percent shooting, prolonging their offensive struggles. The Bulls weren't much better, hitting on 41.7 percent of their shots, but they had five fewer turnovers (10).
This was a big win for Chicago, which fell to Indy on Friday.
Everything Bulls didn't do in 2nd half on Friday, that's what they did in 2nd half tonight. Solid defense, physical play. Big win for Bulls.

— Nick Friedell (@NickFriedell) March 25, 2014
Paul George led Indiana, which was held to under 80 points for the second straight game, with 21 points. Meanwhile, Roy Hibbert was held without a field goal.
#Pacers have failed to break 80 points in consecutive games for the first time since 2007.

— Conrad Brunner (@1070Bruno) March 25, 2014
After 89-77 loss, Vogel says #Pacers offense "out of rhythm." David West, on the other hand, is a little more blunt: "We look like sh--."

— Candace Buckner (@CandaceDBuckner) March 25, 2014
Chicago also out-rebounded the Pacers, 46-42.
Key Player Grades
Indiana Pacers
Paul George, Small Forward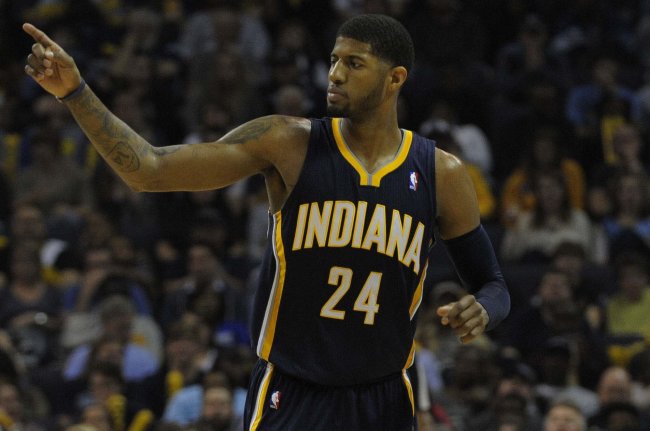 Justin Ford-USA TODAY Sports
George's shooting struggles continued Monday night.
The 23-year-old, who was considered an MVP candidate earlier in the season, went 8-of-22, missing some shots around the basket and taking some poor shots on the perimeter.
George did not look comfortable during the game, and while Chicago's defense deserves some credit for that, this is becoming a trend for the forward of late.
George pulled down seven rebounds and collected four steals, so his stat sheet was actually solid, but he is still far off from the player he was over the first couple of months of the campaign.
Grade: C+
Roy Hibbert, Center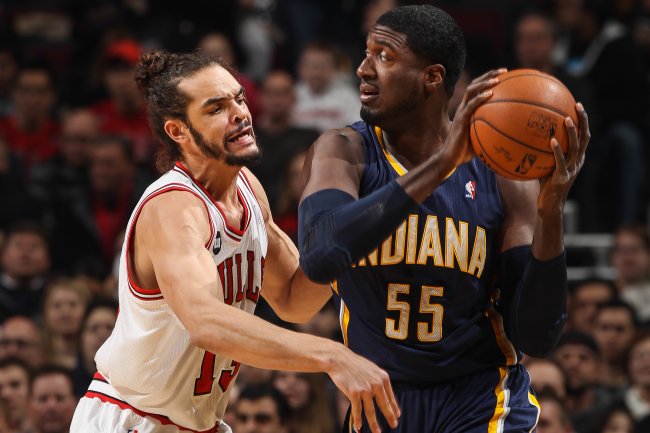 Gary Dineen/Getty Images
This wasn't the best night for Roy Hibbert.
A game after failing to grab a rebound, Hibbert wasn't exactly a force inside against the Bulls, registering only three points and five boards and spending much of the contest in foul trouble.
Worse, Hibbert didn't make a single shot, finishing 0-of-5 from the floor.
He also had three turnovers.
The Pacers needed more from their big man against a physical Bulls team.
Grade: F
Lance Stephenson, Shooting Guard
Many feel that Lance Stephenson is the wild card of this Pacers team, and that is a pretty accurate assessment.
We saw the "bad" Lance against the Bulls, as the 2-guard went only 3-of-9 from the floor for eight points. He did grab 10 rebounds, but Stephenson, known for his playmaking skills, did not dish out a single dime. He did, however, commit four turnovers.
Stephenson had been playing well over the last several games, but he failed to leave his fingerprints on this one.
Grade: D+
George Hill, Point Guard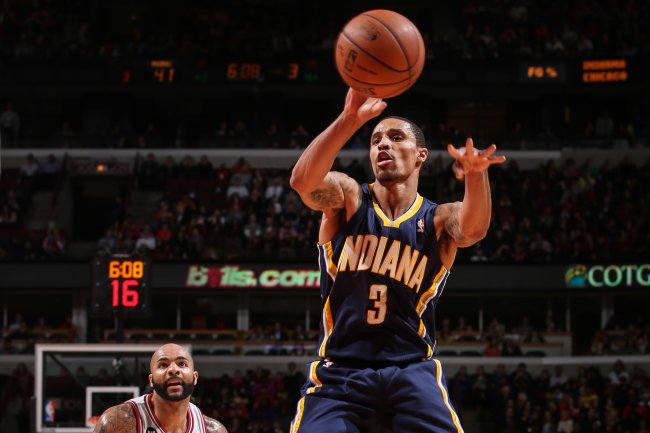 Gary Dineen/Getty Images
George Hill was about the only bright spot for the Pacers offensively in this game.
He scored 17 points—nine of them coming in the first quarter—and went 6-of-10 from the floor, knocking down a pair of triples.
Hill was one of only two Indiana players to shoot 50 percent or better in this one. The other? Reserve guard Donald Sloan, who went 2-of-4.
Yikes.
Grade: B
Chicago Bulls
Joakim Noah, Center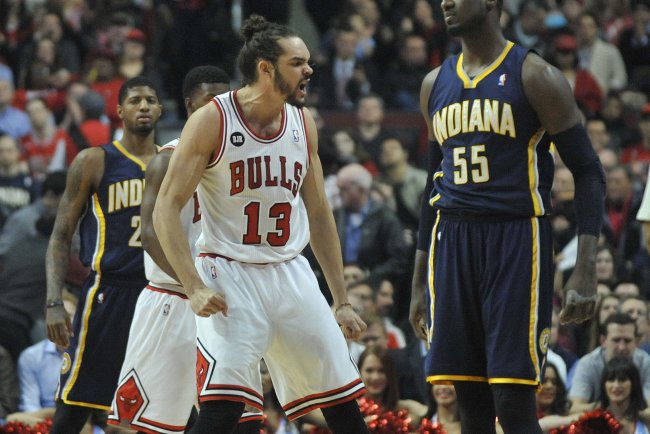 David Banks-USA TODAY Sports
Yet another solid all-around effort from Joakim Noah.
The big man filled up the stat sheet, finishing two assists and two rebounds shy of a triple-double and recording four steals and three blocks to go along with his 10 points.
Noah was clearly making things uncomfortable for Hibbert down low, and he made sure that Hibbert heard about it, too.
Noah almost had another triple double -- but it was his defense on Hibbert that was most impressive. Hibbert was 0-for-5, had just 3 points.

— Nick Friedell (@NickFriedell) March 25, 2014
Noah went 5-of-10 and was a game-best plus-18.
The dude is just awesome.
Grade: A-
Kirk Hinrich, Point Guard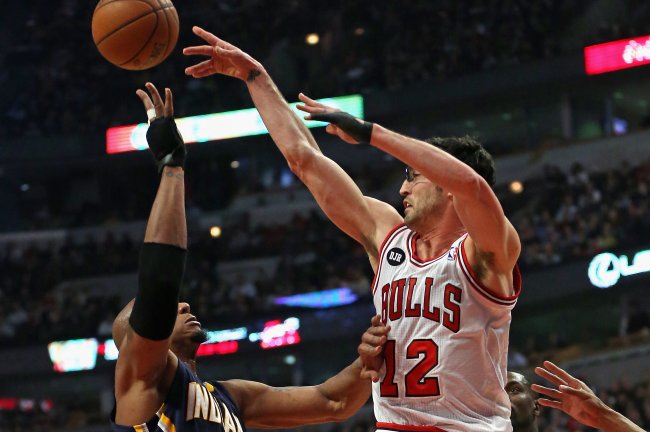 Jonathan Daniel/Getty Images
Kirk Hinrich exploded in the second half, scoring 16 of his 18 points and getting to the basket seemingly at will against the trees of the Indiana defense.
Hinrich drives to basket for layup and 85-73 lead w:1:47 as West and Hibbert wave at him. Or waving at pizza guy for post game meal

— Sam Smith (@SamSmithHoops) March 25, 2014
He shot 7-of-13 from the field, knocking down a pair of triples and even delivering some nasty crossovers that resulted in made jump shots.
It's rare that you get this kind of offensive outburst from Hinrich, so you really have to appreciate when it does in fact happen.
This one was clutch, too.
Grade: A-
Mike Dunleavy, Small Forward
Mike Dunleavy quietly put together a very impressive all-around performance in this win.
The Duke product posted 13 points, eight rebounds and four assists, going 6-of-12 from the floor and bringing some balance to the Bulls starting five.
He also played the most minutes of any Chicago player, racking up 38. He was a plus-11 during that time.
Perhaps the most notable part of Dunleavy's outing was that he did all of that despite only attempting two threes (he hit one of them).
Grade: B+
Taj Gibson, Sixth Man
Taj Gibson impresses me more by the day.
The Sixth Man of the Year candidate poured in a game-high 23 points in 33 minutes off the bench, going 9-of-15 from the floor and throwing down a rim-rocking putback jam that completely deflated the Pacers and all but sealed their fate in the fourth quarter.
Gibson hauled in eight boards, five of those coming on the offensive end. He also made good on all five of his free-throw attempts.
This was just a spectacular effort from a player who has shown remarkable improvement on the offensive end of the court this season.
Grade: A
What's Next for the Pacers?
A showdown with the Miami Heat on Wednesday.
If the Pacers lose, they are then tied with the Heat in the loss column for the No. 1 seed in the Eastern Conference.
Get your popcorn ready.
What's Next for the Bulls?
After a tough home meeting with the Portland Trail Blazers on Friday, the Bulls get a home-and-home with the Boston Celtics before traveling south to play the Atlanta Hawks.
Then, they have what is certainly a "gimme" game against the Milwaukee Bucks before two relatively tough road contests against the Washington Wizards and Minnesota Timberwolves.
Outside of the Blazers, Chicago doesn't play any really tough teams the rest of the way, so it has that going for it in the race for playoff seeding.