The Baltimore Ravens and head coach John Harbaugh have agreed to a one-year contract extension that will keep him with the franchise through 2017.
Jeff Zrebiec of The Baltimore Sun reported the news on Monday:

After season, Bisciotti extended Harbaugh's contract by 1 more season to show his support. So Harbaugh now has four more years left on deal

— Jeff Zrebiec (@jeffzrebiecsun) March 24, 2014
Bisciotti gave Harbaugh the one-year extension in addition to the 3 years remaining on his deal after season when two met up in Fla.

— Jeff Zrebiec (@jeffzrebiecsun) March 24, 2014
Based on the sound of Zrebiec's report, Harbaugh had this extension in place for awhile and the announcement is just getting out now.
Of course, there was no urgency to get a deal done with Harbaugh. He just signed a long-term extension with the Ravens in September that put him among the highest-paid coaches in the NFL.
You can't argue with the results Harbaugh has achieved in his first six seasons with the Ravens. He has won 62 games, made five postseason appearances and won Super Bowl XLVII in February 2013.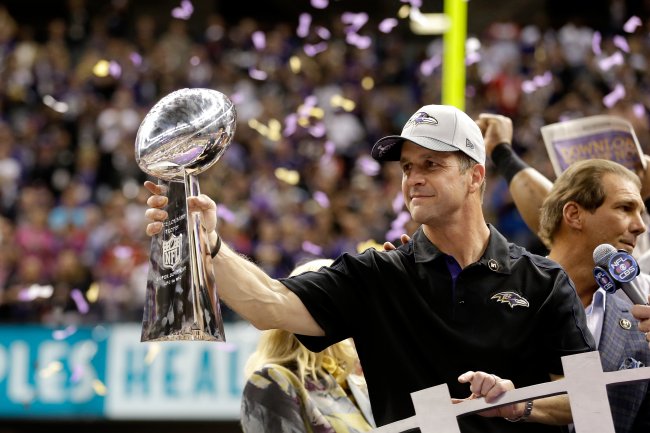 Ezra Shaw/Getty Images
Will the Ravens return to the playoffs in 2014-15?
The Ravens missed the postseason for the first time under Harbaugh in 2013-14, though the team also had to replace most of its key players with Ray Lewis and Matt Birk retiring, Anquan Boldin being traded to the San Francisco 49ers, and free-agent departures of Ed Reed and Paul Kruger, among other notable players.
Even with a brand-new roster to play with, the Ravens finished 8-8 and had a chance to make it to the postseason in the final week of the regular season before losing to the Cincinnati Bengals.
Like their rivals in Pittsburgh, the Ravens are a franchise that values stability in the front office and coaching staff. Harbaugh has proven himself to be one of the best coaches in football, winning at least one playoff game in his first five years.
If you want to talk sports, hit me up on Twitter.