Andre Marriner's ejection of the wrong player during Saturday's Premier League encounter between Chelsea and Arsenal was embarrassing, but nothing more.
BREAKING: Andre Marriner NOT dropped after his blunder at the weekend. He will referee Southampton vs Newcastle on Saturday

— MailOnline Sport (@MailSport) March 24, 2014
It was not, as various pundits and fans so carelessly inferred, "racist" (the Daily Mail compiled numerous quotes and tweets that somehow suggested it was), and it was never sufficient grounds for standing down the referee ahead of a March 29 match between Southampton and Newcastle.
Thankfully, in ruling that Marriner would proceed with his next scheduled assignment, as reported by the BBC, the Premier League kept itself above the reactive bile that so often dominates these debates and came to the sensible conclusion that the 41-year-old's removal from the weekend programme would serve no purpose whatsoever.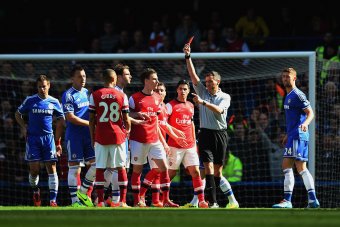 Shaun Botterill/Getty Images
"I can't see that [standing down] would do a referee any good," remarked former Premier League official Dermot Gallagher during a Sunday interview with BBC Radio 5 Live, as per The Guardian.
He added: "[Marriner's] made one mistake and his confidence would be shattered if that happened...Every referee will learn from this and identify what they can do if a similar situation ever occurs again."
To that end, club football's top leagues—including the Champions League—would be well-advised to finally give their officials full access to the type of technology—already available—that could help prevent similar incidents going forward.
Having viewed the incident, UEFA spokesman Pedro Pinto admitted via his Twitter account that more help for referees was required, although he proposed "an additional assistant" rather than technological aid.
With an additional assistant referee on the end line, referee would not have got that sending off wrong. Technology is not the answer...

— Pedro Pinto (@PedroPintoUEFA) March 22, 2014
It's the same sort of argument that held back the introduction of goal-line technology while Frank Lampard was scoring against Germany, and it should be discarded as the Neolithic thinking that it is.
The trajectory of progress already guarantees a more robust implementation of technology in football. Its availability to anyone and everyone through a variety of platforms ensures its official use in the not-too-distant future, and delays only serve to alienate a fanbase that has better tools at its disposal than the referees.
Bet refs themselves would love help of " video official ". Would have saved Andre Marriner a lot of embarrassment on Saturday.

— Ian Darke (@IanDarke) March 24, 2014
It would hardly be a complex measure, for example, to have a fifth official sat up in a box with replays obtainable at the touch of a button. (Granted, his scope of authority—such as goalmouth incidents only—would have to be predetermined.)
Given the surface-level officials can already communicate through wireless devices, a verdict delivered into the ear of the referee from on high would quickly solve the sort of problems that sprung up at Stamford Bridge.
Brendan Rodgers says he felt for Andre Marriner & believes the game could've been stopped for a few seconds to resolve the situation.

— Tony Barrett (@TonyBarretTimes) March 24, 2014
It would never have happened. Kieran Gibbs would have been sent off instead of Alex Oxlade-Chamberlain; Marriner would have avoided the humiliation of a hardly unprecedented mistake.
In 2003 Wigan defender Jason De Vos was mistakenly shown a red card following a foul by teammate Ian Breckin on Sunderland's Tommy Smith, and earlier this season Preston North End midfielder Neil Kilkenny was incorrectly ejected instead of Joe Garner.