Top 10 Wide Reciever Busts of the Last 10 Years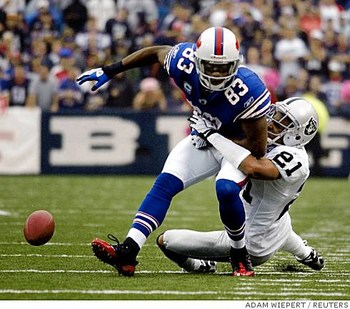 This is my first post ever, and I wanted to start things off by counting the 10 biggest busts at wide receiver over the past 10 years. Believe me, I want any feedback you all want to give me. So, please let me know what you think.
I like to try and pull the names out that everyone has forgotten about and guys that make you say, "Oh yeah, I forgot about him." I think that's key when talking about people that turned out to be busts—the fact that you don't remember him at all.
I ranked the guys based on how high they were drafted, their production, and their longevity in the league. Of course, someone who was drafted in '06 won't have the same longevity as someone in '99, but what in this world is perfect. So here we go...

No. 10 Troy Edwards—Pittsburgh Steelers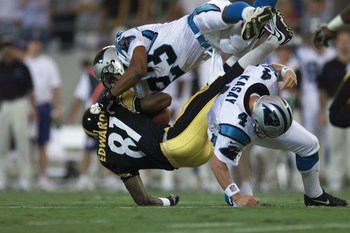 Edwards was drafted 13th overall in the 1999 draft by the Steelers, and lasted all of three seasons in the Steel City.
His best season was his rookie year, when he caught 61 passes for 714 yards and five TDs. After that, there was very little production out of him. When he left the Steelers, he never had more than receiving three TDs in a season, and only had 50 catches one time.
Edwards spent his last four seasons in the NFL with the Rams, Jaguars, and Lions. He ended his career with 203 receptions, 2,404 yards and 11 TDs.
No. 9 Reggie Williams—Jacksonville Jaguars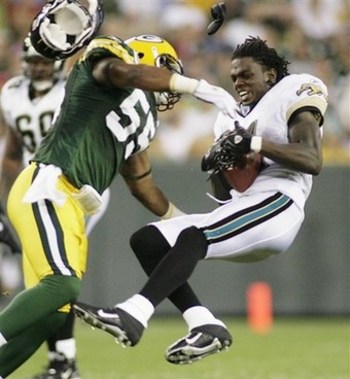 Williams came into the league as the ninth overall pick out of Washington in the 2004 draft, and has been a bust ever since.
He was supposed to be big and he turned out to be slow. He was supposed to be a mismatch for corners and linebackers. Turned out, he couldn't get separation from corners and couldn't get off a jam from a linebacker.

For a time, Jack Del Rio loved big, slow, druggie wideouts more than Al Davis loves drafting track stars. So Williams and fellow coke addict Matt Jones fit what he was trying to do perfectly.

Williams has manged one 50-plus catch season in his five-year career, and has never had more than 650 yards in a season. But to his credit, he does hold Jacksonville's single-season receiving record with 10 TD catches in '07.
No. 8 Freddie Mitchell—Philadelphia Eagles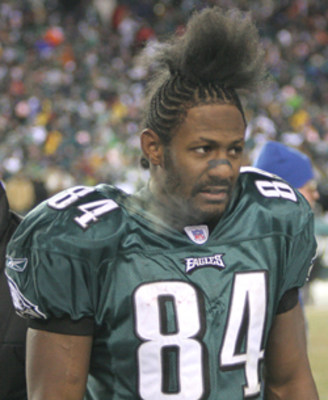 Honestly...who could ever stand this guy? If you are an Eagles fan, he had one big catch in the playoffs on 4th-and-26 against the Packers, but besides that, this guy just sucked and ran his mouth.

Mitchell was drafted by the Philadelphia Eagles 25th overall in '01. He was supposed to be McNabb's first big-time receiver, but turned out to be a one-catch wonder.

"Fredex," as he dubbed himself during his four-year career, had a whopping 90 receptions, 1,263 yards and five TDs. After the Eagles cut him, he was able to tryout for three other NFL teams, but never made an active roster.

One last thing. A couple of receivers that were drafted after Mitchell in '01 were the likes of Reggie Wayne, Chad Johnson (Ochocinco), Chris Chambers, Steve Smith, and T.J. Houshmandzadeh.
No. 7 Taylor Jacobs—Washington Redskins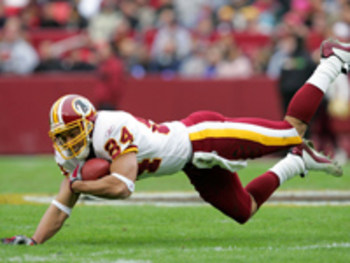 Jacobs is the only second-round pick to make my list, being picked up with the 44th overall pick.
He was drafted by his former Florida coach, Steve Spurrier, and was supposed to make an immediate impact on offense. That couldn't be farther from how things worked out.

The entire Spurrier project in Washington was a huge disappointment, and a big part of it was the drafting.

Jacobs ended up being the fourth receiver taken in the '01 draft, and couldn't even manage to score as many touchdowns. He played a total of six seasons with the Redskins, 49ers, and Broncos.

His best season was in '04 when he had 16 catches for 178 yards. He ended up totaling 37 catches, 384 yards and two TDs.
Just think 'Skins fans: 10 picks later the Cardinals took Anquan Boldin. But you know Spurrier would never draft a Seminole.
No. 6 David Terrell—Chicago Bears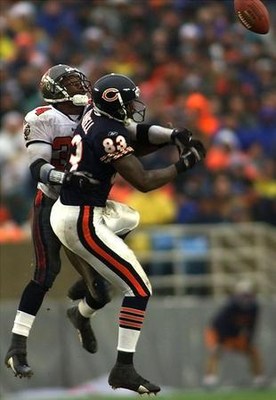 The third receiver to make my list out of the '01 draft, Terrell was supposed to have it all; hands (63 grabs, 13 TDs in '00 at Michigan), speed (4.4 40), and size (6'3"). So the Bears made him the No. 8 overall pick. Too bad none of it transformed over to the NFL.

I was always a Terrell fan, being that we're both from Richmond, but this guy could just never get things going with the Bears.
He only started eight or more games in a season twice, and never had more than four TDs in a single season. His last year with the Bears was his best, when he had 15 starts, 42 catches, 699 yards, and one TD.
His career totals were 128 catches, 1,602 yards and nine TDs in a total of five seasons.

No. 5 Sylvester Morris—Kansas City Chiefs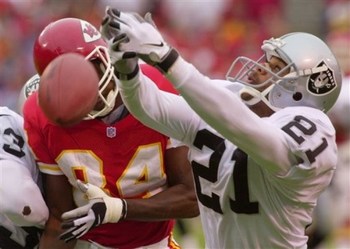 Some will argue he's not a bust; he just got hurt. But the fact of the matter is he was taken 21st overall and managed a total of 48 career catches and spent three seasons on the Chiefs injured reserve.
Morris could never stay healthy, and who knows what he could have been, but that's exactly it—what could have been.

Morris was big (6'3") and fast. He finished his rookie year with 678 yards and three TDs (the only year he recorded any career stats).
After three straight years with knee surgeries and being placed on IR, Morris hung up his cleats, but not before he attempted a brief comeback attempt in Tampa.
No. 4 Troy Williamson—Minnesota Vikings
This guy was FAST coming out of South Carolina. According to SI, back in '05, Williamson was running a 4.21 40! And standing at 6'2", he had the size to go with it. Why wouldn't Minnesota take him with the seventh overall pick?
Oh yeah, there's one thing: he's not a good football player.

Williamson has yet to appear in all 16 games during any season of his four-year career. And last year, his first in Jacksonville, he managed just five catches and 30 yards, along with one TD.

In his three years with the Vikings, Williamson was only able to manage 79 catches for 1,067 and three TDs.

He is a projected starter for the Jags this upcoming season, so you never know. He might be able to turn his career around and be a productive player. However, we've seen Del Rio's ability to pick dominant wide receivers.
No. 3 R. Jay Soward—Jacksonville Jaguars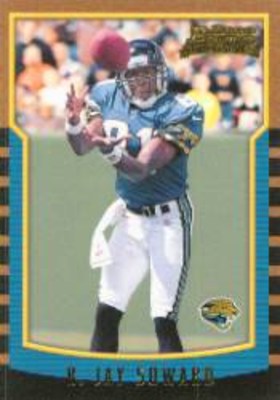 It was hard just to find a picture of this guy.
Soward was taken 29th in 2000 by Jacksonville and appeared in a total of 13 games. Technically, he was a member of the Jaguars for five seasons, but he barely had that many catches (14 for his career).
What can you really say about this pick? One career touchdown catch, 154 receiving yards. BUST. BUST. BUST.
No. 2 Mike Williams—Detroit Lions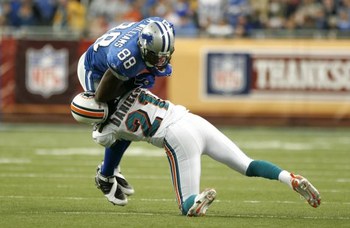 Mike Williams and Maurice Clarett tried to force their way into the NFL, and both ended doing absolutely nothing when they got there.
Williams was one of Matt Millen's many terrific draft picks while Millen was the GM of the Detroit Lions. The Lions took Williams with the 10th overall pick in '05 and they got two years, 37 catches, 449 yards and two touchdowns out the former USC Trojan.

After the Lions cut him, another NFL guru by the name of Lane Kiffin decided to give him another shot to make it in the NFL. Six games into the season, he was cut and picked up by the Titans. According to some reports, Williams came to the Titans weighing as much as 271 pounds, which explains why he lasted two games.

Maybe if he keeps getting bigger he could be...ah, forget it. He's done.
No. 1 Charles Rogers—Detroit Lions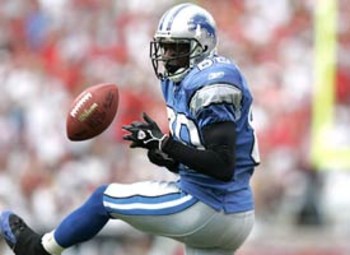 Is anybody at all really surprised? The No. 2 overall pick in 2003 lasted all of three years with a total of nine starts, 36 catches, 440 yards and an amazing four TDs.
Rogers and Williams played together for one season in '05, where they combined for 51 catches, 593 yards, and four TDs. I think the fact that both these guys were drafted within three years makes them even more of a bust. You draft two WRs at picks 10 and two, and then you get almost nothing out of them.
By '05, Rogers had violated the NFL's substance abuse policy and was suspended the first four games of the year. After getting cut, Rogers got a few workouts from a couple of teams who all ended up passing on him.
Lion fans thank Matt Millen for these two; one was a wide receiver who almost weighed 300 pounds and the other was a drug addict and wuss who didn't like to work.
Keep Reading