Updates from Thursday, March 27
Jason La Canfora of CBS Sports has the latest on Mark Sanchez:
Mark Sanchez is signing with the Eagles today

— Jason La Canfora (@JasonLaCanfora) March 27, 2014
Updates from Wednesday, March 26
Bob Glauber of Newsday has the latest on Sanchez:
Chip Kelly on Mark Sanchez, who appears headed to Philly: "There's a lot of positive qualities to him."

— Bob Glauber (@BobGlauber) March 26, 2014
Manish Mehta of the New York Daily News reported late Wednesday on a major development with Sanchez and the Eagles:
Former Jets QB Mark Sanchez is in Philadelphia tonight, I'm told. Shoulder will be checked by Eagles doctors. Expect a deal if it checks out

— Manish Mehta (@MMehtaNYDN) March 27, 2014
Reuben Frank of CSNphilly.com went a step further:
Mark Sanchez physical will be tomorrow morning. If everything goes well and shoulder looks good, Eagles will sign him.

— Reuben Frank (@RoobCSN) March 27, 2014
Updates from Monday, March 24
Chris Mortensen has the latest on the interest around Mark Sanchez:
Sanchez "failed physical" termination w Jets was protocol. Won't affect next step - signing with Eagles. He's on good recovery from surgery

— Chris Mortensen (@mortreport) March 24, 2014
Sanchez has been throwing & is about "80 percent" recovered from his labrum surgery. Eagles will do their own medical eval before signing

— Chris Mortensen (@mortreport) March 24, 2014
Jeff McLane of the Philadelphia Inquirer is also reporting that the Eagles are interested in Sanchez:
#Eagles have definite interest in Mark Sanchez, per source. Have to check on medical condition now that Jets cut him.

— Jeff McLane (@Jeff_McLane) March 24, 2014
Reuben Frank of CSN Philadelphia had more on the Eagles and Sanchez:
I'm told by a league source the Sanchez deal is not done. Eagles interested but still need more info on Sanchez shoulder following surgery.

— Reuben Frank (@RoobCSN) March 24, 2014
Manish Mehta of the New York Daily News had more on Sanchez's free agency:
Told Sanchez's free agent process is "ongoing." @mortreport reporting Sanchez, coming off shoulder surgery, expected to sign w/Eagles #nyj

— Manish Mehta (@MMehtaNYDN) March 24, 2014
Eagles have "edge" to land ex-Jets QB Mark Sanchez. Browns, Titans, Rams also interest. Giants, long shot. #nyj Story http://t.co/6jJyT5SlHN

— Manish Mehta (@MMehtaNYDN) March 24, 2014
Ian Rapoport of NFL.com had more on the Eagles' interest and other potential suitors:
#Eagles will take a hard look at Mark Sanchez, having their team doc look at his medicals, source said. Could sign him (as @mortreport said)

— Ian Rapoport (@RapSheet) March 24, 2014
The #Eagles won't be alone in pursuit of Mark Sanchez, as others including the #Giants should be in the mix. Will be healthy for OTAs.

— Ian Rapoport (@RapSheet) March 24, 2014
Original Text
Free-agent quarterback Mark Sanchez never quite lived up to the hype as the No. 5 overall pick in the 2009 NFL draft with the New York Jets, leading to his release this offseason. However, the 27-year-old signal-caller did win four playoff games in his first two seasons and should warrant a backup job in 2014.
St. Louis Rams head coach Jeff Fisher expressed interest in Sanchez, according to comments he made in a report by USA Today's Jim Corbett.
"I'd say that there is interest. I can't say how much. But there certainly would be interest,'' said Fisher. "I don't have a backup with experience on the roster right now."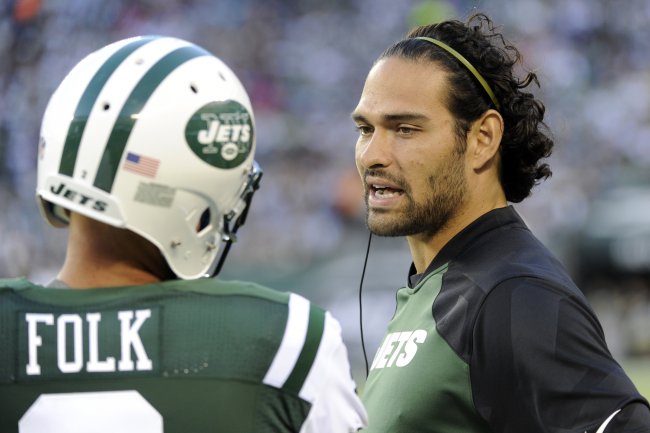 Bill Kostroun/Associated Press
The Rams don't quite know what they have in 2010 No. 1 pick Sam Bradford, especially since he's coming off a torn ACL suffered in the middle of last season. Previous second-stringer Kellen Clemens signed with the San Diego Chargers this offseason, leaving Austin Davis as the only other quarterback on the roster.
While Sanchez may not be the "Sanchize" franchise answer he was once thought to be as a Jet, he would be entering familiar territory. St. Louis offensive coordinator Brian Schottenheimer used to call the plays for Sanchez between 2009 and 2011, when New York had all of its recent playoff success.
CBS Sports' Pat Kirwan immediately brought up the connection in his analysis just after Sanchez was cut, even before this public interest from Fisher came about:
I would like to see Mark Sanchez on the Ram roster..Bradford injuries? Shottenheimer his old coordinator

— Pat Kirwan (@PatKirwanCBS) March 21, 2014
Fisher implies that Schottenheimer and Sanchez still have a bond.
"Brian had a good relationship with Mark,'' said Fisher, per Corbett. "He's just learning. He's been to the AFC Championship game a couple of times, so he's been there."
ESPN's Ed Werder reports Monday that general manager Les Snead is also on board with Sanchez as a potential No. 2 quarterback option:
Rams GM Les Snead and Jeff Fisher interested in Mark Sanchez as backup QB. But if Sanchez signing tomorrow, then Snead told me not with Rams

— Ed Werder (@Edwerderespn) March 24, 2014
Bradford has cycled through a number of different offenses in his young career, with Pat Shurmur, Josh McDaniels and Schottenheimer serving as his coordinators since he entered the NFL in 2010.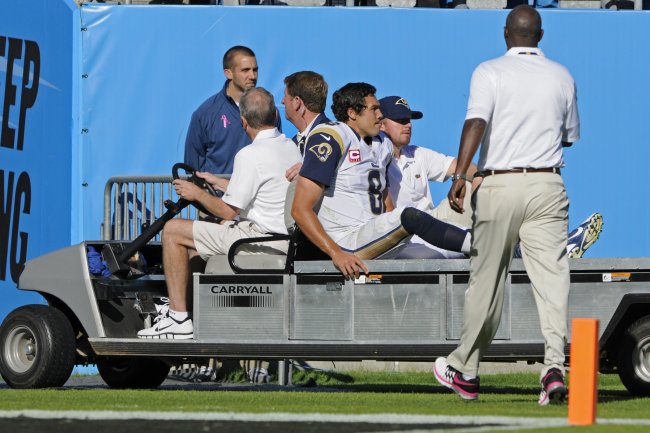 Mike McCarn/Associated Press
Snead is still working on putting together a premium supporting cast of skill players, but the Rams, armed with a strong defense, need to take a big step in 2014 in a competitive NFC West division. A lot of what the team can accomplish depends on the quality of play under center, which Sanchez could at least help with his knowledge of Schottenheimer's system.
Although there were plenty of discouraging signs during Sanchez's tenure as a starter—evident by his career 71.7 passer rating and 6.48 yards per attempt—he never really had a great supporting cast of receivers, especially in his final two seasons.
What is Mark Sanchez's NFL future?
In St. Louis, he'd have a familiar system in addition to promising young players in Tavon Austin, Chris Givens and dynamic tight end Jared Cook to go with emerging running back Zac Stacy. With the second and 13th overall picks in this year's draft, Snead could even add another playmaker to the fold in the first round.
Since Bradford has been anything but exceptional in his own right, there's a chance Sanchez could parlay this potential move into another opportunity at starting. If he wanted to prove himself, he couldn't have a much stiffer test in a division that features formidable defenses in Seattle, San Francisco and Arizona.
But given how poorly Sanchez has performed for prolonged periods in the NFL and that he didn't play a down in 2013, all of this talk about an ideal, redemptive stint in St. Louis will be cheap. Sanchez would have to prove he can be a capable backup before he legitimately pushes Bradford for playing time.