There were more than six reasons for Chelsea to be celebrating victory over Arsenal on Saturday.
It wasn't just the goals they scored. It was more the style in which they scored them—the manner in which they dismantled fellow title contenders Arsenal within the opening 17 minutes to race clear into a 3-0 lead.
Should Chelsea be concerned by Samuel Eto'o's latest injury setback?
The performance was one Jose Mourinho has long desired from his players since his Stamford Bridge return. He has craved they adopt a ruthless streak, go for the jugular and punish their opponents.
They did exactly that on Saturday—a day of major positives for Chelsea as they took a considerable step to reaching their long-term goal of dominating the Premier League once again.
In the short term, however, Mourinho will be ruing Samuel Eto'o's hamstring injury.
The Chelsea boss saw his striker open the scoring early for the second game running against the Gunners with an exquisite finish that belied the criticism he has received this term.
Yet it wasn't long before he was hobbling off and out of action with a hamstring injury.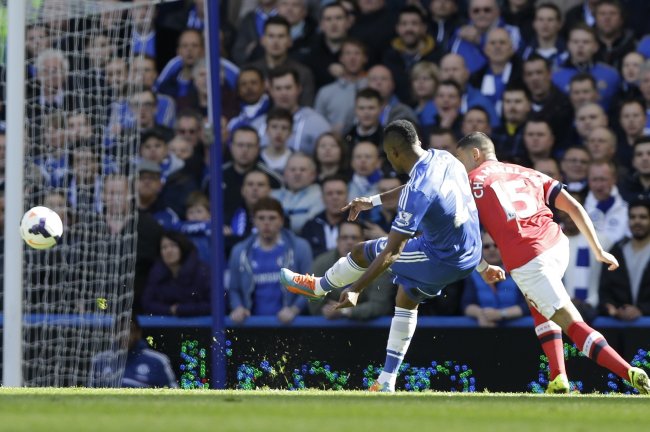 Kirsty Wigglesworth/Associated Press
Just how long Eto'o will be on the sidelines is unclear. A report in the Evening Standard suggests he could be fit as soon as next week, in time for the trip to Paris, where Chelsea take on Paris Saint-Germain.
But how much of an impact will this latest setback have on his form?
Eto'o now has 11 goals for the Blues. They all may have come at Stamford Bridge, yet look at the games in which most of them have been scored.
A hat-trick against Manchester United, the winner against Liverpool shortly before new year, the opening strike against Galatasaray in the Champions League last week and then his goal against Arsenal.
He may be getting on in years at 33, but Eto'o has shown he is still the man for the big occasion.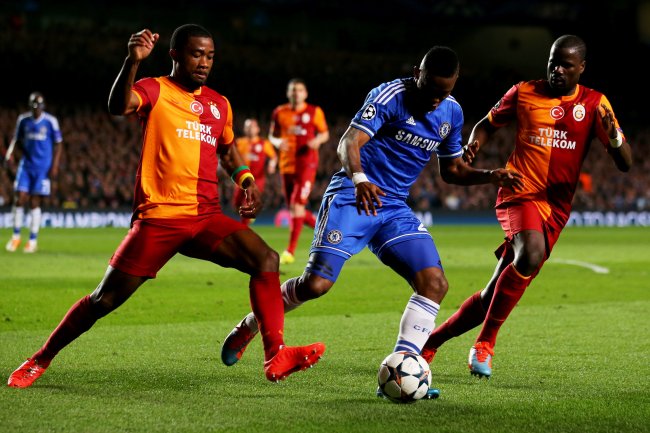 Clive Rose/Getty Images
Now isn't the time to be getting injured.
The Cameroon striker has been building up momentum in recent weeks, peaking at the right moment when Chelsea need to pick up every point on offer in the league, while seizing the moment in Europe.
In terms of grand moments and big matches, it's from now until the end of May when Chelsea are going to be competing in them.
All the while, Eto'o could very well be on the sidelines for a considerable part of it, leaving it to Fernando Torres to carry the weight as Chelsea's striker.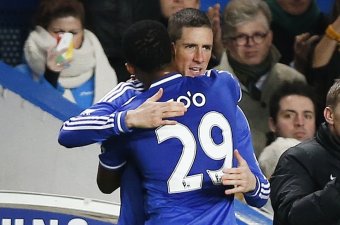 Sang Tan/Associated Press
The Spaniard put in another excellent performance against Arsenal on Saturday, but again, he was leaving the field without his name on the scoresheet.
It's been a month since he last found the back of the net, too, which isn't ideal when your team needs the guarantee of goals in the here and now. There isn't time to be finding form.
Torres can continue to put in excellent performance after excellent performance, but as a £50 million striker, it's goals that are going to be his ultimate judge.
Where Eto'o is concerned, Chelsea seemed to have a guarantee of goals—at Stamford Bridge at least.
Can they be confident they will come from elsewhere again, as the other five did against Arsenal?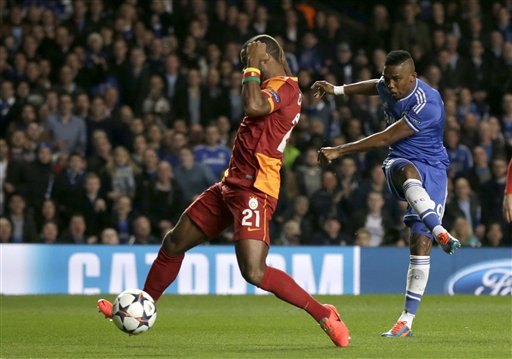 Matt Dunham/Associated Press
Right now, Luis Suarez and Daniel Sturridge are firing Liverpool's title challenge, while in France, Zlatan Ibrahimovic is looking imperious for PSG.
Chelsea need that same presence. They need Torres to step up and improve his goal tally in much the same way Eto'o has. And importantly, they need Eto'o back among their number.
The former Barcelona man has turned things around at Chelsea this past month. From what his actual age is being thrown into doubt, the only question most people are asking now is whether or not the Blues can cope in his absence.
We're going to find out.
Garry Hayes is Bleacher Report's lead Chelsea correspondent and will be following the club from a London base throughout the 2013-14 season. Follow him on Twitter here @garryhayes.